It's lovely to enjoy scenic beauty and nature's bliss with family and friends minus the sting of mosquitoes, the scorching heat or rainfall that could ruin your camping experience. A screen tent is the best way to enjoy some peaceful time together with your loved ones, devoid of insect bites, rain, and sunburn. But, selecting the right tent is ideal to fulfill your needs and make your outdoor experience memorable. The material used, space available, water-resistance, ceiling height, and price are essential factors considered while choosing a product.
In this review, we will talk about the top 10 best screen tents in 2023 that are in demand.
Best Screen Tents to Buy in 2023
10. Core Screen House Tent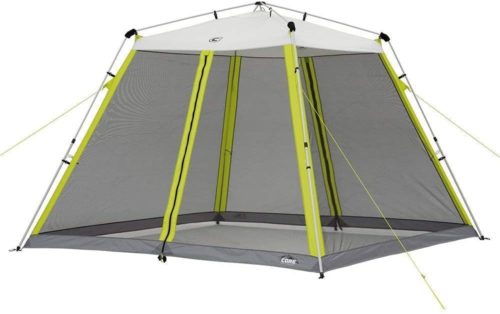 Here is a durable tent that could stay with you forever as it is made of heavy-duty 150D polyester canopy top with steel frame. The fabric here protects you from more than 97% of UV rays. Though the tent looks compact and small, it is undoubtedly comfortable to use as it comes with an 84-inch center height that helps you move around at ease. Mesh panels are hugely enabling a 360 degree outside view that's enjoyable and also keeps you safe from bugs.
Key Features
Back and front door zippers help easy entry/exit to multiple people simultaneously
Rollback door toggles used to keep the screen house open to enjoy the breeze or help you come in/go out easily
The company has smartly included reflective guylines that offer maximum visibility from outside
Easy to set up in not more than 60 seconds
9. Quictent Pop Up Canopy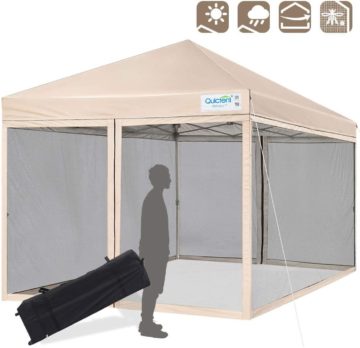 Set up the Quictent canopy in your backyard, camping site, deck, or anywhere of your choice as the tent is well-designed with mesh sidewalls that give you a beautiful outside view, keep you ventilated, and also away from the risk of mosquitoes and other insects. Rain or sun cannot ruin your enjoyment as the tent is waterproof and UV-protected made from 420 PU-coating polyesters. Zippers installed in the front and backside of the tent help in easy entry/exit for individuals.
The frame has upper and lowers quick-release buttons on every leg that makes it easier to fold the tent and make height adjustments without hurting your finger.
Key Features
Fully assembled pop-up frame easily set up in seconds without any tools
The product comes with a roller bag for easy transportation
420D Oxford fabric that has 50+ sun protection and water protection making it great for use during any time
One-piece velcro strap helps insecure attachment of the tent
One-piece mesh sidewalls cover the entire tent assisting users in staying safe from mosquitoes. It is easy to wash and maintain too
8. Mastercanopy Netting Screen Walls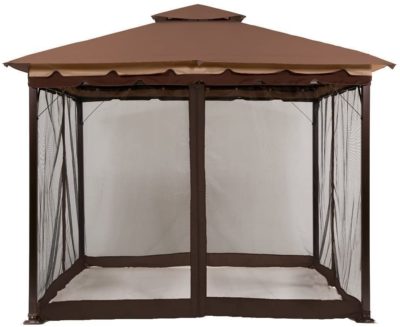 If mosquitoes are your enemy, this is the product you must be opting for without doubts. Experience outdoor fun and stay relaxed without troubles from the pesky insects using the Mastercanopy mosquito netting screen walls that offer perfect protection. You could be on the mountain top, near a waterfall or in the lush pastures, but the brown color of the netting with brown fabric trim suits the place snugly. There is a zipper on each side of the netting for easy setup and removal.
Key Features
Made of polyester fabric that's weather-resistant and fabric-retardant
Customization options available to change netting screen wall-size according to your needs and assembly methods too
Comes only with mosquito netting without gazebo or canopy
7. Quick Set Store Easy Setup Portable Tent
Reach your picnic spot, and start enjoying your day by setting the Quick Set tent in lesser than 45 seconds. The tent has a total of 36 sq ft of space comfortable to seat your friends, enjoy dinner and have fun together. The tent consists of no-see-um-mesh made of 210 denier fabric and 600 denier fabric (center roof section), which promise durability and comfort. Don't worry about the heat outside as the material on which the tent is build has 50+ UV guard protection. You can comfortably carry your tent inside an oversized carry bag provided.
Key Features
The tent stands upright using 11mm fiberglass poles
3-layer corner pole pockets minimize wear and tear
Seams are water-resistant preventing rainwater from dripping inside
4 deluxe tent stakes and tie-down ropes
6. Gazelle 5-sided Portable Tent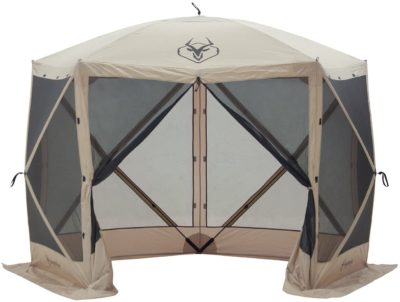 A great product from Gazelle that's convenient, quick, and comfortable to use, making it an excellent choice for families. The 5-sided tent with four-person seating can hold a center table too comfortably. Don't worry about cramming your heads inside the tent as it has a proper height of 7 feet.
Zippers are very important for tents as they experience maximum wear and tear with continuous use; Damaged zippers can cause great trouble during movement and hence, the company uses very strong and dependable YKK zippers that last long.
Key Features
Tight weave mesh panels keep insects out of the tent for good
High-quality fabric and an extra fabric layer in each corner of the tent along with durable pole pockets provide durability and longevity to the tent even upon frequent use
Enjoy lazing inside away from the hot sun rays as the roof panel comes with a 50+ UV rating. It is also sealed to prevent raindrops from entering inside
Comes fully assembled and set up in less than 45 seconds
5. Wenzel Black Screen House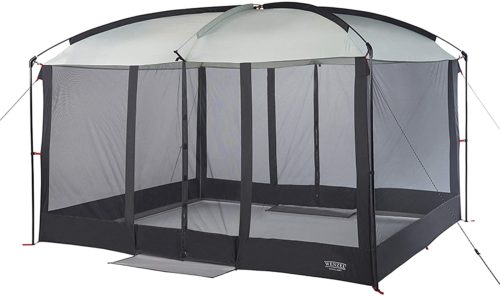 You can take your loved ones, including pets and kids, to go camping out without the slightest doubt of risk with the Wenzel screen house that's large enough to hold a picnic table and almost 7.5 feet in height accommodating tallest members of the family comfortably. There are magnetic strips on either side of the 'I' door that has hands-free entry/exit. The product comes with a storage bag, screen house, steel and fiberglass poles.
Key Features
10 years warranty
Excellent customer service
A trusted brand that promises comfort, quality and durability at a tremendous price
Easy set up that could be done in a jiffy
Magnetic doors on either side help you get in and get out with your hands full of food, games or things without strain
4. Coleman Instant Setup Canopy Tent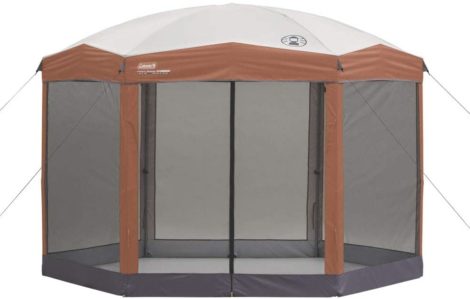 Constructed with double-thick fabric that stands strong irrespective of the weather condition outside, the Coleman tent is here to stay forever every time you go camping. You can enter or exit through 2 large doors provided on either side of the tent helping multiple individuals gain entry or exit comfortably. Day or night, sun or rain, flies, or mosquitoes, the tent's screen walls provide you with bug-free entertainment that could be relied upon.
Key Features
The tent comes with a wheeled carry bag for easy transportation
Grip technology keeps the tent stable intact with any pole extensions that could hurt someone
1 year limited warranty
Could be set up in less than 3 minutes
Protection from the sun with UV guard material
3. Gazelle 6-sided Gazebo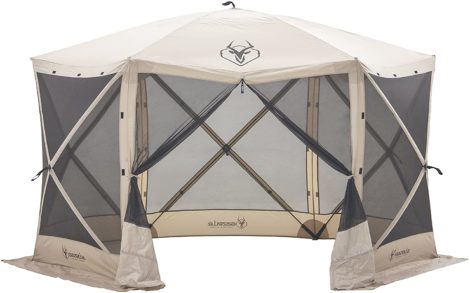 Here is a quick, easy and comfortable tent that can accommodate up to 8 people (92 sq. ft of indoor space) inside irrespective of the harsh weather or buzzing insects outside as every panel of the gazebo is fitted with a protective tight weave mesh. Tents face wear and tear mainly in their zippers and corners. Gazelle understands this very well and hence, has provided durable YKK zippers that are sturdy and rugged. Every corner in the tent has an additional fabric layer and pole pockets that are strong.
Key Features
The roof at the tent's top is completely sealed to avoid water and comes with a 50+ UV protection rating to stay unharmed from scorching sun rays
Tight weave mesh panels
YKK zippers increase longevity
Carry bag included which makes it easy to carry and transport the tent
Reinforced corners
Set up the tent in less than 45 seconds
2. QuickSet Popup Tent
If you are a big family or friends group looking for camping out irrespective of the extreme weather outside, the QuickSet tent should be ideal as it is an extra-large size screen shelter that comes with no-see-um-mesh screens and water-resistant roofing with taped seams. It has 110 sq. Ft of space, which is capable of holding a picnic table too inside or allowing you to cook at ease.
The screen tent is made of 210 deniers poly-oxford fabric and 600 deniers in a section of the room with 50+ UV sun protection. Included with this are seven sturdy and big tent stakes, six tie-down ropes, and an oversized carry bag to accommodate the XL tent.
Key Features
No assembly required
Easy to set up and remove in less than 45 seconds
Durable and long-lasting due to premium-quality fabric used, 3-layer corner pole pockets and fiberglass poles
Wind panels and built-in roof flaps avoid entry of rainwater
Could fit 6-8 people easily inside
1. Coleman Screenhouse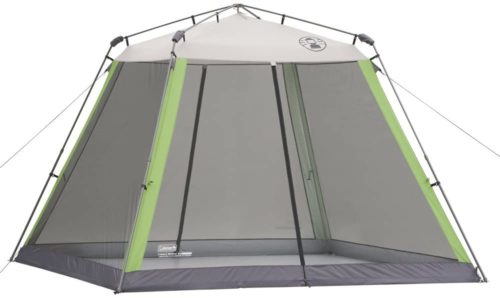 Be prepared to attack sun, rain, bugs, or other outdoor disturbances by setting up the Coleman instant screen house. The product has been named rightly as the entire screen can be set in less than 60 seconds. You just have to spread it out, place the pre-attached poles firmly in its place, and you are ready to enjoy your BBQ, playing indoor games and sleep in peace inside the comfort of the tent.
The material used is a high-quality, durable Polyguard that's twice as thick as fabric. It comes with UV guard UPF and 50+ sun protection safeguarding you against heat and sunburn.
Key Features
Two-way entry and exit using the T-zipper doors present at the front and back of the tent
Carry bag provided with the tent that's easily transportable and could be comfortably stored in the car
Easy to set up and take down in less than a minutes
Screen walls that keep us safe from bugs
Choose the best screen tents from the list mentioned above for enjoying a safe and fun-filled outdoor experience enthralled by the beauty of the world outside. Picking the right tent that's durable and suitable for your family size is essential to stay comfortable and safe without ruining your experience due to outside weather conditions and the pesky insects.