Driving with a pair of best driving gloves provides a fashion statement of the person behind the wheel. Driving is always exciting and gives a sense of independence and authority to the person driving the vehicle. But it also brings great responsibility for control to the person in charge of the vehicle. Driving gloves play a significant role here, providing superior grip and stability to the person wearing them. Professional drivers always wear the best driving gloves to have a better grip and control over the wheel.
Driving gloves not only look great but also act as an insulator, providing warmth and maintaining the natural temperature of the hands. They also support reducing the hand fatigue caused by the vibration of the steering wheel while driving for long hours. The best quality driving gloves not only protect us, but they also keep the steering wheel in excellent condition by acting as a barrier blocking the sweat, dust, and natural oil in our hands to touch the steering wheel.
To help you choose the right pair of driving gloves, we have reviewed the ten best driving gloves for men available in 2023.
List of Best Driving Gloves for Men in 2023
10. Isotoner Smooth Men's Leather Driving Glove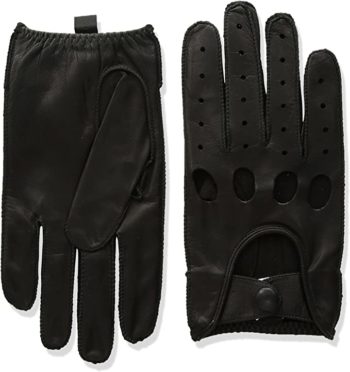 The Isotoner designer driving gloves are made from 100% genuine quality leather and provides exceptional warmth during cool weather. While the covered snap makes it easy and comfortable to put on and take off, the gloves are flexible fit and keep hands dry.
These gloves are treated with smartDRI technology to built-in an invisible coating for super water repellency, keeping your hands drier than others. They also have touchscreen-enabled palm patches with superior and pinpoint accuracy that helps to use your device easily without taking the gloves off. The gloves come in multiple sizes for a closer and perfect fit.
Pros
Reliable smartDRI technology
Patented smarTouch technology
Smart and fit
Variety of styles and sizes available
Lightweight and perfect grip
Cons
Runs little tight
Only two colors available
9. SEABIRR Black Leather Driving gloves for men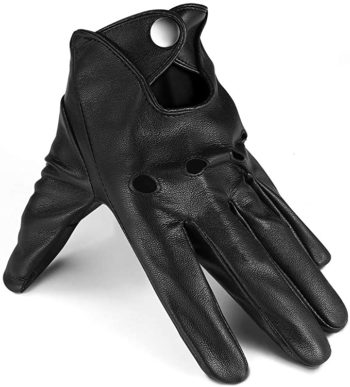 The high-quality lambskin leather used by SEABIRR driving gloves gives them a smart and fashionable look along with quality and durability. These soft and feel warm gloves are apposite for daily wear.
The gloves provide a good grip and also keep the shift knobs & steering wheel well maintained.  These driving gloves have the full touchscreen facility that enables the wearer to use electronic devices, keeping them on. The gloves are available in three different styles, making it an excellent choice for driving, riding as well as outdoor sports. These driving gloves are unlined. Thus they are apt for summer, spring, and winter, while it's not too cold.
Pros
Snug fit
Touchscreen compatibility
Multiple styles available
Great value for money
Cons
Available in only black color
Not a perfect choice for the frigid climate
8. Riparo Motorsports Full-finger Leather Driving Gloves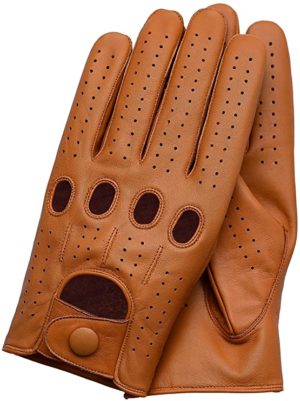 These genuine leather driving gloves from Riparo have high quality and excellent features, including soft, supple leather, knuckle holes, and a snap closure on the wrist strap.
The gloves are comfortable, flexible to wear and provide strong support to hands, thus reducing fatigue. The supreme quality of the leather makes them breathable and provides enough air circulation. They hold their shape well, even after everyday wear. These driving gloves are available in many colors to choose from. They give a classic look and tend to last for a long duration.
Pros
Made with premium leather material
The knuckle holes are handmade
Ideal summer driving gloves
Snap button on the Wrist strap
Visually appealing
Provides proper air circulation
Cons
Runs a size big
Not apt for cold weather
7. Hugger Breathable Full-Finger Touchscreen Durable Leather Gloves
The Hugger Breathable leather gloves are great for driving, riding, patrolling, or even shooting. They use PIN sized perforations to ensure maximum ventilation while preventing heat and moisture built-up in the hands. These goatskin leather gloves with unlined material are very lightweight and perfect for the spring and humid summer season.
Because of technologies like SEAMLESS PALMS, the gloves provide a tight and robust handle grip on the wheel without any discomfort. These full-finger driving gloves utilize elasticized wrists to ensure a slim and tight fit.  You can use your electronic devices with gloves on, thanks to the TouchScreen device technology.
Pros
Compatible with touchscreen
Slim fit and hugs at the wrist
Water-resistant
Ventilation holes for better air circulation
An excellent choice for the hot summer season
Cons
Not apt for colder climate
6. HiCool Winter Gloves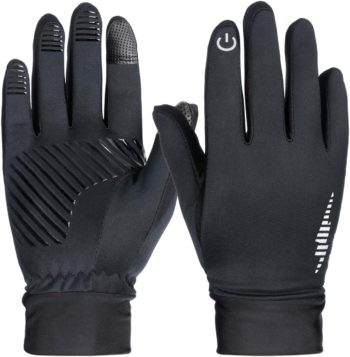 These warm winter gloves are coated with premium conducive PU, enabling you to use any electronic device with the gloves on. The gloves are made of high-quality elastic wool lycra fabric, making them windproof, warm, breathable, and flexible. These outdoor sports driving gloves are ideal for driving, running, cycling, and other outdoor activities.
The silicone glue on the palm, middle finger and little finger of the gloves give a firm grip on the handlebar, steering wheel, and other objects without letting them slip. The elastic strap at the wrist permits you to put on and take the gloves off easily, keeping hands warm and preventing cold air inside. The tight fit and stylish appearance not only make these ideals for everyday wear, and also a perfect gifting option for your family and friends.
Pros
Moderately warm
Skid-proof design
Highly stretchable
Snug fit and stylish look
Cons
Only black color available
5. BOTINDO Touchscreen Leather Gloves for Men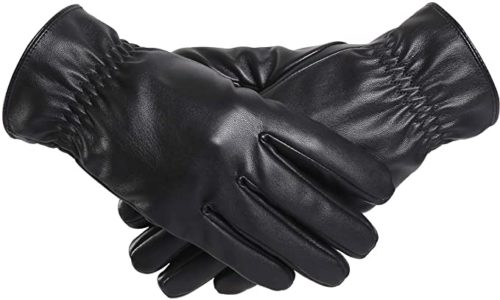 Made from soft leather with an added velvet inner lining, BOTINDO gloves are simple yet elegant looking driving gloves and provide excellent warmth to the hands by preventing frostbite.
They have durable wear and tear resistance and tensile strength, providing support against wind, rain, and keep your hands smooth. The gloves are comfortable to wear and deliver strong grip support to your hands. The touchscreen function works well on smartphones, tablets, PCs, or any other electronic device. The high-end design and texture make them useful for multiple purposes like driving, riding, cycling, etc.  Easy maintenance brings in another key point to buy these gloves. All you have to do is wipe it gently with a damp cloth and dry in the shade.
Pros
Compatible to touchscreen
Ideal for cold weather
Stylish appearance
True to its size
Reasonable price
Cons
Might not be an ideal choice for freezing temperature
4. SANKUU Men's Winter Black Gloves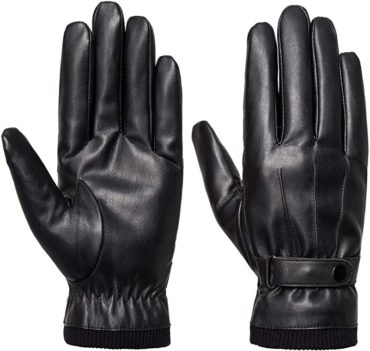 These SANKUU winter gloves are made of soft and warm polyurethane (PU) leather and have delicate fleece inner lining that defends against cold and harsh weather. The inner fleece is soft and comfortable, giving a smooth and delicate feel to your skin, while the PU leather is easy to clean and maintain, increasing the durability of the gloves.
Fashionably designed to match perfectly with all types of outfits, these gloves look smart and stylish. The snap closure can be adjusted as per the wrist size, thus making it windproof.  Excellent touchscreen functionality adds as the cherry on the cake. The gloves are water-resistant and have a long service life. These gloves are a great choice to wear for driving, to run, to ride, to hike, and many other outdoor activities, which makes them an excellent choice as a gift.
Pros
Provides warmth in winter
Waterproof material
Adjustable snap closure design
Flexible
Cons
Made of synthetic leather
3. Genuine Sheepskin Leather Gloves by Alepo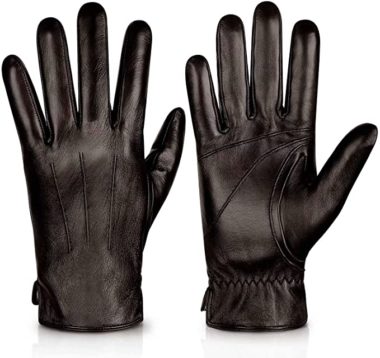 These excellent warm leather gloves are made of premium top layer genuine sheepskin leather giving a soft touch, suppleness, and comfortability, which lasts long. The inner lining of delicate Italian cashmere fur delivers extra warmth to the skin during harsh cold weather.
The Alepo gloves are equipped with 360° touchscreen technology with precise touchpoint control that functions admirably with all smartphones, tablets, PCs, etc. while keeping the gloves on. The anti-slip functionality of the gloves provides a firm grip on your phone handlebar, wheel,  or anything else. It thus is a perfect choice for driving, cycling, riding, and other outdoor activities. These classic great looking gloves are an excellent purchase for your everyday office and business wear.
Pros
Anti-slip functionality
Elegant look and design
An ideal choice for extreme cold weather
Compatible with 360° touchscreen technology
Cons
Runs slightly long in the fingers
2. Pratt and Hart Traditional Leather Driving Gloves
These traditional leather driving gloves, made of soft and flexible genuine leather, have all the features that one looks for in a pair of driving gloves.
The gloves have knuckle holes allowing better air ventilation, and they keep the hands dry by reducing sweat. The elastic gather and snap closure on the wrist strap enables you to adjust the tightness of the gloves and works as a barrier against dust, wind, and water. They provide a snug fit and are comfortable to wear for a long duration. The gloves are unlined, so give the feeling of second skin to the hand and allows a natural grasp on the wheel.
Pros
A giant range of sizes available
Wrist strap with a snap with knuckle holes
Elasticized wrist snugger
Natural grasp on the wheel
The best option for summer wear
Cons
Non-compatible to touchscreen function
1. ELMA Luxury Italian Nappa Gloves for Men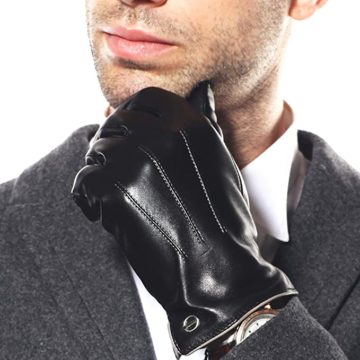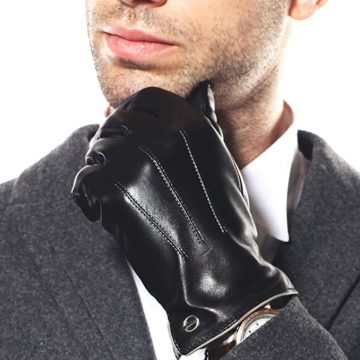 These luxury winter gloves are made from high-quality Italian Nappa leather with 100% Cashmere outer and soft fleece inner lining, making them one of the warmest gloves available. The extra fleece on the inner side of the gloves provides additional warmth to the skin to bear the extreme cold condition.
The gloves function on 360° touchscreen technology with precise touchpoint control enabling the use of screen activity comfortably while keeping the gloves on, even in frigid temperature. The gloves also have a slip-resistant design, giving an excellent grip at the steering wheel, smartphone, or other things. These luxurious, high-quality, attractive looking gloves are the best driving gloves available, with remarkable quality and elegant style.
Pros
Premium Italian leather
Precise touchpoint control
Excellent grip
Excellent gloves for a reasonable price
Cons
Not an excellent choice for warm weather
Factors To Consider Before Buying The Best Pair Of Driving Gloves
When it comes to buying the best pair of driving gloves to suit your requirement, there is a wide range of choices available for both style and comfort to choose from. Let's look at the points to consider while choosing the right pair of driving gloves for you.
Material
The most crucial factor to consider while buying the best driving gloves is the material. The market is full of gloves with a variety of material, starting from silk to leather, to synthetic leather, and so on. As a buyer, you need to decide which material suits your requirement impeccably. While synthetic leather is easy to maintain, but its quality gets compromised over a while. Genuine leather, on the other hand, gives an elegant look but demands high and meticulous maintenance. The weather condition also plays a massive role in choosing the best material for your driving gloves.
Fit/Size
A pair of well-fitting gloves increases the control and efficiency of the person behind the wheel.  You should always go for a tight fit, as the glove's material is flexible and will adapt to the shape of your hand over some time. It is always advisable to try the gloves before actually purchasing them. Make sure that they fit comfortably like a second skin, and there is no restriction in movement while moving your fingers or making a fist.
Design
Overall design plays an essential role in helping you decide the usefulness of your gloves, be it for fashion or function. While some people look for classic and simple looking gloves, others go for stylish and beautiful designs. Knuckle cut-outs, fingerless or full cover, hand-crafted with detailing, and wrist strap are a few examples to add to the list of designs available in the market.
Conclusion
Driving gloves not only deliver safety and comfort to the person wearing them, but they also function as a status symbol. We hope that the product review and the buying guides provided in this article will help you make an informed decision and buy the best pair of driving gloves for you.