The cold winter can freeze your bones and limit your movements. And so you need help in keeping you warm outdoors. Luckily, heated jackets are invented to make your life easier, and allow you to handle the snowy season better. That is precisely why we feature the top 10 best women's heated jackets in 2023. You can fight the freezing cold with any of these jackets, and you look absolutely great doing so.
All the heated jackets in this post are designed for women, but there are also a few that can be worn by both sexes. The most important thing is, these products are made from premium quality materials. They have stylish designs that are also practical and extremely safe to use. We have put together the best features of each heated jacket, so making a decision is easier for you. You simply need to read through the details and have fun in your selection.
List of Top Best Women's Heated Jackets Review
10. Milwaukee Leather MPL2767SET Women's Black Heated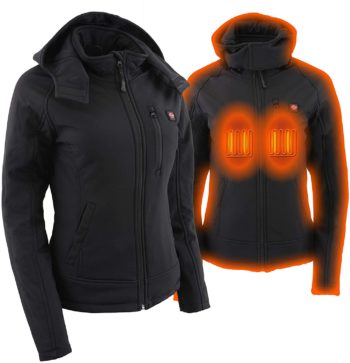 For a chic style and obvious visibility at night, you will surely like the Milwaukee Leather Women's Black Heated Soft Shell Hooded Jacket. It is perfect for night use and fashionable during the day. This product is constructed with superior precision to create a jacket that is safe and durable. It offers exceptional comfort, and sturdy materials allow you to spend a longer time with this product. And the heating capability is definitely beneficial during the freezing days and night.
Reasons to buy:
Includes a 7.4V rechargeable battery for long hours of heating while outdoors
Lightweight construction coupled with a cinched waist and comes with reflective piping
Zippered closure with interior pocket and additional drop pockets
9. Gerbing EX Pro Heated Jacket for Women and Men Waterproof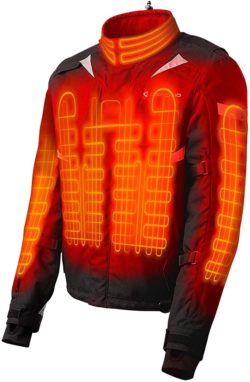 If you are looking for a motorcycle jacket that keeps you warm, then you came to the right place. The Gerbing EX Pro Heated Jacket for Women and Men is great for outdoor adventures. It is highly efficient in keeping you warm during the cold ride on open roads. Plus, it is cool in appearance and went through sturdy construction.
Reasons to buy:
Made using premium quality PU coated 500D Cordura material for extreme strength and durability
Designed with detachable 12V heated liner for an efficient microwire warming zones
Crafted with breathable and waterproof material, telescoping Lycra cuffs, exhaust vents, and reflective panels
8. Smarkey Cordless 7.4v Women's Heated Jacket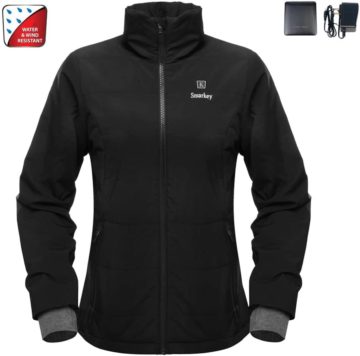 As a versatile product, the Smarkey Cordless Women's heated Jacket is perfect for winter and other seasons. It comes with a 4,400mAh battery, which can last for hours. The sturdy construction of this product makes it possible to use this heated jacket frequently. It can withstand constant abuse and can handle the toughest outdoor conditions. Plus, the elegant design is perfect for any woman.
Reasons to buy:
Manufactured using high quality 100% polyester that is rain, snow, and wind resistant
Heating takes seconds only for the three body warming zones
Three modes heat controller coupled with color coded LED lights for 6 hours of heating
7. Bosch Women's 12-Volt Max Lithium-Ion Soft Shell Heated Jacket Kit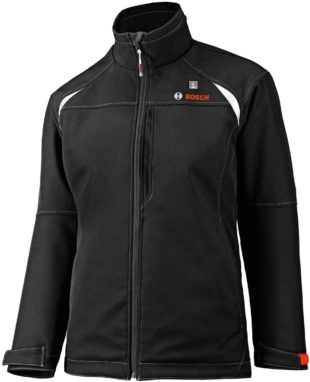 For a fast warming up during the cold days and night, you need the Bosch Women's 12-Volt Max Heated jacket. This is a great product to use outdoors during the cold and windy season. It is designed to withstand constant abuse, and you can expect a very long lifespan. This heated jacket is perfect for working in any tough weather. It keeps you protected from the environmental elements, especially the cold.
Reasons to buy:
Comes with a reliable battery kit that includes a battery, holster, and charger
Designed with three heat settings, and can last 6 hours using the lowest warmth mode
Made from premium 100% polyester for high resistance to rain, snow, and wind
6. ANTARCTICA Upgraded Lightweight Heated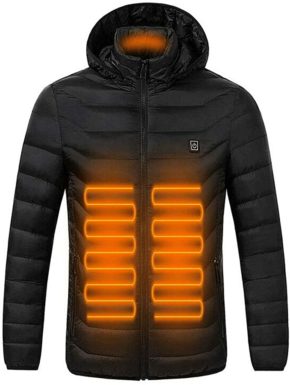 It is important to wear a lightweight jacket outdoors, and so you would like the ANTARCTICA Heated Waistcoat Down Jacket. This is a high quality product that is perfect for your outdoor adventures during the winter, or any days that have low temperatures or rain. It is seamless to change the heat settings, and this product is easy to wash and clean as well. This heated jacket is efficient in promoting proper blood circulation, so you can function well even in the freezing cold.
Reasons to buy:
Made from premium grade 100% polyester for superior comfort and safety
Designed with three heat settings for a quick 5 seconds heat uptime
Machine washable heated jacket that is backed with a 12 months warranty
5. CONQUECO Women's Heated Jacket Slim Fit Electric Hoodie Jacket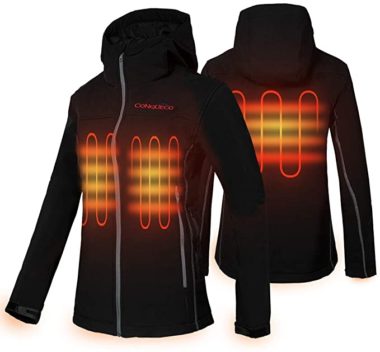 For a slim woman, your figure is beautifully showcased by the CONQUECO Women's heated Slim Fit Jacket. It is designed with visible lines for added style, and the breathability feature is perfect for outdoor use. This heated jacket is great for skiing, fishing, climbing, riding, hunting, and other outdoor activities. It is made from high quality materials, so you are confident about its durability and strength.
Reasons to buy:
Designed with a built-in Thermal Protection Module that ensures your optimum safety
Core body heating (right and left chest, mid back) with three adjustable heat modes
Waterproof product that is backed with a 12 months warranty
4. PAVEHAWK Heating Jacket USB Lightweight Electric Hooded Coat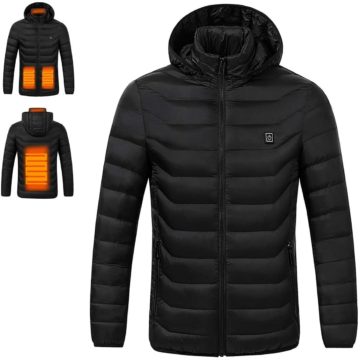 Your exceptional comfort is what the PAVEHAWK Heated Jacket hoped to achieve. It is an extremely safe product since it automatically stops functioning once heat is too much. During the cold months, you can stay warm when you wear this heated jacket, and you look chic too. This product offers excellent performance in terms of providing heat, durability, and longer lifespan.
Reasons to buy:
Designed with carbon fiber warming components for a fast 5 seconds heat uptime
Equipped with a 10,000mAh battery for 8 hours of heating
Premium product that is backed with a 12 months warranty
3. Venustas Upgraded Heated Hoodie with Battery Pack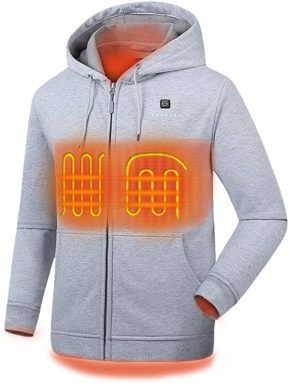 When four areas of your body are heated, you feel warm and comfortable even in the cold outdoors. And so you need the Venustas Heated Jacket for Women and Men. It instantly warms up in seconds to provide you heat to tackle your tasks outdoors. This is a premium product that offers three adjustable heat modes, adjustable hood and cuffs, and a skin-friendly lining.
Reasons to buy:
Designed with a 10,000mAh battery for up to 10 hours heating
Stylish heated jacket with a breathable feature, YKK zipper, and windproof and waterproof material
100% satisfaction guarantee, coupled with a 2 years warranty
2. COLCHAM Unisex Heated Hoodie Soft Fleece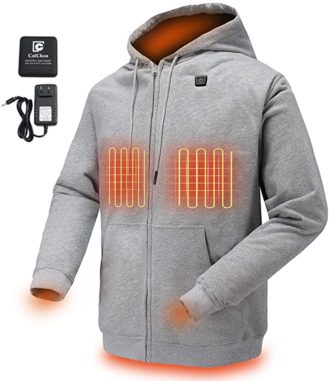 The unisex design of the COLCHAM Heated Soft Fleece Jacket is perfect for use during the cold season. It is made from high grade materials to ensure superior performance and promotes extreme safety. This product is absolutely comfortable to wear, and the practical and simple design is eye-catching. Without a doubt, this heated jacket will last long thanks to the sturdy construction.
Reasons to buy:
Designed with three adjustable heat settings, with up to 10 hours use after one charging
Perfect for women and men, with warmth coming from the right and left chest, and back
Backed with a 100% risk free guarantee, coupled with a money back guarantee
1. ORORO Women's Slim Fit Heated Jacket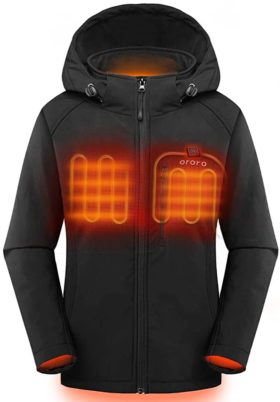 Safety is the main factor to look out for in buying a heated jacket. And that is what the ORORO Women's Slim Fit Heated Jacket is all about. It is designed with a removable hood, and the comfort in wearing it is absolutely worth buying. This product is crafted with a USB port so you can easily charge your devices while on the go. Plus, this heated jacket provides 4 heat settings to accommodate your needs.
Reasons to buy:
Made using premium quality 100% polyester for superior strength and durability
Stylish heated jacket with a breathable construction, coupled with a quick heating capability
Equipped with a 7.4V UL/CE certified battery that survives 10 hours of use
A Quick Buying Guide For Women
Wearing a heated jacket can comfort you in a harsh weather condition. No matter how much you love winters, the chills can make you feel uncomfortable. Perhaps it could also make you fall ill. With a heated jacket for women, you can stay snug and comfy all through the cold months. However, before purchasing the product, it is important to look for certain features.
Here's a quick buying guide to buy the best women's heated jackets in the year 2023.
Material
The material of the jacket speaks volumes about the durability and quality of the heated jacket. The most commonly used material to make heated jackets is polyester. It is water-proof and provides coverage during rainy season. When you are walking out on a snowy day, the snow can melt and drench you completely. Hence, polyester works best when it comes to making heated jackets. Also, the inner layer of the women's heated jacket should have fleece. Fleece can keep you warm in the harshest weather condition.
Versatility
You can find a jacket that can be transformed into a vest. That's possible! Some jackets come with removable sleeves as well. It allows you to transition between a winter-wear jacket to something that goes well during the fall season.
Weight
Nobody wants to wear a heavy jacket outside. The additional weight can be traumatizing. Opt for a lightweight jacket that has a lightweight battery. It will save you from carrying extra weight around. Don't forget that the additional weight on you translates to additional weight showing up on the scales!
Battery
Speaking of weight, the jacket will have a battery too. It is attached to give warmth to your jacket. Yes, the jacket will be 100% secure, but you need to ensure that it comes with a durable and lightweight battery. Ideally, you will get a cord and the adapter along with the product. This is for recharging the drained battery. Look for a product that comes with a high voltage battery. It will give you the benefit of quick heating.
Additional Features
Some jackets come with heat settings. Now, that's an advance-level jacket. With just one press of the button, you can change the settings. Everyone has different levels of bearing heat. For some people, one setting may be too warm, and for others, it might be not too warm. Our bodies are different!
Once the jacket ticks all the boxes, you would know that it is worth the purchase.
So, go ahead and buy the women's heated jacket. You would want something that can be easily washed and is lightweight.
Also, ensure that it is waterproof and breathable.
Conclusion
We have wisely narrowed down your vast choices to only ten, so you never have to waste precious hours on the web. Trust that all the heated jackets we have selected are the best in the market. In our selection process, we have considered valuable factors like durability, functionality, style, and of course, we looked into the safety of these products.
All of the heated jackets listed here are extremely safe and long-lasting, and they are fashionable too. Any choice you make is a good one, and something you will never come to regret. And aside from personal use, you can also purchase extra pairs to give as a gift to your mother, sister, or closest friends.
A heated jacket can always come handy in harsh weather conditions! Plus, you can show the women in your lives that you care a lot about them.