Night vision goggles are essential equipment that allows you to see in the dark. It could be that you are a security guard whose job falls at night, or you could just be someone who loves to hunt at night. Whatever the case might be, you need a pair of night-vision goggles. The design of quality night vision goggles allows you to see and move well in the dark. You can move without risk of falling or hitting your legs against something when you have these goggles on.
In this article, we will look at the best 10-night vision goggles that are currently in the market. These goggles come with different features, and they vary in prices too. At the end of the article, you would also find a guide that would inform you of what to look out for in a quality pair of night vision goggles.
List of Best Night Vision Goggles Review
10. Night Vision 1×24 Goggles
First on our list is the Yukon NV 1×24 night vision Goggles. With these pair of goggles, you have specialized night glasses with good optical quality and resolution in your images. The Yukon goggles feature a 24mm lens which is great because it allows more light to pass through it.
More light passing through the lens means that you would be able to see clearer. They are comfortable, light (they weigh 600 grams) and have a firm harness on the head. The only downside to this pair of goggles is that they are not comfortable when used with glasses on.
Pros
Clear images with very good resolution
Not too heavy on the head.
Comfortable
The package comes with headgear
9. Ghostbusters Sightmark SM15070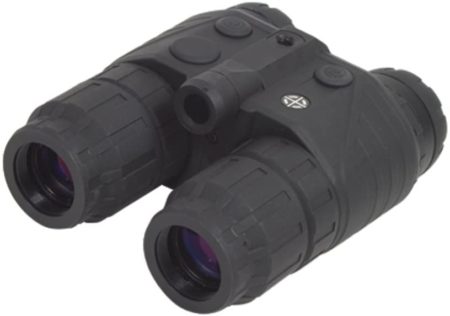 These night goggles use a double tube system that allows for clearer vision. The goggles can be placed on a head mount so that you can free your hands and engage them in other activities. The head mount allows for simple adjustments to be made when the goggles are in use.
They also come with high power, 1x magnifying infrared illuminator. So even when you are in the complete dark, the infrared illuminator still allows you to see. These glasses also have an auto power-off function, which turns off the goggles when it detects bright light. This helps you to save your battery.
Pros
Strong battery life.
Lightweight.
Comes with carrying case
Compact design
Infrared lighting.
8. AGM Global Vision Night Vision Google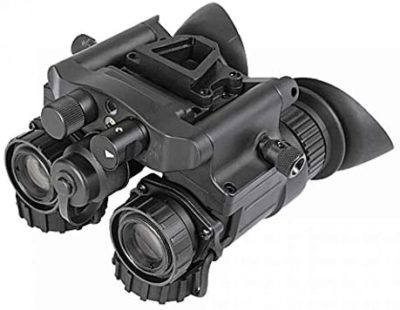 This pair of night vision goggles are one of the most expensive in the current market. You'll have to cough up more than $7,000 to get your hands on these goggles. As expected, the goggles come with extra features that the regularly priced ones do not have.
One of these features is this goggle is clear enough for you to be able to read with. One extra icing is that these glasses work well even under extreme temperatures. So you can go out in the dark no matter the conditions and still see very clearly.
Pros
Dual tube design
Optimal design for mounting on the head
Lightweight
Infrared illuminator
Amazing battery life.
7. Night Vision Goggles from Wanney.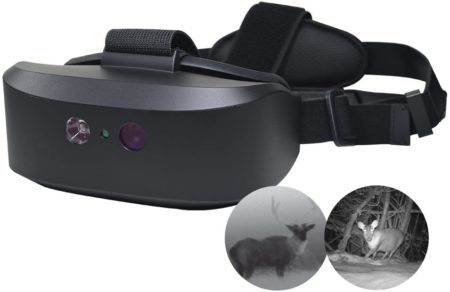 Want to wear night goggles that do not look like night goggles? Then you should buy these ones from Wanney. The design of these goggles makes them look like VR glasses. Even with the sleek and ergonomic design, the goggles are still packed with quality features.
With these goggles on, you can easily see up to 80m in the dark. Nighttime hunting is especially fun when you have these on. The goggles have sensitive sensors that allow it to be able to detect light. When worn, they put little or no strain on the neck. This makes them comfortable to wear for a long time.
Pros
Rechargeable battery
Infrared illuminator
Comfortable design
Lightweight
6. Pulsar Edge GS Super 1
Here we have another quality night vision goggles that assure you great sights during the night. Don't be fooled by its small price, these goggles still give you value for your money. When it comes to the design, they are pleasing on the eyes.
They are also made with long-lasting materials that can handle cold conditions that come with their use in the night. The brightness is adjustable so that you can still see clearly even in the darkest of nights. They have a super-wide view of 36 degrees, which allows you to see everything that happens in front of you.
Pros
The battery life of up to 50 hours.
Adjustable illuminator for improved vision.
Strong and long-lasting build.
Can work in extreme temperatures
5. ATN PS15-4 Gen 4 Night Vision Goggle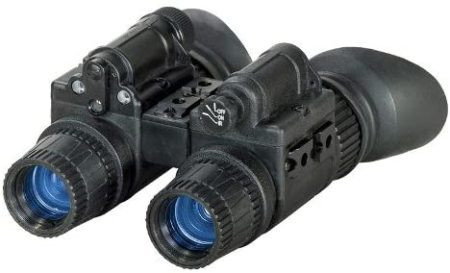 This is a night vision goggles with 4th generation image intensifier tubes. What does that mean? It means that your eyes would be met with the clearest images, even in thick darkness. Alongside these image intensifier tubes is an infrared illuminator that allows you to read and view images in the dark.
Want to go swimming with these? No problem, they are water-resistant for up to 66 feet. The automatic light control system on the unit switches it off when it senses bright light. It comes with a 27mm lens system, which guarantees a better vision.
Pros
Comes with a bag for easy carriage
4th generation image intensifier ensure clear vision
Affordable
Endorsed for professional use
4. Eyeclops Night Vision Goggles from Spy Net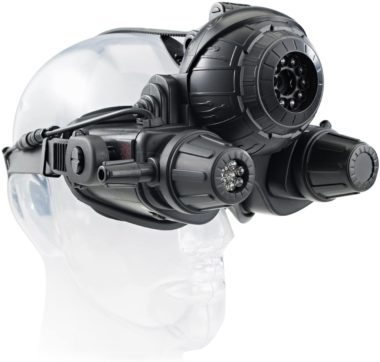 This is the perfect goggles for you if you are the kind of person that loves cool things. These goggles look like they were brought straight out of a sci-fi movie. Instead of featuring two LEDs like the other goggles on the list, this one has three. Aside from the cool looks, it has cool features too.
One such feature is the long-range and stealth mode. We told you it was like in the movies. The long-range mode allows you to see up to 50 feet away in the dark, while the stealth mode allows you to see in the dark without getting spotted.
Pros
Cool design
Lightweight
Long-range and stealth modes
Great for kids.
3. Ultra Night Vision Goggles from Spy net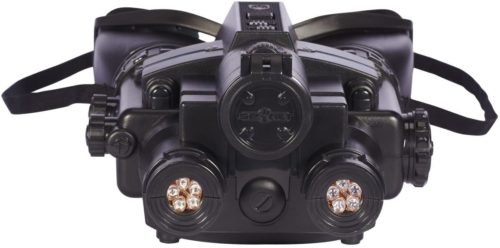 Want your kids to hop on some of the fun that comes with seeing in the night? If so, this is the right pair of goggles to add to your shopping cart. The goggles are lightweight, have two modes (Long-range and stealth mode) like the eye clops vision goggles and a record mode. Yes, a record mode.
These goggles allow you to record up to 20 minutes of video and take more than 1000 pictures depending on the size of your SD card. Send the videos and photos to your computer to see the amazing scenes and objects you captured during the night.
Pros
A fantastic option for kids
Records videos and take stunning photos
Stealth and long-range modes
Affordable.
2. HD Dynamic Digital Night Vision Goggles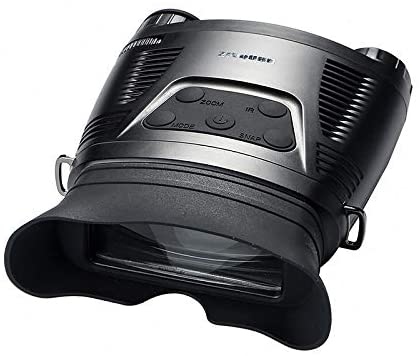 This one is for people who not only want to see in the dark but who also want to capture images in the dark. This digital night vision goggles enabled with high-sensitivity sensors allows you to take clear pictures of the night time with ease. These sensors also work when you are met with a bright light.
Imagine that you are in the dark, but suddenly a car's headlight shines on you, do not worry, the glasses would go off instantly. The area of view on these goggles is 9 degrees which means that you can use it well even with your glasses on. You can also use the 2x magnification feature on the goggles to zoom on certain objects.
Pros
Allows you to capture images
Wide area of view
2x magnification
Infrared illumination
1. Superior tactical PVS-7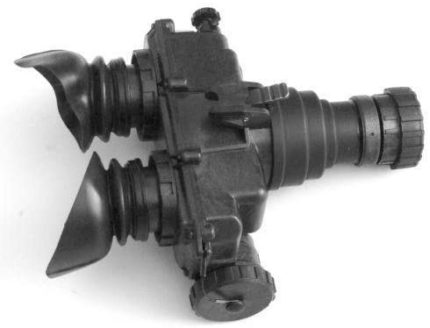 Finally on our list of best night vision goggles is Superior Tactical's PVS-7 night vision goggle. These goggles are made with materials built to last. It does not matter what the weather condition is like whenever you have these goggles on.
They are waterproof, dustproof and weather resistant. The package does not come with a helmet or harness, so you would have to buy that separately. This model of goggles is made based on the standard-issue used by the US Army, so you can be sure of the device's quality. With a field view of 40 degrees, nothing in the night is getting past you without your notice.
Pros
strong and long-lasting materials
military-grade night vision goggles
Works fine in extreme weather conditions
3rd generation tubes for clarity
Buyers Guide Choosing for Night Vision Goggles
How do they work?
Night vision goggles collect ambient light, be it moonlight or stars. It doesn't matter if there is little light because what they do is amplify it to generate a brighter image. It is the magic of night vision devices. You will be able to see in dark situations where, at first glance, you would not be able to recognize your best friend. But glasses always need some light to be able to amplify, the more light there is, the more light they can amplify and the brighter the image will be.
If the night is very dark because there is no moon or because it is very cloudy, you will have to illuminate the scene with artificial light. Many night vision goggles include an infrared light illuminator. You will not see anything because the human eye does not perceive infrared light, but glasses can amplify it and show you an image even if you are in "apparent" total darkness.
What to look for when choosing them
Night glasses are classified into generations depending on the sophistication of the technology used. Depending on the generation, you will have glasses with different:
Light amplification capacity
Image quality (resolution)
performance
Useful life
With first-generation glasses, you will be able to see a person 100 meters away, but with third-generation ones, you will be able to distinguish even the clothes they are wearing. The problem is that between glasses of a generation and another, there is usually a high differential in price. Here is a list of some of their characteristics
First-generation Night Goggles
They are the cheapest
They're mostly used for leisure activities
They have an approximate range of 80 meters
Amplify light up to 900 times
On very dark nights you will need to activate the infrared illuminator
Second generation
They offer images with better resolution
Amplify light up to 30,000 times
No need to turn on the Infrared Illuminator so many times
Battery lasts longer
They have a range of 200 meters
Third generation
They are the ones used by armies
The battery has a lot of capacity
They can recognize objects up to 300 meters
They can be controlled for better images
Weight
Weight is important, keep in mind that you are going to carry them on your head, and if they weigh too much, they can cause neck pain. The lighter, the better. We do not recommend that you choose glasses that weigh more than a kilo.
Climatic resistance
It is often difficult for this type of technological device to be waterproof.
Third generation night vision goggles will have a high degree of water resistance, but cheaper glasses will have much less resistance.
To increase their resistance, they are sealed to prevent the entry of water, dust, and sand.
Electronic devices often have operational problems in extreme temperatures. But many night vision goggles work at high temperatures and even quite a few degrees below zero.
Durability
Depending on the technology used, night vision devices usually have a longer lifespan.
First-generation goggles last for about 2,500 hours, Second generation 5,000 hours and third-generation about 10,000 hours.
The durability is also closely associated with resistance. Depending on the materials with which they are made, they will be more or less resistant to shocks.
The materials used are different depending on the generation of the device.
Third-generation goggles can take a beaten and are worn in war combat.
Helmet or harness?
For you to have your hands free, the glasses must be firmly attached to your head. Armies attach them directly to the protective helmet.
But to use them in recreational activities, the most common way to adjust them is with a head harness. They are straps and bands that adjust so that the glasses fit exactly over your eyes.
The headgear is lighter, cooler, and cheaper than a helmet.
Infrared illuminator
First-generation glasses have less ability to amplify light. To see, you will need more light than with glasses from another generation.
If there is not enough ambient light, you will have to provide it artificially.
Most night vision goggles have an infrared illuminator with which to illuminate if the scene is too dark.
Remember that infrared light cannot be seen without a night vision device, but it will be there illuminating you.
By wearing the illuminator built into the glasses, you will not have to carry a flashlight, and you will still have your hands free. You only have to activate it when you need it.
Wearing night glasses with viewing glasses
To be able to wear glasses with a night vision device, you need a high eye relief. Eye relief is the distance at which you have to place the eyes of the eyepieces of the glasses to be able to see through them. The greater that distance, the more comfortable you will look.
It is recommended that it be greater than 15 mm.
Conclusion
At this point, we know you have a clearer vision of the best night glasses that will suit you and not shake your pocket. If you're not satisfied with all of the products reviewed, you can also use the buyer's guide to make you a fine selection.