We get a bit too lazy during the winters in getting out of bed, go for a run, or simply do household work. Chilling winter could be a dampener on all your plans to stay fit and shed those extra pounds. Enter heated Insole for keeping your toes warm and taking out that silly excuse of no workout because it is chilling outside.
There are many options in the market when you are out to buy an insole. However, only a few will be according to your needs and the comfort level that you are looking for.
Here is our list of favorite Heated Insoles that are efficient and also a light on the pocket.
Best Heated Insoles to Buy in 2023
10. Outrek Heavy Duty Outdoor Electric Heated Insoles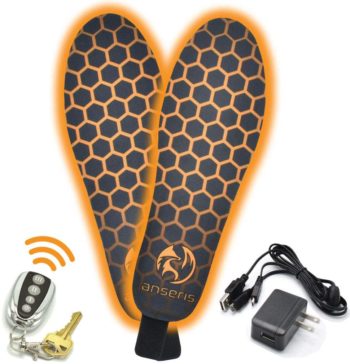 This heated insole would be your best purchase to brave the chilling winters and keeping toes warm and comfortable. The insole from Outrek is categorically designed after the needs of trekkers and those who love outdoor activities.
Moreover, its sophisticated heating technology ensures that you can use it and recharge whenever required. Underlined with the smart lithium polymer batteries, these insoles can retain the heat for up to 6 hours.
Key Features
Electric Insoles come with a rechargeable option and good battery life of up to 6 hours on a single charge.
Insoles come with a small pocket-size remote control making to adjust the temperature of the insoles.
Made to last even in the harsh environment and continuous outdoor activity
9. Dr. Warm Environment-friendly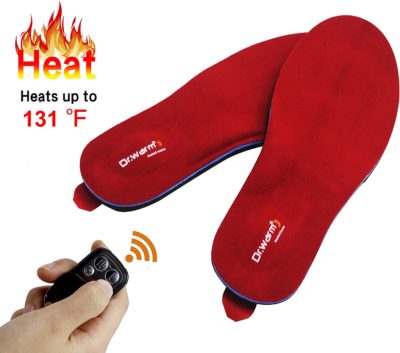 Packed with almost every feature that you want in a heated insole, this item from Dr. Warm is both environmentally friendly and durable. You can set different temperature modes and all just by clicking a few buttons on a small remote control.
There are three temperature modes to ensure you get the comfortable warmth while trekking, fishing, etc. during the chilling winters. Further, the insole can be adjusted according to the shoe size just by trimming a bit on the sides.
To ensure safety, the lithium-polymer batteries and circuits are covered by a steel case able to carry about 250 Kg.
Key Features
Latest high-efficiency carbon fiber heaters make these electric insoles environmental Friendly
Three temperature mode settings with remote control give options to adjust the temperature as per the requirement.
Batteries have a decent life of average 4 hours on any temperature mode on a single charge.
8. Winna Soft Velvet Upper Durable Heated Insoles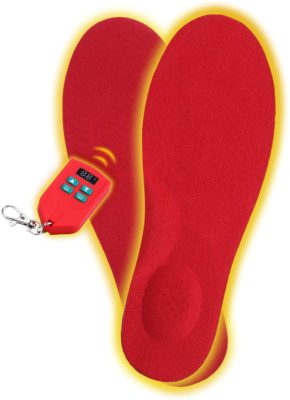 This heated insole is made with the patented technology ensuring that comfort is not compromised to tweak the heat settings a bit. A lot of effort has been gone behind this ensure to ensure that it is a proper balance of comfort and warmth.
Because of the temperature sensor and control chip, the insole will stop heating after reaching a proper temperature. So, this is done to make sure that your feet do not start overheating to the level of uncomforting.
Further, the remote control is all you need to maintain the temperature inside the shoes on the move.
Key Features
Quick charging technology lets the insole charge in less than 4 hours and uses from 3.5-8 hours
High –density lithium polymer batteries that work perfectly even in -20°C and has obtained safety certificate
High range Remote control allows temperature control from outside the shoes
7. Toullgo USB Rechargeable Comfortable Heated Insoles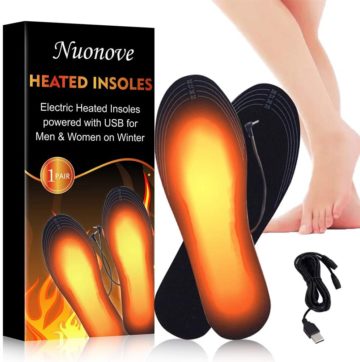 Keeping your foot warm being the organic function of this insole, it takes the comfort level up by a notch. With soft and super comfy EVA stretch material and light elastic proper cushioning is provided to your feet.
Another user-friendly feature of this insole is that it is adjustable according to the feet size. All you have to do is to cut and shaped according to men and women. Moreover, the distance is denoted by the dotted line, keeping size problem out of the window.
Key Features
Carbon fiber heating ensures even heat distribution and a large heating surface.
The insole can also be recharged and heated via the USB Cable
The battery inside the insole has mesh fabric pouch leg attachment strap for both safety and convenience.
You can clean it with water for use again. However, ensure that the insoles are not in contact with water while on charge
6. Aroma Wool Foot Winter Outdoor Hiking Heating Insoles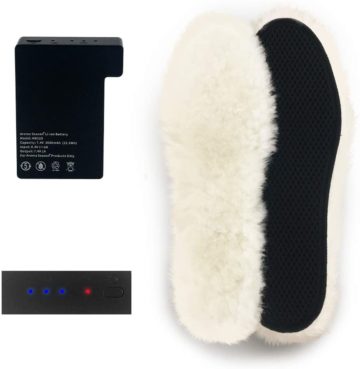 If moisture inside the shoes is something you do not want while wearing heated insoles, then this wool insole is the solution. This insole from Aroma is made of 100% wool top fabric with sheepskin for complete moisture-wicking.
Dampness is not something that you would want to carry in your shoes while doing fun-filled outdoor activities. Manufacturers thought so too and came up with this all-weather moisture-free heating insole. With this insole, you get 3-level heat settings never to let you miss on your favorite outdoor activity ever again because of cold weather.
Key Features
2 set of 7.4V 3000mAh batteries can work for up to 10 hours on low setting taking away the worry of charging now and then
Odor-resistant and moisture absorbing 100% wool fabric is flexible enough to keep your feet comfortable
Upper sole is made of Bamboo charcoal which is known for strong absorption capacity
5. Gimlife Power Display Thermal Control Heated Insole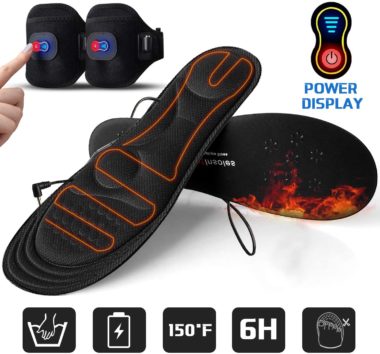 This electric insole from Gimlife takes away one of the most common problems – Short battery life of the insoles. With batteries that can last for up to 6 hours, the insole also has a voltage detection feature making it safe to use anywhere.
Apart from the battery output being 7.4V, which a safe and low voltage for humans, the PVC fire protection case is an added advantage. For cleaning, the insole can be soaked in water and scrubbed except the batteries.
Key Features
Boosts blood circulation and reduce soreness with the help of features such as infrared heating
Concavo-Convex design of the insole ensure that you do not feel uncomfortable even after long hours of usage
3 clipping areas of the insoles make the cutting and sizing according to the feet size comfortable
4. Kamlif Memory Foam Power Display Heating Insoles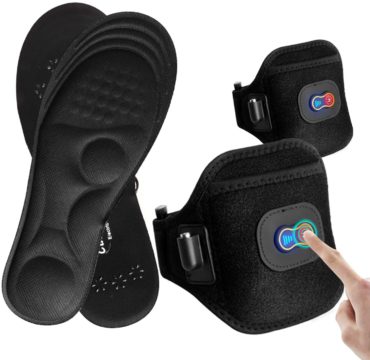 Memory foam, of course, is touted as one of the best materials for comfort, be it cushions, pillows, and even insoles. The heated insoles are made of memory foam and therefore deliver more than just keeping your toes warm. The sponge ensures that your feet do not hurt, and there is proper blood circulation.
It is a fast heating insole with the maximum temperature reaching up to 131℉ with 3-size anterior trimming for expanding the heating area. Moreover, soft insoles produce friction to ensure better grip and safety during the adventure and other activities.
Key Features
Two straps, three temperature settings, and power display make the insoles safe and comfortable to use.
Silica Gel material on the back of the heated insoles enhances the anti-skid feature of the insole
High Arch support and ergonomic design keeps foot pain away and adds to the flexibility
3. Thermrup Washable Infrared Rubber Heating Element Insole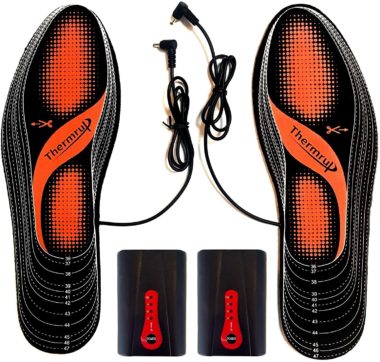 Standing to its name and reputation, Thermrup heated insoles are packed with far infrared rubber heating elements. Further, this ensures the even supply of the heat across your feet, giving pleasing warmth. Since batteries are attached to the leg with gaiters, you do not feel restrained movement at any time.
Further, the 7.4V lithium batteries ensure that your feet are warm and comfortable for up to 6 hours. Apart from this, the outline gives you the freedom to cut the insole as per your foot size and requirements.
Key Features
You get waterproof insoles that can be easily washed with hands or even in the washing machine
Batteries pack attached to the ankle with the gaiter ensure free movement and better safety
Keep a tab on heat level and battery charge status with LED displays
2. Warmfits Vented Design Unisex Heated Insoles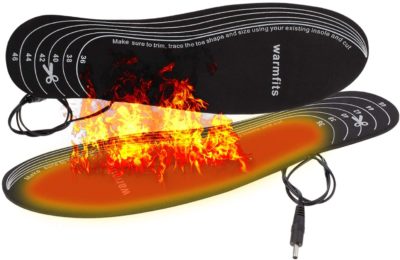 If you are looking for high powered insoles for high performance during outdoor activities, consider this one from Warmfits. The lithium-ion polymer batteries on full charge guarantee 6 hours on uninterrupted even heat distribution.
The insole can clock the maximum temperature of 120 °F, ensuring just enough heat to keep the feet warm without sweating them. Simple to charge, all you need is a power bank or mobile phone ac adaptor.
Key Features
Flexible with the bendable design of up to 180 degrees and easily washable makes the insole perfect for outdoors
You can adjust the insole according to your feet size by merely cutting across the outlines
Rechargeable Lithium-ion polymer batteries can be attached to feet with the help of Velcro tapes
1. HotHands Odorless Disposable Activated Insoles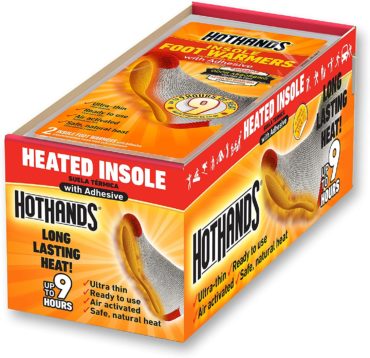 Perfect warmers for those who are planning for a trip to a cold place but do not want the insoles for permanent use. You can simply pick up these odorless activated warmers and dispose of them after use. Moreover, you can dispose of them off to a regular garbage bin as the material does not harm the environment.
Activating the warmer is also simple as you just need to take it out of the packing and shake a bit. You can use it for all outdoor events such as camping, hunting, fishing, trekking, and so on.
Key Features
Takes only 15-30 minutes to warm up the insoles and get it ready for the outdoor use
These warmers are available in several designs for both hands and feet to keep you warm
The warmers can retain the heat for up to 9 hours and distribute it normally
Winter season not just makes the movement and outdoor activities difficult, it can adversely affect blood circulation as well. Heated Insole ensures that you do not give up on your fitness and outdoor activities, even in the chilling weather.
Pick one of these heated insoles to make your outdoor activities and workout sessions free even in the chilling weather.