What do kids want? Well, they want to play, have fun and love behaving like adults. They learn everything from the adults in their life. And when they see them cooking in the kitchen, they feel like that they can play the role well. In fact, that's not going to stop them to play with their friends. So, why not gift them something they will love? A kitchen toy is an impressive toy to give to your child as it will keep them active for a long time. It will even help them in getting to know new skills.
Hence, find out the different toy kitchen set designs and see which one pleases them the most. So, find the pretty choices here and surprise your kids.
What are the best toy kitchen sets to buy?
Once you create a search for kitchen toy sets over the internet you will be astounded by the sheer number of results for your search. The number of results alone makes it complicated to choose the perfect kitchen to set your little child. However, going for a reputed maker such as Step2 or KidKraft is sure to get you the best deal out there.
List of Best Toy Kitchen Sets Review
10. Step2 Friends Kitchen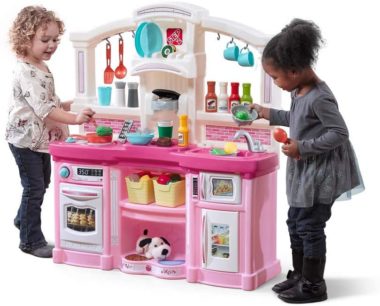 The Step2 Friends Kitchen is an enjoyable set for your child to play with and even invite friends over. It comes loaded with all kinds of artilleries you will find in a kitchen. These are as such a microwave and an oven with the clickable knob, a mini-refrigerator to store the pretend veggies and keep them fresh and so on!
This kitchen set has its own stovetop and coffee maker. Plus, your child can even drink the pretend coffee from the included mug. There is lots of space to store all the toy kitchen appliances in this set with many shelves and hooks all around.
Key Features
Comes with extra space for your child to easily clean and wash up after they are done playing.
The kitchen set will require the expert hands of an adult to set up once it arrives.
Features realistic sounds and lights that will make this kitchen set special.
9. Melisa & Doug Chef's Tot Kitchen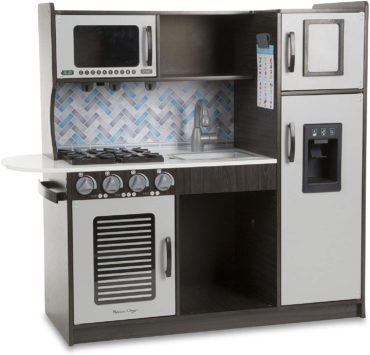 Certainly, a modern-looking pretend kitchen set to give to your child to keep them busy. Melisa & Doug are quite renowned makers of accessories for children and this kitchen set is no exception. With a sleek and stylish look, this kitchen features a microwave, a refrigerator, and stovetops. All the dials are operable and the doors to cabinets can be opened and closed.
There is ample storage space and thus your child can have the smoothest clean-ups with this set. Finally, the kitchen set even comes with an ice cube dispenser with two "ice cube"!
Key Features
The whole play kitchen setup occupies a space of 39-inches in height, 15.5-inches in width and 43.25-inches in length.
It has enough space such that your kid can play with their friends.
Has construction from wood and finished with appreciable finish coats. Thus is certain to be free of toxic substances such as BPA and phthalates.
8. KidKraft Ultimate Corner Kitchen Set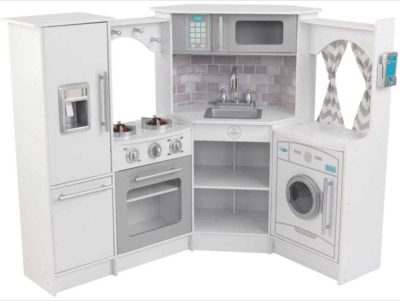 The KidKraft Ultimate Corner Kitchen Set is a unique and stylish toy for your kid. A kitchen set is a great time pass while also keeping the child active. This set comes fully with everything you would find in a kitchen. The set includes a refrigerator which measures 9.4" x 8.1-inches x 18.9-inches. It can store all the pretend fruits and veggies. The counter has stovetops and microwave open.
An icemaker is also included – both the burner and the icemaker are operable through light and sound play. The entire setup has construction using wood and MDF with plastic bits for knobs, stovetops, and so on.
Key Features
Comes with a play phone for your child to make them look busy.
It also a hands-free clip to attach the phone to while playing.
The counter is at a height of 21-inches from the ground keeping it at an appreciable level for the young children to easily reach out.
7. CUTE STONE Little Kitchen Playset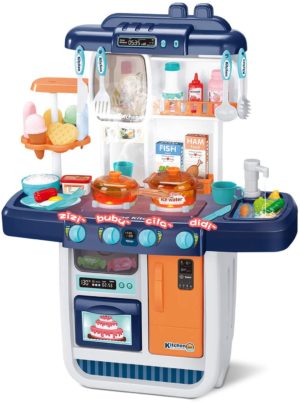 The CUTE STONE Little Kitchen Playset is a delightful setting for your kids. It will help in their growth, development and interactive skills. The set covers a space of only 21.46-inches x 10.24-inches x 27.56-inches and comes with all kinds of accessories. It is designed with the child's safety in mind. Thus you will find no sharp edges even on the added accessories.
High-grade material used in construction also features a faucet that does run water to clean afterwards. Finally, it features shelves and hooks wherein your child can store all their kitchen utensils.
Key Features
Comes with a 1-year warranty they even give a full refund if you have any complaint within 30 days of purchase!
The set includes 35 accessories that are generally found in a kitchen to make the play even more fun.
The dessert tray is an impressive addition to this for giving them a chance to place their creation.
6. JOYIN Play Kitchen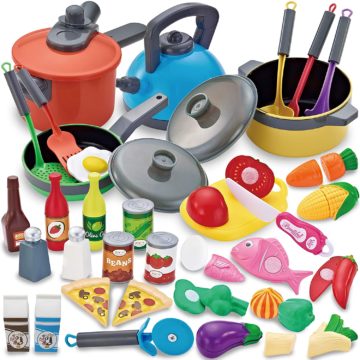 The JOYIN Play Kitchen set comes with all the things that can be found in a kitchen. This is just the ideal set to keep your child busy. It comes with pots and pans along with spatulas for the child to cook their pretend meals. There are 36 play pieces included in the set including ketchup and sauce bottles. Hence, gives your child a fulfilling experience of pretending to play.
Furthermore, the set includes vegetables such as carrots, corns, tomatoes and so on. The best thing about these pretends veggies are that they can be cut using the knife included in the pack.
Key Features
All the pieces are from materials which are top quality and very safe and have no toxicity.
Their imagination power will be brushed and they will become pretty creative.
The set includes pretending cooked food items such as pizzas and poached eggs. Hence, they can have a fun time with your child to pretend cooking and eating!
5. Cute Stone Kid's Toy Kitchen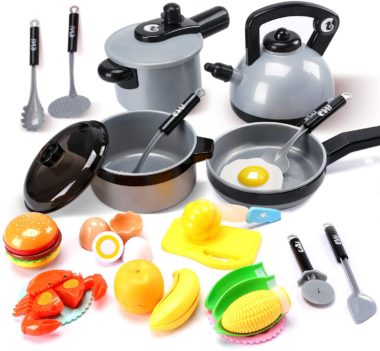 Cute Stone creates some of the best toy sets for kids. And the Kid's Toy Kitchen shows the same consistency in taking care of details. This is an innovative set that comes with the usual utensils and some amazing accessories. The set includes a pressure cooker, a teapot and saucepans along with all kinds of spatulas.
Next, the best thing about this set is the accessories. These include fruits and vegetables that can not only be cut but also peeled. Yes, the accessories such as orange, corn and banana can be pretend peeled. As a matter of fact, one can then cut giving the child a more life-like experience.
Key Features
All the pieces are crafted with the child's safety in mind and thus have no sharp edges.
The toys are from the most durable material such that it can easily last a long time. They can reuse it time and again and still will remain the same.
Wash the items in order to keep the shine intact.
4. Little Tikes Super Chef Kitchen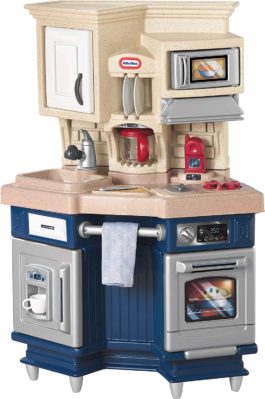 Little Tikes makes impressive accessories for children and toddlers and the Super Chef Kitchen stays true to that name. Next, the stylish kitchen set has cabinets with operable doors and storage space to keep all the utensils. It also features a microwave and a refrigerator.
Furthermore, the oven door has a lock that clicks shut and oven tops with operable dials. The oven even makes cooking sounds when your child has set something on the stove. Finally, it also includes a coffee pot, two each of cups, plates, forks, spoons, and knives, and a frying pan.
Key Features
It also includes a play phone for the kid to receive and make calls from the kitchen while cooking.
This kitchen set is compact and has a modern feel to it.
The refrigerator has storage space inside such that the pretend food can be stored and kept fresh for a long time.
3. Step2 Great Gourmet Kitchen
The Great Gourmet Kitchen from the house of Step2 surely gives your child a grand feeling while playing. Like all other products from Step2, this kitchen set is crafted from some of the finest materials. The kitchen set has modern look and feels and to spice things up, even features a double oven.
It includes all the stuff one would find in a real kitchen such as stylish cabinets, stovetops, a refrigerator and so on. There is a lot of storage space which makes clean up after a hearty meal very easy. It even has a pretend sink to wash off after having the meal.
Key Features
It even has a chalkboard loaded to one side to allow your child to keep track of groceries.
This is proven to be safe for kids.
It is so made that it features a light and sound play to give a real feel of pretend cooking.
2. KidKraft Large Pastel Kitchen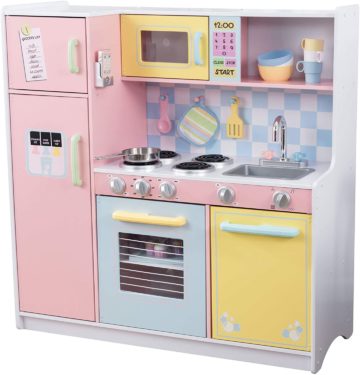 The KidKraft Large Pastel Kitchen is large and fun and is sure to keep your child occupied for long hours. Mimicking everyday activities is an impressive practice for children as it helps in their cognitive development. Besides, it also improves their skills at interaction. The kitchen set looks like a real kitchen in a miniature form and has all facilities such as separate sink, cabinets and stovetops.
The cabinets are functional and have enough storage area to support all the pretend utensils. There is even a refrigerator with storage space inside added to the kitchen set!
Key Features
It is large enough such that your child, along with their friends can fit into it and play together.
The oven and microwave featured come with transparent doors. It is like in real ovens so that food can be checked from time to time.
1. Step2 Lifestyle Dream Plastic Toy Kitchen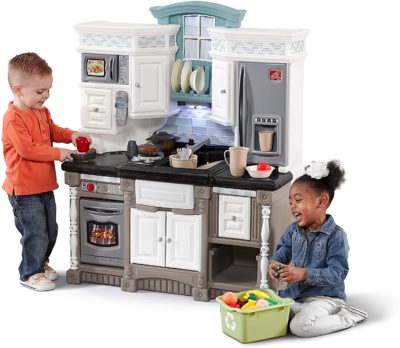 Step2 makes impressive toys and accessories for children. It is quite understandable from the fact that they keep coming back to this list. The Step2 Lifestyle Dream Kitchen Set is an impressive toy set that mimics quite an elaborate and brilliant kitchen. It features all the usual paraphernalia from a kitchen such as movable faucet, clickable knobs, cabinets and stovetops, and so on! The appliances are from faux granite and resemble a stainless steel appearance to mimic a real kitchen.
Besides, the drawers, cabinets and all other storage spaces are completely operable. Lastly, it gives enough space to store all your appliances and utensils.
Key Features
There are a total of 37 accessories included to help your child with having the greatest time.
Comes with all the added accessories can be easily washed using simply soap water.
The contemporary design is ready to complement the overall look.
How to buy toy kitchen sets?
When you are looking for toy kitchen sets you will find broadly two categories. One where you will get a make-belief toy kitchen mimicking a real kitchen in every way, while the other would be appliances and items used in a kitchen. To start with, both form an impressive collection and will keep your child for a long time. Going for just the appliances and items set however means that your child does not have an "actual" kitchen. On the other hand, the former comes along with a grand kitchen.
There is not much to consider before buying either of the sets. However, be sure to go for something crafted from durable materials. To keep you aware, these articles are sure to see some rough use. Since this will be a toy for the kids you have to also ensure that all the components in your toy kitchen set are free from toxic components such as phthalates and BPA which are likely contaminants in finish coats and plastics.
Just be sure to not spend too extravagantly on a kitchen set as some of the sets out there can get too pricey. It is advisable to fix a budget beforehand and you can always go beyond that if you really like some product!
How safe are toy kitchen sets?
The kitchen toy sets that you will find online are all pretty safe. It can be said with certainty that such products have to pass through safety tests even more strictly since they are designed for use by kids. The finish coats or materials used to make kitchen sets are all free from toxic impurities according to US standards. The kitchen sets also do not come with many small pieces and hence chances of accidental swallowing are pretty minimum!
Final Verdict
So, get your kid a modern or contemporary toy kitchen sets for your kids and keep them teaching the basic skills of life. It is not only fun but even valuable.