Science cannot be learned just from textbooks. You need to allow your kids to imagine, innovate and explore. And the best way to do so is with a science kit for kids. These kits allow your child to conduct various experiments and develop an interest in science. While there are different varieties of science kits available, it is still hard to choose one among them. Every science kit has its own aim and functionality.
The variations and choices are innumerable but we have hand-picked some. Take a look at our list of best science kits for kids to gift an amazing fun yet learning experience to your child.
List of Best Science Kits for Kids Review
10. GP Toys Science Kit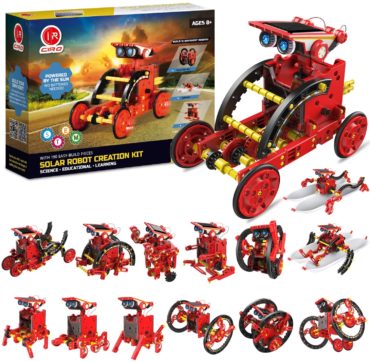 If your child loves robots, this product will immediately win their heart. One great thing about this product is that, unlike other toys, this does not require any batteries to run it. It completely functions on solar power. Moreover, your child gets to not only play with a robot but actually learn to build one all by themselves. Because of that, you can expect this product to help your child with their STEM growth while having fun.
Given that, the product uses ABS material for the different parts and accessories of the item. This gives the parts great strength to last for a long time.
Key Features
Your child gets to experiment with 12 different kinds of robot constructions with this product.
When complexity is concerned, this product offers 2 varying levels to challenge your child.
You do not have to worry about the safety of your child, as all the parts are non-toxic.
9. Creativity for Kids Science Kit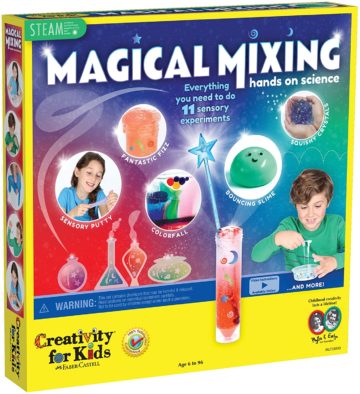 If you are looking for the best science kits for your kids then this one is obviously a great choice. Children tend to get bored really easily if the activities are only of one repetitive kind. Therefore, this product comes with 11 different experiments, which give your child hours of endless fun.
When your child is concerned, safety should always be the first priority. For that reason, this product makes sure that all the items. From the powders to the formulas, these are not only safety tested, but kid-friendly as well.
Key Features
The product specially caters to develop the sensory responses of your child.
Since the product is gender-neutral, it can make a great gift for both girls and boys.
Apart from the items for the experiment, to add a little magic, the package also includes trinkets like a wand.
8. Unglinga Science Kit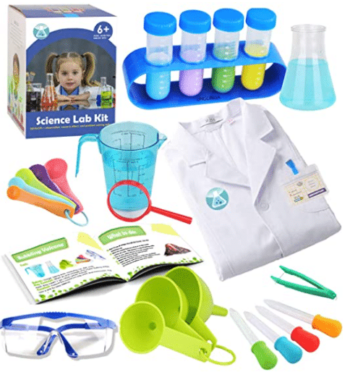 This product offers a complete show and not only the experiments. To help your child's imagination, the kit is complete with a lab coat and safety goggles. Therefore, they can play out the role of a scientist, while they indulge in all those experiments. Furthermore, the product also turns out to be really educational. Thus, teaching your child things in a fun and practical manner.
From color-changing cabbage to effervescent beads, there is a lot to look forward to with this kit. Besides, apart from acting the role out, the goggles will also protect your child's eyes. So, the coat will make sure to keep their clothes clean while they are having fun.
Key Features
With a special name badge to attach, your child will also be able to personalize their lab coat to get into role-playing.
This product boasts a Children's Product Certificate to assure you of the safety of the kit.
Since the lab coat is washable, you can keep things hygienic.
7. Homofy Science Kit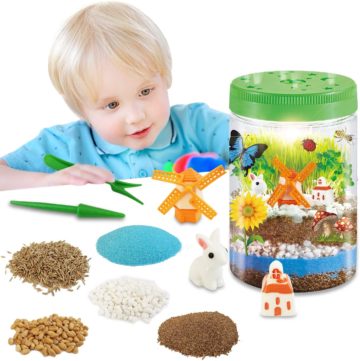 In case your child is more inclined towards nature, this product will be the perfect choice for them. With this product, your child can learn to grow their very own mini garden. If that was not enough, the garden will also glow in the dark for them. With a switch present on the lid of the product, the glow of the LED light can be controlled. Well, that does not disturb your child's sleep.
Besides, to drive away all the scary thoughts, this product can also be used as a beautiful night lamp. Also, the plastic shovel allows your child to dig without getting their hands dirty.
Key Features
The product offers various accessories like bunny and windmill, to make the garden even more pretty.
Most importantly, it's not sharp at all. So, completely safe to use.
Furthermore, it allows parents to collaborate with their children and allows them to bond.
6. Playz Ridiculous Science Kit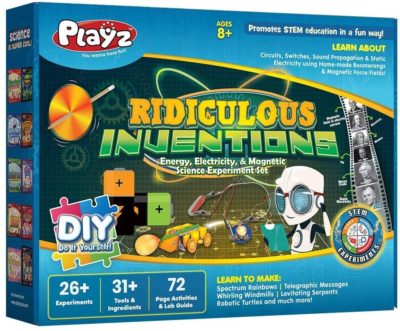 For those who are more inclined towards all the experiments involving energy and electricity, this will more than satisfy them. This allows your child to truly do it all by themselves, without requiring any help. Elaborate instructions extending to a good 72 pages, will guide your child through each step of every experiment successfully.
Furthermore, it also offers a lot of knowledge which your child can always put to good use. From magnetic force fields to circuits, the 72 pages do not only contain instructions but vital information as well.
Key Features
With the various tools and ingredients provided, your child can perform more than 31 experiments.
The pages also come with colorful pictures to make it easier for your child to understand.
STEM learning will be really enhanced by this product.
5. Giftinthebox Science Kit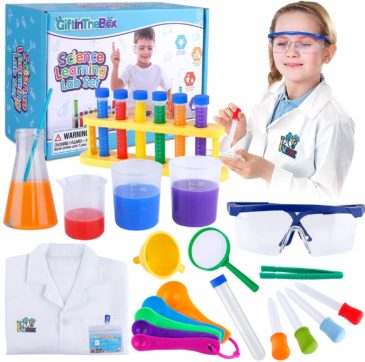 This product combines practicality with play. The science kit comes with safety glasses which are adjustable. Therefore, it will fit your child as though it had been custom made for them. Moreover, the material provided for the lab coat which comes with the kit is really touch-friendly. Thus, your child will stay comfortable in it even if they wear it for long hours. On top of that, to hold little items, the coat also comes with deep pockets. This lets your scientist child put in test tubes inside.
All the tools make use of ABS for their material. This plastic is known for its durability. Needless to say, when it comes to long-lasting usage, you can depend on this. Finally, the edges of all the tools have been intentionally rounded, so nothing sharp can pinch on your child's skin.
Key Features
The test tubes provided come with measurement markings, making the data tracking even more accurate.
The spoons come in different sizes to cater to various needs.
All the safety requirements of ASTM are met by this product to make sure your child does not come in contact with any toxins.
4. Learn & Climb Kids Science Kit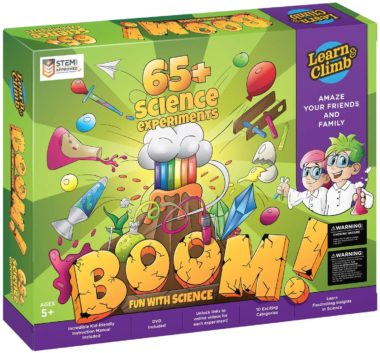 There will be no scope of feeling bored when you have this. The item offers as many as 65 different types of experiments. As a result, your child gets to learn about a lot of different things while enjoying themselves. Following instructions might not be that easy for little ones when reading out of a manual.
Keeping that in mind, this product has also included images and a DVD in the package. This makes things much easier for them to learn, so they can do it without requiring any guidance.
Key Features
Safe plastic has been thought used for the kit, so there are no risks of accidents with glass shattering.
With 2 different name tags, your child can share this to bond with their friends.
Moreover, it comes with STEM certification. Thus, you can use it freely.
3. Dan&Darci Science Kit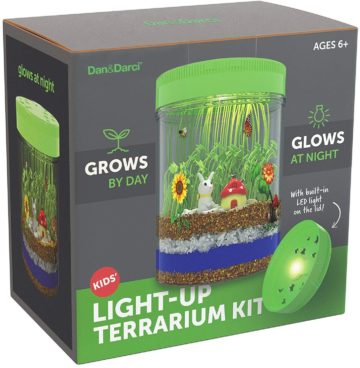 This science kit will surely not fail to catch your child's attention. With its exceptional performance, the item has already satisfied many children, winning itself the title of Bestseller on Amazon. The product comes as a terrarium kit for those children who like to get transferred to a little fairyland. Because of the light-up feature with the help of the LED attached to the lid. As a matter of fact, the product will double up as a night lamp for your child.
To get your child started, it also provides some seeds with the product. It might be difficult to water inside the tiny jar, the kit has thoughtfully included a spray bottle. Since the jar is really compact, it can easily fit in places with a space crunch.
Key Features
The USB cable required to charge this product comes with the package itself.
With a recharge of 2 to 3 hours, the product will glow for a long time exciting your child's imagination.
The product can be a great kit for the child and the parent to spend some quality time together.
2. Alex Toys Scientifiy Explorer Science Kit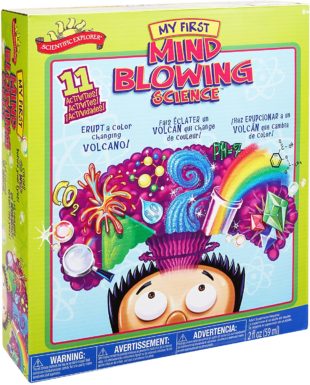 When it comes to little science experiments, the basic always comes down to volcanoes. They are an all-time favorite. Although, they have gone too generic. Therefore, this kit allows you to create one which changes its color to add a wow factor to the old and easy experiment. Although, the color-changing volcano is not the only thing this kit offer.
From underwater volcano to dancing powders, this has got many things up its sleeve your child can look forward to. The step-by-step instructions are very comprehensive, so any adult supervising does. It needs to wrack their brain for some fun time.
Key Features
If you do not know what to get a child for a present, this can be an ideal gift to make them happy.
All the tools are out of plastic instead of glass, so any shattering mishap can be avoided.
1. National Geographic Science Kit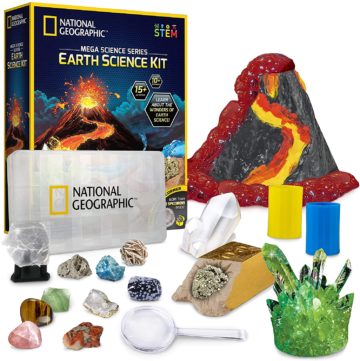 This product has already proven its worth with its spectacular service, bagging the title of Amazon's Choice for itself. It will surely be able to please your child as well. This kit offers various earth experiments. It teaches your child a little about the soil they live on, as well as greatly aiding to develop their STEM skills. Unlike any other kit, this product gives your child the privilege to grow their very own crystals. Hence, do some fun activities like reading through a rock.
The guide provided helps your child to know more about the science behind all the experiments. You will not need any household items, all the things required are provided in the package.
Key Features
Two very realistic geologic dig kits are also added in the steal deal.
One can do as many as 15 science experiments when ordering this.
This is an Amazon Exclusive product that surely proves its top-notch quality.
How do science kits help in your child's learning?
Getting just a fun toy for your child might not be that fruitful when it comes to your child's development. Why settle for that when you can kill two birds with one stone. With a science kit, your child's STEM skills can be improved early. While they are having fun doing new, crazy experiments every day, their practical thinking skills, as well as problem-solving skills are enhanced. Besides, everything being practical, these products also help to improve their motor responses. This goes without saying, the product obviously excites that inquisitive part in your child's head which looks forward to scientific explorations as well.
What are the various kinds of science kits you can find?
Depending on your child's inclination, you can choose from a number of different kits. Most of these kits come with valuable information regarding the science behind the experiments, thus imparting knowledge in an enjoyable manner.
For the little imaginative bugs who feel more in contact with nature, and playing with the soil, you can get one of the mini garden kits which also has a special glow up feature. Not only do these teach your child how to grow their own plants, but also illuminate their rooms at night, driving all the monsters away.
In case your child likes to dress up more like a lab scientist, you can go all out with the kits which come with a lab coat, safety glasses and more. While having the basic function of keeping your child's eyes safeguarded, and their clothes clean, such kits allow your child to get into role-playing while having fun with color-changing liquids, and test tubes.
Why is a science kit necessary for a child's mental growth?
Contrarily, for the children who love to create things from scratch, always combining different things, working almost as a tinker, you can get one of the robot building science kits to satisfy their appetite for creation. Such kits allow your child full freedom to create the robot in a manner they might prefer, offering various different combinations, so your child can feel better in control of the thing they are making, instead of blindly following it.
There is something for everybody with such kits, and the little geologists have not been forgotten either. You can find many different experiments which might fancy your child in such kits. From a dig kit to crystal growing, and much more, your child can explore the place around them with such kits.
Lastly, these kits also come in the variation which is mostly swaying towards electrical units and energy. These kits tend to be more informative, teaching your child many basic concepts which might actually come in handy in their studies.
Final Verdict
Let your child grow and learn in a practical environment. The beginners or professional science kits for kids will certainly help them have gold knowledge and they can apply in real life.