What do you while travelling, hiking, trekking or going for a jungle walk?  Well, you need food, protection, portable charge and many things more to name. However, if you are planning to visit a snow-covered destination or some cold place, then you need something to keep your hand warm. And how would you feel if you get a charger and hand warmer in one device? One such product is rechargeable hand warmer. This is designed for your travelling needs and helps to take one less product.
Are these reliable and function as promised? To feel sure about your decision, see the list of rechargeable hand warmers online. This will keep you on track and feel confident.
Best Rechargeable Hand Warmers – A Complete Guide:
10. YeeWell Rechargeable Hand Warmers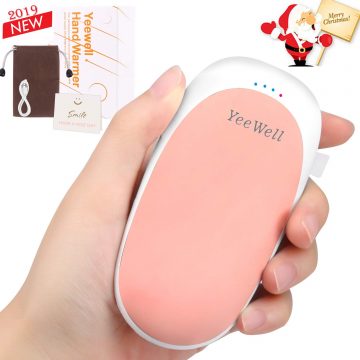 This rechargeable hand warmer from YeeWell is equally functional both inside the house as well as outside. A rough and tough product that will withstand all the ravages of an adventurous outdoor trip. Guess what? This is not just any hand warmer. Apart from performing its designated function, it also acts as a hot bag for any kind of pain. As a matter of fact, it is also a charger.
Courtesy to its powerful 5200mAh batteries of Lithium, it will charge your iPad, mobile, tablet or laptop through a connected USB cord. All of this happens in the safest possible way as it is resistant to shocks, scalds or any health hazard. An attractive wrapping and a personalized greeting card come with the hand warmers. Now, it is sure to be the perfect Christmas gift for your loved one.
Key Features:
The heat emanated from the hand warmer is totally adjustable with three different heat settings.
Buy this product and YeeWell will take care of any technical issues regarding this for the whole life. That too, the very next day!
It sports two tempting colour variation. One a basic black and white and another a sober peach. Which do you like?
9. BigBlue Rechargeable Hand Warmers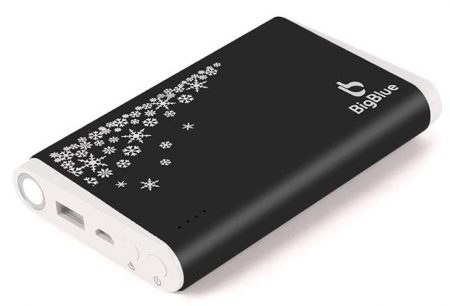 Just three seconds are enough for BigBlue's hand warmer to come to your rescue. Whether you are in pain or having cramps or cold hands or feet, this will relieve you in no time. Heating up on either side, it stays warm for as long as 4 hours. Moreover, it doubles up as a charger as well. With a huge battery power of 10000 mAH, it will support anything from phones to music players.
For those of you who love offbeat hikes, this hand warmer will even provide light in case of any urgency.
Key Features:
It is available in three beautiful colours of red, pink and black.
Portability is an added plus with BigBlue's hand warmer. Its compact and light-weight design facilitates travelling anywhere with it.
A complimentary card accompanies the hand warmer. This card will come in handy whenever you need any assistance from BigBlue within 2 years.
8. Wattne Hand Warmers 2 in 1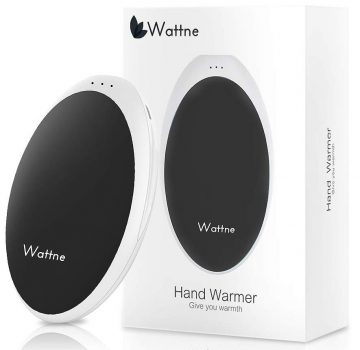 One of the most durable hand warmers in the market, Wattne's product is sure to see you through many a Winter. Perfectly safe to use, it is resistant to skidding or explosion. Zero chances of uncalled for shocks or scalding accidents with Wattne. Plus, it is completely customisable with temperature regulation at 3 levels, reaching the desired temperature in a matter of seconds.
The user will get to know when its battery is depleting so that arrangements are made accordingly. It has a battery of 5200 mAH that can charge an iPhone, Android or any other type of phone.
 Key Features:
Comes in three stunning hues- first is black, followed by blue and pink.
Has the same materials construction material as aeroplanes, namely aluminium and ABS, thus it is bound to be durable.
7. The Outdoors Way Electric Hand Warmer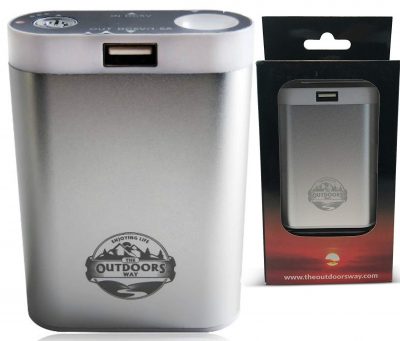 A whooping 7200 mAH battery made with lithium that makes sure that you stay warm for the longest period possible. Its dual settings for regulating heat ensure that you always get the desired temperature at all times. Next, it comes with a special flashlight that is used to signal in case of any unforeseen dangers.
The temperature range varies from 105-degrees to 115-degrees for your own benefit. It certainly has a 55lm light for your night time strolls. However, the SOS setting helps to attain emergency light during times of needs.
Key Features:
It is devoid of any foul odour that may be emitted from other rechargeable hand warmers.
It also serves the purpose of a portable charger for phones. As a result, you remain ahead of the game anytime, anywhere.
A travel pouch comes absolutely free with this hand warmer.
6. COSY Rechargeable Hand Warmers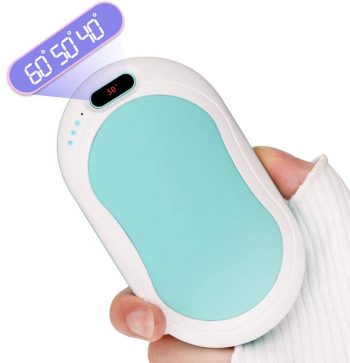 COSY has brought a triple-action surprise for you. A hand warmer that will provide warmth, either way, you hold it, thanks to its dual-sided heat emissions. It is used as a torch in darkness and no, that is not it. It will not only keep you warm but also keep your phones and other electronic devices charged at all times.
Moreover, its battery indicator will show when it needs to be recharged. Therefore, you can use continuously without worrying about it to suddenly stop.
Key Features:
It comes with a smart display that exhibits the temperature of the current heat setting. Moreover, the temperature can be regulated from 40° C to 60° C.
A bonus pouch for storing the hand warmer is complementary.
A detailed instruction booklet is included with the package, explaining the operation procedure.
5. Senlleo Rechargeable Hand Warmer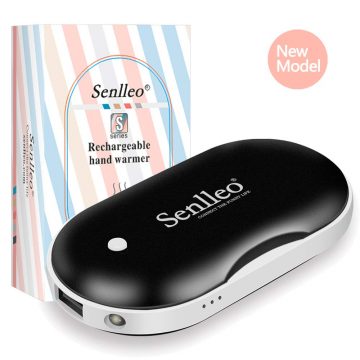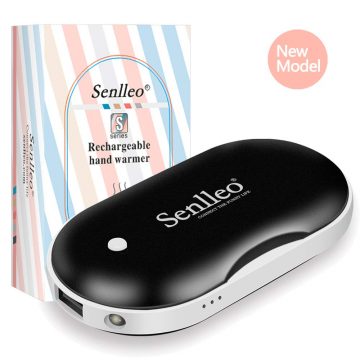 Senlleo has brought forth an extremely convenient hand warmer. Due to its negligible weight, it can be carried on hikes, treks and other outdoor activities. All it needs is a couple of seconds to heat up and the heat are regulated too. It has three separate controls to adjust the heat as per the requirement.
Plus, it is totally devoid of any radiations and is secure to use due to its scald and shock-resistant quality. Having similar materials construction as that of an airplane, it is definitely one of the toughest in its league.
Key Features:
Unflinching support is related to any technical issue regarding the hand warmer for a lifetime.
A powerful LED light is fitted into it so that it acts as an emergency light in critical situations.
It is available in 6 amazing hues from neutral grey to elegant white, a warm hazelnut, a trendy pink and blue as well as an evergreen black.
A complimentary pouch to carry essential knick-knacks on the go.
4. KARECEL Hand Warmers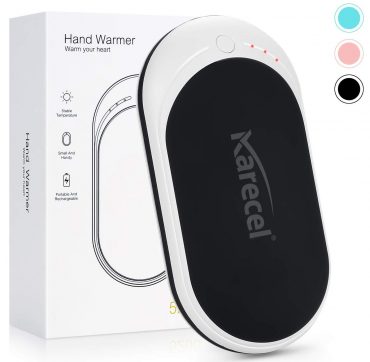 KARECEL's hand warmer is one of the safest hand warmers that are there in the market. With its advanced ingrained detection system, it prevents any kind of power-related accidents like short circuits or electric shocks. It is of materials like aluminum, ABS and lithium that are both durable as well as compatible with the environment. Therefore, avoids any ecological hazards.
Additionally, the lights on top it will alert you when the battery is spent and needs to be recharged. Most importantly, the USB cord that is included with it recharges any regular electronic device.
Key Features:
The temperature can be chosen between 45-degrees C to 55-degrees C with the help of three variable settings.
Indeed a shockproof choice and it won't slip and fall as it is skid-proof.
A cent per cent guarantee for satisfaction to keep you hassle-free forever.
3. Jomst Hand Warmers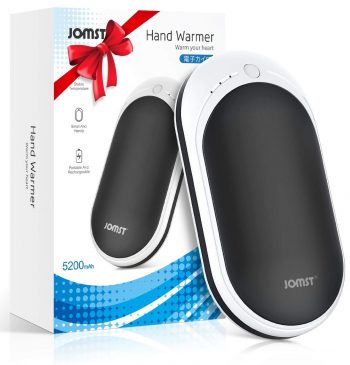 A compact and handy hand warmer that is carried anywhere with you. The large battery capacity of 1500 mAh will also keep your phones and other electronic devices charged on the go. Along with that, it keeps your hands warm for prolonged periods. Heating up in as less as 3 seconds and having three different temperature adjustments. Therefore, the hand warmer will be a travelling quintessential, especially to offbeat places.
Plus, its long-lasting construction and environment-friendly battery make it a winner. Well, you have the guarantee of staying fully explosion safe and so, will cause no harm.
Key Features:
It is totally free of any shocks, scalds and has zero chances of bursting.
Guess what? It is a double-sided warmer for ultimate user experience.
The trust from the brand's side is epic as it comes with CE and FCC.
2. AOMAIS Rechargeable Hand Warmers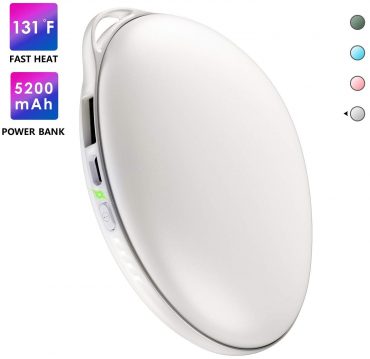 Aomais brings the most elegant rechargeable hand warmer in this list. The smooth and compact design is even given a tiny gap to slip keychain inside and prevent it from getting misplaced. The 5200 mAH batteries supply enough power for the heat to last a very long time.
Also, the lights placed on its side, signal when battery life is reduced considerably so that it is charged. Three different light colors show how warm the device is with red light indicating the highest temperature of 134-degrees F.
Key Features:
This comes with 4 indicator lights that hint the leftover charge.
It doubles up as a portable charger for electronic devices like phones and tablets. So, even if you forget your power bank on the next trip, this is sure to come to your rescue.
It is super light in weight, hence can be taken anywhere with ease.
1. COMLIFE Portable Hand Warmer
Approved by CE, FCC, ROHS and others, this rechargeable hand warmer from COMLIFE is the best in its category. Comprising of a tough, fire-resistant body, it also has sensors that protect against any accidents like shocks and scalds. At the same time, consisting of a 5200 mAH battery that emits warmth up to 8 hours non-stop.
Not to mention that it charges any common electronic device with the help of its detachable USB cable. The best part? It signals the user when the device requires to be recharged.
Key Features:
Four separate temperature adjustments ranging from 95-degrees F to 131-degrees F.
A free drawstring bag to carry small travel requisites.
Amazing first-grade customer support that will solve any problems regarding your hand warmer by 24 hours.
A two in one combination that can make your travel times much comforting, these travel-friendly rechargeable hand warmers are genius. So, your hand will remain warm and the devices have a full charge.