Measuring great lengths with precision can be very tough. Especially, if you are using a measuring tape, maintaining accuracy is not easy. Hence, it is always better to opt for a laser measuring tool. As the name suggests, this device makes use of laser in order to provide you with precise measurements. Also, you can easily measure great lengths with the utmost ease. Runs on battery, these devices also provide you with good battery backup. And the backlit LCD screen allows you to take the readings clearly.
Nevertheless, you need to be very careful while choosing the right device. In order to help you, we are offering you this list of best laser measuring tools. Have a look and make the right choice.
The Best Laser Measuring Tools in 2023
10. Bosch Blaze GLM 50 C Laser Distance Measure

This product will not fail to meet your expectations. With its exceptional performance, it has won the title of Amazon's Choice for itself. The product comes with a special Bluetooth connectivity feature, which helps to connect the device with your phone or tablet. This makes managing your measurements as well as coordinating them with images much easier. The product does not forget about your comfort. Thus, it has soft grip areas which in turn also increase the durability of the product.
It is, of course, perfect for long-range measuring up to 165 ft with extreme accuracy. You can also measure a small distance of 1/8 inch.
Key Features:
The product has a backlight display, which makes viewing the measurements really convenient.
With the large memory storage, this product is able to store as many as 30 measurements at one time.
One great benefit of the product is that the batteries required for the device come with the product itself.
9. Leica DISTO D2 New Laser Distance Measure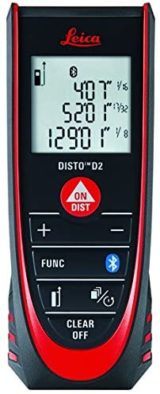 With this product, you will not need to spend any extra buck. The measurement tool comes in its very own pouch. This keeps the item clean when the product is not in use. Moreover, even the batteries required for the product are provided in the package. Therefore, you get to use this tool right out of the box.
For better convenience, the product has the feature of a countdown timer. When it comes to compatibility, you do not have to worry. This Disto Sketch App goes with both iOS as well as Android devices.
Key Features:
Keeping practical necessities in mind, this product comes with an intelligent automatic end piece. This allows you to get a reading from all the places difficult to reach.
As an added plus, this product has IP54 protection. Therefore, it can withstand any dust or splash without any damages.
You can also save your last 10 measurements in the device memory with ease.
8. TacklifeHD60 Classic Laser Distance Meter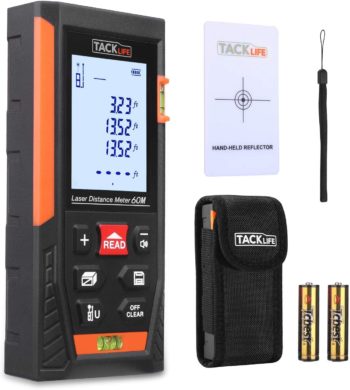 Just name your requirement, and this product is sure to be already providing it. The sturdy product is totally shock resistant. Therefore, even if the device slips from your hand, no harm will come to it. Further, this product also promises to be completely dustproof, assuring you, you can work in any place without worry.
If that was not enough, this device is waterproof as well. Therefore, no sudden downpour can ruin your device. Certainly, this device completely assures you about the accuracy. In fact, you can easily measure with an accuracy of +- 1/16 inch without any trouble.
Key Features:
This product comes with two separate bubble levels, which provides you with the best possible accuracy while measuring.
If you have never used such a product, no need to panic. Coming with its very own user manual, it will walk you through each easy step.
With the availability of the portable bag, carrying the device becomes even easier.
7. General Tools LTM1 Laser Tape Measure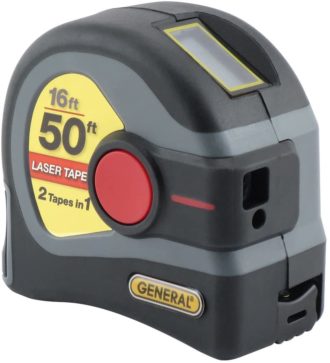 This product provides you with the privilege of modernization as well as the convenience of the traditional device. Apart from the 50-foot laser measure, this product also sports the old, trusty 16-foot tape measure all in one device. Besides, the product has a really user-friendly design with a simple one-button operation.
This product provides you with the flexibility of measuring manually with the help of the rape. More than that, the digital measurement is at least 10 times faster, saving vital time while you work.
Key Features:
Those who have bad eyesight do not need to worry. Having a large screen, the readability is much better.
With two simple AAA batteries, this product can work for a really long time without getting exhausted.
The measuring tool is able to be hung by a belt. Hence, when it comes to storage, there is no hassle.
6. Motorhead Laser Measure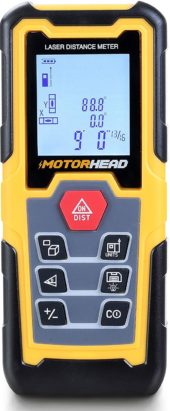 If you have been looking for a compact product, you are in luck. Although, do not go by its size. Whether you need a measurement of the area or volume, this product is able to perform it all. Moreover, the product has a really massive range of 196 feet for measuring. Besides, it takes measurements in both decimals as well as fractions, when it comes to inches as well as feet.
At a single time, the product is able to store a good 50 measurements. To help you with each function of the product, this product also provides a quick start guide.
Key Features:
Equipped with the digital level as well as angle sensor, this product surpasses all devices when it comes to precision.
A flip-out nano measurement extension allows you to take measurements of even the tightest spaces.
With the addition of the belt loop lanyard, the product will never slip from your hands again.
5. DewaltDW065E Laser Distance Measurer

If you are looking for the best quality measuring tools then this one from Dewalt is indeed a great choice. When it comes to portability, you cannot get a device better than this product. Being extremely lightweight, you hardly feel any bulk as you carry the product on yourself. Further, being compact, it easily fits into small spaces to make storing and carrying even more convenient.
As an added trinket, the product also comes with a hanger cord loop. The loop not only makes carrying easier, but it enables you to suspend the product from any wall. The product has a black backlit LCD screen. This allows you to easily view the measurements without any difficulty.
Key Features:
When it comes to accuracy, you can rely on this product. The device maintains the precision of 1/8th of an inch.
A really unique feature of the item is that this compact design comes with an over-molded housing.
Furthermore, the over-molding case offers this tool complete durability and ensures longevity.
4. Tacklife Pro Laser Measure Measuring Tools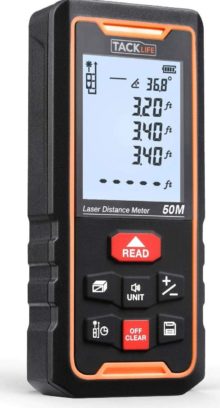 This is another amazing device from the successful line of measuring tools by Tacklife. The product allows you the innovative function of adjusting the time from 3 to 60 seconds while taking measurements. Moreover, to nail the accuracy, the product comes with a calibration feature. If you have any doubts about the quality of the product, the tool drives any such thoughts away with the RoHS and CE certification among many others.
Besides, it also assures you of the environment-friendly nature of the measurer. You can also measure any angle with this device since it comes with robust angular sensors.
Key Features:
It is even suitable to be used with the tripod by Tacklife.
The tool has a protection class of IP54. This keeps your tool working fine, no matter the amount of dust or damp at your working site.
The entire product is covered by rubber. It provides great resistance to any shock as well as provides you with a comfortable grip.
3. Magpie Tech VH-80 Laser Distance Measurer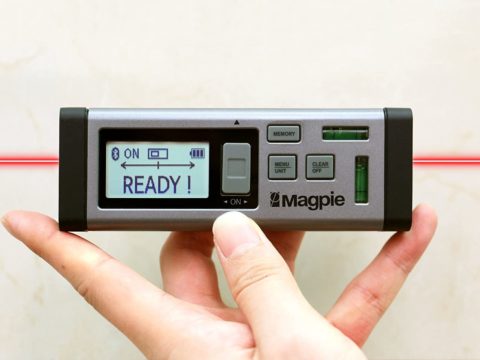 Innovation has a new name with Magpie Tech. This product proudly claims to be the first bilateral laser. The product with its advanced technology is able to take 3 values at once involving the left, right, as well as the total length at light speed. Furthermore, the product has a much needed time-saving function. Unlike most items, you do not need to walk from one point to another to measure the distance.
Simply putting the laser on both the points will give you the reading in moments. The bilateral laser can also be turned into a single direction laser.
Key Features:
The product has an enormous range of 262 feet for measurements.
Since everybody has a different need, this product lets you have readings in any measurement unit with perfect precision.
To keep things better organized, this product has a free app that allows you to connect the readings with your phone.
2. Bosch Blaze Pro Laser Distance Measure GLM165-40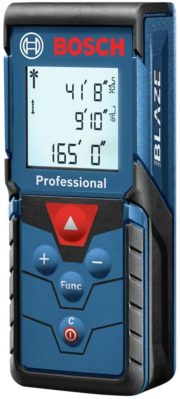 This product is loaded with features, and will surely have what you are looking for as well. The product offers you real-time live measurement with exceptional precision, which adjusts as you move closer or farther from the target. Moreover, the product comes with a unique auto square function. With the mere push of a button, square footage is calculated by the machine itself.
To provide you with a better grip, the soft rubber around the device comes with creases, which in turn extends the life of the product.
Key Features:
Because of the backlit color display, you can take measurements with ease even in really dark areas.
The product can easily fit into your pockets, making it really convenient to carry from one place to another.
With an IP54 rating, no amount of water or dust can bring any harm to your device.
1. Leica Geosystems DistoE7100i Laser Distance Measure

When quality is concerned, Leica makes no compromises. The product promises to measure with the precision of 1/16th of an inch, giving you the most detailed readings. Further, Leica has made the thoughtful addition of a pocket clip. This attaches the device to anything, so your hands and pockets remain free to hold other things.
On top of that, this product also comes with an impressive 3-year warranty, which convinces you of its high grade. With a sweep in a corner, the product records the longest measurement for better reference.
Key Features:
Any concern about the superior quality of the product is all brushed away with the ISO certification on the product.
With the batteries included, you will be able to as many as 5000 different measurements, before you run out of power.
To keep taking measures without running out of space, this product provides the Bluetooth facility, sending the readings directly to the phone.
Having a problem with measuring? The laser measuring tool accuracy is top-notch and will never let you down and you are going to get the best out of it every time.