What can be more stressful than keeping your home not properly secured? The need to keep your home locked even when you are just in the neighborhood in undeniable. So, increase the security and install a keypad door lock.
It is something where innovation and technology plays a great role. You have a secret password that only you will know and special code is also set for guests. Plus, it also eliminates the need for carrying keys to your door always. As the matter has come down to the security of your home and its belongings, thus you need a foolproof lock. The recommended keypad door locks are tested and aim to assure protection.
The Best Keypad Door Locks to Buy in 2023
10. ULTRALOQ U-Bolt Keypad Door Lock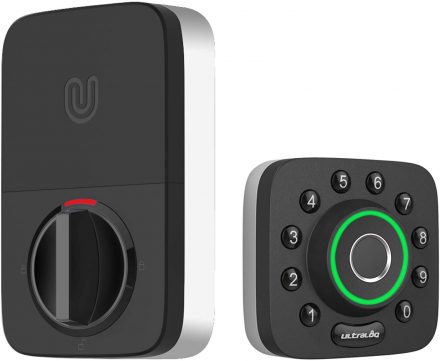 This anti-peep keypad lock will level up the security of your home. Firstly, this smart lock has dual data encryption to eliminate the chances of breaking into the home. It clearly becomes impossible to enter the home if permission isn't granted.
To allow your guests or family to get access through the lock, you can provide the code or an eKey. Moreover, put as many random numbers as you can, but you can still keep on trying until you give that one correct password. Now you don't have to lock it while leaving as it locks automatically when you leave for the day. In fact, it even unlocks at the time of your arrival.
Key features:
This product facilitates with 6 keyless ways of providing entry. Fingerprint, shake to open, anti-peep, auto-unlock and finally mechanical key.
You can certainly keep a track of the individuals entering the home through the log record.
For Keyless Entry, download the U-Tec app for the smartphone app.
9. AmazonBasics Traditional Keypad Deadbolt Door Lock
This single-cylinder deadbolt is certainly electronic, therefore, facilitates in keyless entry. The whole keyless entry thing is personalized as needed. It provides the user with 6 user codes that are further customized.
You can give these codes to any temporary guest for single use. As a matter of fact, you can operate it with the use of a traditional key, electronic keypad and even with thumb turn lock. Besides, the door automatically locks after a period of 10-99 seconds. But you can customize it according to your requirements.
Key features:
It allows one-touch locking along with the usual timed locking. So security is never questioned.
This will rather fit any standard doors.
Has an oil bronze finish that looks extremely elegant and classic.
8. Schlage FE595 GEO Camelot Keypad Entry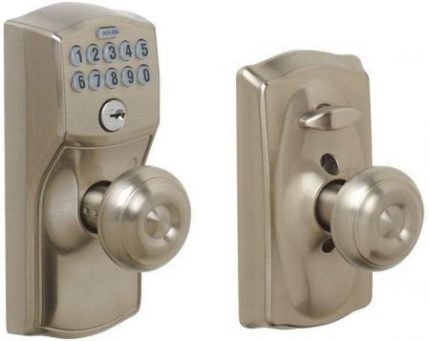 Imitating the look of the classic stainless steel locks, these are a bit smarter compared to the tradition locks. Interestingly, it is one of the biggest bolts that are adjusted as per convenience. Offering professional-grade security, it comes with preset programming codes for full safety.
However, some are of 6 digits whereas two are of 4 digits. And all of these codes are different from one other. Having a flex-lock feature helps you to make a pick between automatic re-locking as well as keeping it unlocked. The keypad is beautifully coated with silicone so that there are no chances of wearing it.
Key features:
The keypad is totally water-resistant; as a result, if it accidentally comes in contact with water, no harm will be caused.
Can put a maximum of 19 codes in this door locking system.
It has metal construction for ensuring the lifelong service of the product.
7. Schlage FE575 PLY ELA Plymouth Keypad Entry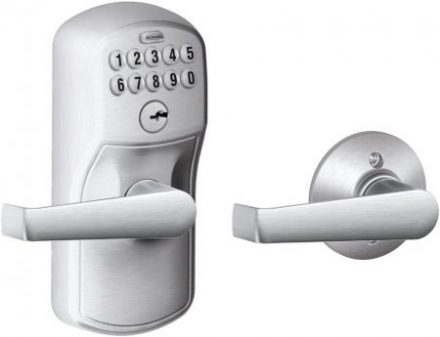 Another product from Schlage, this is perfect for any door having a thickness range from 1-3/8-inches to 1. ¾-inches. If you are someone who keeps on losing their keys, then this will help in providing keyless entry to your abode.
For extra security, it has an auto-lock feature that will relock the door in a matter of 5 seconds. The keypad illuminates to give a clear view of all the numbers, even during night time. It functions smoothly cause of the 9-volt battery. You also get preset codes for an immediate opening of the lock.
Key features:
One can easily add or delete code with the use of the keypad.
The low battery indicator provides a hint during the time of needs.
Instead of hiding your keys here and there, provide access with the guarantee of more security.
6. MiLocks TKK-02SN Tkk-Sn Digital Door Knob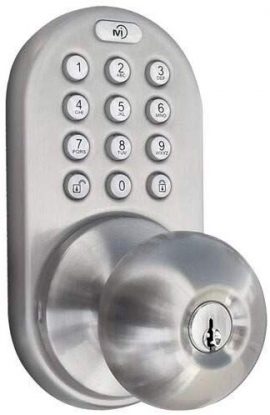 A perfect match for all the stylish doors, this one fits both left as well as right-handed doors for utmost convenience. Even an amateur can use this lock cause of its easy programming. You can simply add or delete users at any given point of time.
In fact, you do not need to put any extra effort into installing this. Replace this with the old door locks and it's done. This adjustable door has versatile use as you can install it on the main door, closet door, bedroom door, etc. Finally, it's has a satin nickel construction for utmost longevity.
Key features:
The keypad used in this lock illuminates at night times.
Certainly, has a contemporary finish that is extremely sophisticated.
Guess what, you get a lifelong warranty on the exterior and as high as 25 years of warranty on mechanical issues.
5. Kwikset 99130-002 SmartCode Keypad Door Lock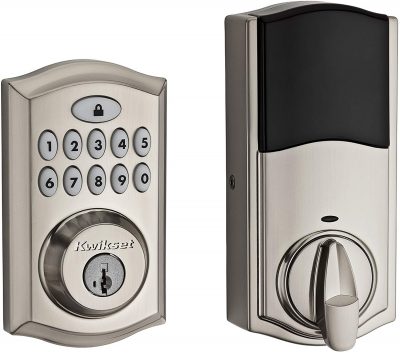 Every feature of this product is exclusive. To start with, this keyless entry lock features a 10 digit keypad that is fully backlit for crystal clear vision. But that's not it as this has audible features that make it extra luxurious.
Next, it is a one-touch locking feature that is further benefitted with the auto-lock option. This will enable to automatically lock the door in 30 seconds. As a matter of fact, it is tested and to prove its efficiency, it received BHMA Grade 2 and even UL certification.
Key features:
You get 16 user codes for extra convenience.
The sleek metal design is a treat for the eyes and is totally tamper-proof.
It is tested for 20 minutes against fire and therefore, received a fire rating.
4. MiLocks DKK-02SN Electronic Keyless Entry Door Lock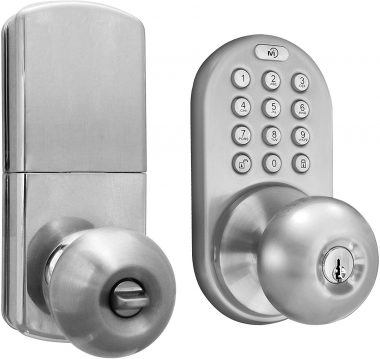 MiLocks is indeed an expert in making interior locks. Besides being known for its good looks, this satin nickel product is also a promising product when it comes to security. The electronic touchpad is solely created for allowing keyless entries.
As a result, now you don't have to keep on carrying around keys. You can just directly replace the standard locks of your door and install this. However, this lock has a unique feature and that is intruder alarm. If there are 4 consecutive wrong attempts, then the alarm with start buzzing.
Key features:
You can set anywhere between 2 to 8 digit codes on this.
The whole keypad is backlit so that you face no issues at night while typing your password.
Apart from having a private code, you can also set-up temporary codes for guests or other individuals.
3. Kwikset 909 SmartCode Electronic Keypad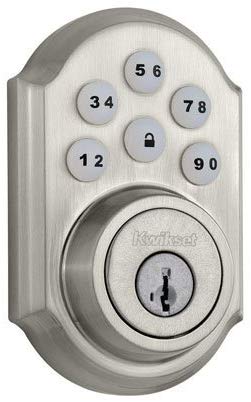 This motorized product has one-touch locking for easy locking of the doors.  Having a beautifully lit keypad, you now have no worries while operating this at darkest hours. Given that, the latch's backset attached to it is adjustable to fit the door.
Plus, it has Smart Key security along with a rekey facility. You can install it manually following the user manual. The product looks classy as it has a steel-metal design that is aesthetically pleasing. It is bump-proof and the reliability on the product is ensured with the BHMA Grade 2 certification.
Key features:
It certainly auto locks in just 30 seconds.
Apart from 8 access codes that are absolutely customizable, you get the chance to set a master code.
2. Kwikset 99070-101 Powerbolt 2 Door Lock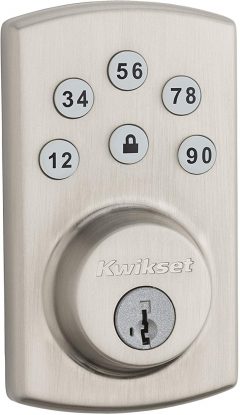 Indeed a designer product that will give a total makeover to the doors. The auto-locking door is improved and made more secure with its customized features. In fact, it will automatically lock the door after a span of 30 seconds.
The latch system at the backset certainly makes the fittings indoors easy as it is adjustable. Moreover, the SmartKey Security helps in attaining security at its best and prevents the occurrence of any thefts. The keypad is well-lit for proper viewing.
Key features:
In the case of inactivity, the keypad's lights will go off in 5 seconds.
Is certified from the prestigious ANSI and BHMA.
Set up to 6 user codes and even capable of setting temporary codes.
1. TurboLock Keyless Keypad Entry Door Lock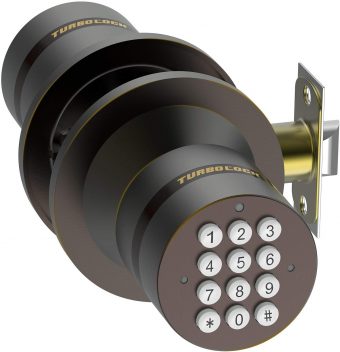 A professional choice for professional use, it is a hassle-free task to install this. It will fit in left and even right hinged doors without any difficulty. In fact, this digital lock has the benefit of a backup battery port. This helps in providing power during times of emergency when the primary battery is drained.
You can easily set standard entry code, however, for double security, you get a master code set-up facility as well. In just 3 seconds, it will auto-lock itself in order to avoid any risks.  Finally, it has a stainless steel construction that is fully capable of battling with the adversities of weather.
Key features:
It is rated IP65, so dust will not jam or harm this lock. Plus, it is even waterproof.
A total of 10 codes are easily set in this wonderful lock.
This has code camouflage in which you just need to type the first digit of your secret password.
Then put countless amounts of random digits.
All the possessions inside your room will stay safe. The keypad safety door lock will keep a check on the security factor.