The main thing to look for when you are buying toys for your kids is that it should keep them busy. If they are busy mentally and physically, they will end-up learning a lot of skills.  You need to get something that is going to keep your child occupied. A building toy for kids is a superb toy set for kids because it helps them develop their imaginative as well as technical skills. The difference between building blocks set and any other toy is that a toy is likely to break apart. But building sets are likely to last a very long time.
So, for double assurance of quality and longevity, these top-selling building toys for kids will meet your expectations. Get your dream products for your child and keep them happy.
What are the important factors in buying building toys for kids?
There are all kinds of building toy sets available and you should be looking for one that features an edge of versatility. Go for a set with a higher number of pieces as that gives your kid more zone to spread out their imagination.
If you are going for plastic or LEGO building toy sets then it is compulsory that you check the plastic is without any toxic substances such as lead and phthalates. You might also prefer going for a building toy set that has extra wheels and wrenches as it will allow more than one child to play at the same time.
List of Best Building Toys For Kids Review
10. K'NEX 35 Model Building Set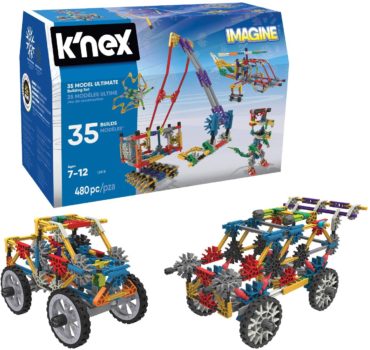 The K'NEX 35 Model Building Set is just the right toy for the growing kids. It helps them to easily pass time and also come up with exclusive toys such as cars, airplanes, robots and so on. The set comes with an instruction booklet that has step-by-step instructions for 35 different models to build using the parts.
Your kids can easily come up with any other design that they can think of. There are 480 pieces within the package for your kids to use. These pieces have a snap-fit feature that allows them to conveniently attach to other pieces in any way you want.
Key Features
Storing even the smallest of pieces in this is very convenient. All thanks to the box serve as a storage box for all the pieces.
If you see that a piece is missing from the box or you have lost it, K'NEX will be happy to replace it so that your child can go back to his games.
Any child of 7 years or more will find love in solving this.
9. Toy Pal Engineering Building Set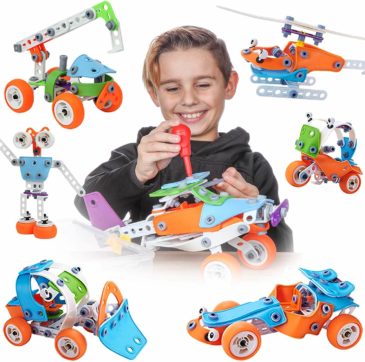 Firstly, it comes with 163 unique pieces that are attachable in a plethora of ways. Hence, they can craft their own toys, this set is going to keep your child busy while also improving their skills. Be it their imagination or their analytical and mechanical skills, this set will serve as a great educational toy too. They set is perfect for children between the ages of 6 to 12 years.
Moreover, they can craft all kinds of racing cars, helicopters, bikes, and so on. They can keep following the instruction manual included in the package or may come up with something of their own.
Key Features
Every one of the 163 pieces included in this box. One can individually clean it from time to time and conforms to safety standards set in the US.
For parents and kids who are dissatisfied they can ask for a full refund within 30 days of purchase.
This educational set will help in learning new things about science, technology, engineering etc.
8. LEGO Creator Buildable Toys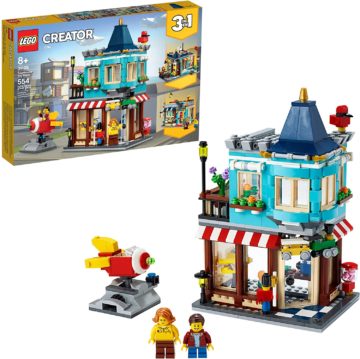 If your child is over 7 years of age, then this will be perfect. Indeed, an excellent toy that is both versatile and promises to keep them busy, go for the LEGO Creator Building Toys. This is a 3-in-1 set where your child can primarily construct a two-storey toy store. And it helps to construct with the shop in the bottom and rooms at the top. The best thing about the toy set is that the toy store can be easily reassembled to look like a cake shop or even a flower shop.
The set is not only limited to these three buildings. It can be designed to look like anything that your child can think of. This brings about the versatile nature of giving your child a new project every day and keeping them busy.
Key Features
Has construction from Acrylonitrile Butadiene Styrene plastic material. Hence, it is free of all kinds of harmful, toxic, chemical compounds.
Features two miniature human figurines and two small LEGO birds for you to play with your buildings.
This is the latest 2023 version that comes inclusive of 554 pieces.
7. Brickyard Building Blocks 163 Piece Building set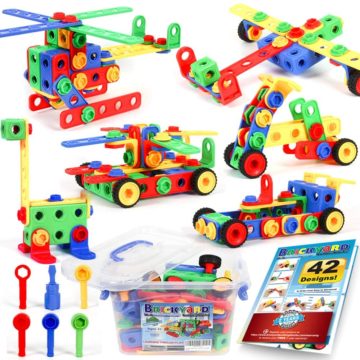 The Brickyard Building Blocks 163 Piece Building Set is interactive and educational. It is likely to keep your child busy for long hours. The set comes with 163 pieces that are attached in different ways to craft cars, trucks, planes and what not! In fact, it has extra wheels and extra wrenches. So, as many as 6 kids can play together at the same time. The building set aims at giving the children something to do.
On the other hand, it is also enhancing their analytical skills and imaginative power. The brightly colored pieces are attractive to look and easier to find when you are following the guided instructions.
Key Features
You get a satisfaction guarantee meaning that you will get a full refund if you are not happy with it.
Yes, this package comes with step-by-step instructions to craft 42 different models.
All the bits and pieces included in this package is free from all kinds of harmful chemicals. Hence, makes it super safe for kids.
6. HLAOLA Magnetic Blocks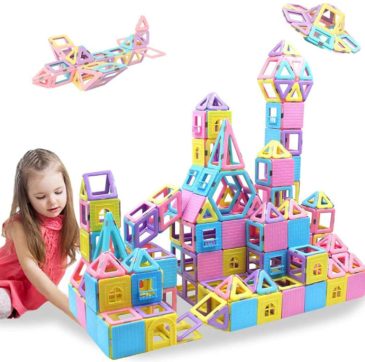 There are many building blocks set available out there. However, going for a magnetic block set ensures that your child will not accidentally consume the smaller bits. With the HLAOLA Magnetic Blocks around, your child is going to have a grand time. The magnets are nickel-plated and the small pieces are connected any way your child wants to. They can craft all kinds of buildings and forts with this amazing set.
It is also helpful in developing a scientific intuition in your child. The pieces are from ABS plastic which is hard and sturdy. Plus, it is devoid of harmful substances such as lead, phthalates, BPA, and so on.
Key Features
The pieces have rounded edges as an extra degree of protection to keep your child's hands and fingers protected.
The set comprises 133 pieces for your child's imagination to play with.
This toy set for kids has reached a whole new level of guarantee with the amazing 90-day money-back policy.
5. Gxi STEM Toys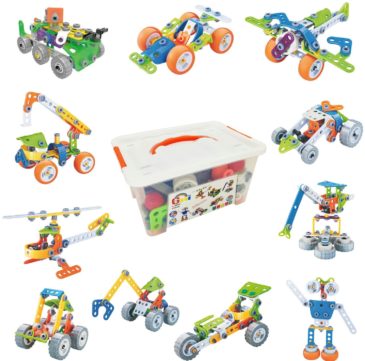 The Gxi STEM Toys is as good as any other building blocks set that you could gift your kids. There are 175 pieces within this box that could be attached in all kinds of ways. As a result, your child can craft trucks, race cars, robots, buildings and so on. There is an instructions guide included in the package that can get your child going till they can start building their own little toys.
This set is a serious boost to the child's imaginative capabilities. In fact, it also helps to develop their analytical and motor skills. Finally, this exclusive set is the right choice for kids ranging between the ages of 4 to 10 years of age.
Key Features
The hardy storage box in which the pieces come is useful in keeping all the pieces in one place when not used, preventing losses.
This is something that both boys as well as girls will love having their collection.
From experimenting to communicating, this helps in teaching your kids a lot of skills.
4. STEM Master 176 Piece Building Set

A building set is just the right toy set to keep your child occupied for long hours. And the 176-piece STEM Master Building Set is a useful set to go for. The set is loaded in a storage box which can later be used for storing the pieces and keep the place clean. There are more wheels and connectors available in this box. Hence, allowing all kinds of designs, and more than one child to play with it.
This set is very useful in developing cognitive skills in your child and also helps with their reasoning abilities. From mental development to improving interactive skills, this can help in all.
Key Features
Its pieces have certification of being free of all kinds of toxic materials such as BPA, phthalates and lead particles.
The instructions booklet included in the package contains terrific step-by-step designs of the most amazing constriction works.
The designs are in the beginner, intermediate and advanced levels.
3. IQ BUILDER Building Engineering Set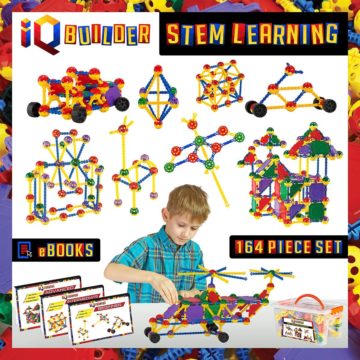 The IQ BUILDER Building Engineering Set is an innovative toy. As a matter of fact, it has gained recognition for teaching grand ideas through simple designs to young kids as well as adult students. It comprises balls and connector pieces that can be attached to one another to craft all kinds of structures. The balls have 26 points on their surface from which they can be connected. This gives the child a vast array of designs that they can create.
Furthermore, the connectors are available in 4 sizes further diversifying the designing abilities of your child. This toy set helps in developing your child's brainpower over the ear and instills a scientific intuition in them.
Key Features
The pieces and the storage box are from high-quality materials and don't have phthalates, lead and BPA.
These plastic pieces are very easy to clean from time to time- all you need to do is dip them in warm water.
Once your child is a minimum of 3, you can gift this with this valuable set.
2. kidpal Building Toys Kit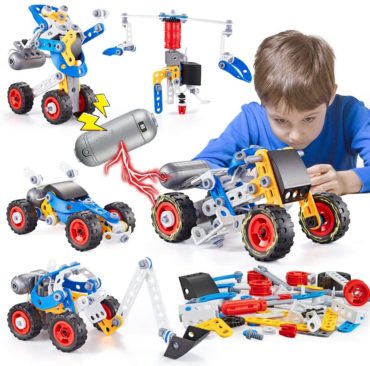 A building block set is a great toy set for your toy as it helps with developing their brainpower in terrific ways. This kit is going to be an amazing companion to your kids in their growing years. And anyone older than 5 years of age could play with it. It comprises an assembly of connectors, fasteners, wheels and such pieces. As a result, can be pieced together to craft the most impressive robots, toy cars, trucks, and other possible structures.
There is an instructions guide in the package to get your kid started with designing. However, they can actually craft anything their imagination permits.
Key Features
Has construction from ABS plastic and rubber which ensures a good long life even after rough use.
It is marked safe from toxic impurities prevalent in plastic materials such as BPA, lead and phthalates.
1. Play22 Building Toys for Kids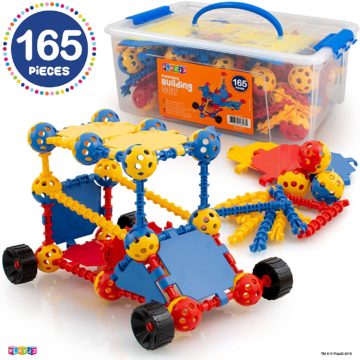 This is immersive and impressive and is sure to keep your kid occupied for long hours. It is also a better toy set than the readymade toys because here the kid gets to make. Hence, easily take apart the toy themselves. The set comes with square, rectangle and triangle pieces. Thus, can be attached to form the body of different designs.
Long and short connectors will give you a variety of frames for different designs. Your child can easily craft even movable toys from these pieces using the wheels added in the package.
Key Features
The storage box is strong and very secure. Thus, one can keep all the bits and pieces away when not being played with.
Each of the balls has 26 connecting points that give them great versatility of use.
The STEM educational toys will help in instilling value in your child.
How much should your child be to use a building toy?
When you are thinking of buying building toys for kids, the very first thing that you have to note is that your kids have to be older than 5 to 6 years of age. This is important because building toy sets come with small prices that a younger child or a toddler may accidentally swallow and cause complications.
Which are the best building toys for kids to buy?
The choices are many which make it very difficult to go for the perfect building toy set for your kids. You would like to go for one that offers greater versatility as this toy set is going to keep your child busy for a long time to come. The toy itself grows with the child in certain ways. LEGO is a popular name in the building blocks section and you can easily go for their products. You may also go for the IQ BUILDER building toy set which has an immersive package and will grant your child all kinds of designing and imaginative skills.
Kids Playing Building Toys
Final Verdict
If you are struggling to teach your kids the basic skills, then take the aid of building toy sets. They are naturally going to find interest in it and grow in their own way.