Capturing breathtaking pictures is just a stand away. Yes, you heard it right if you have a backdrop stand, you can have any background you wish for and shoot stunning pictures and videos. They not only look professional but also save you tons of time in editing and look natural. But if you try to set up backgrounds without a frame, it would be a nightmare finding the right place and way to hang them.
The best backdrop stands are handy in setting up the best location for shooting. You can have them placed indoors or outdoors and even in small places. Another excellent use for these frames is to use them for drapes at a family event. They can serve many such uses if you let your creativity flow. Anywhere you need support for hanging things at height, these frames come to your rescue.
List of Best backdrop Stands in 2023
10. Heorryn Backdrop Support System Stand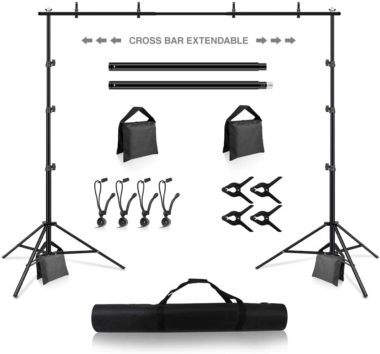 The backdrop stands by Heorryn has telescopic horizontal and vertical rods. They help in adjusting the stand's height from 3ft to 8.5ft and the width from 5 ft to 10ft, as required. As the material of these rods is aluminum, they are firm and lightweight. Sandbags support the base of the stand and help in keeping it stable.
The four huge clips provided with the kit hold the background securely.
These clips have a crimped inner surface and hence have a steady grip on the background material. Furthermore, the four spring clamps on its side support the background to stay fixed in place.
Pros
Constructed using durable aluminum
Sandbags made of high-quality nylon for added stability
Dismantled frame fits conveniently into the carrying case
Adjustable top crossbar and height of the stand
Clip holder and spring clamps to hold the background in place
Cons
You need to fill the sandbags
9. FUDESY Adjustable Backdrop Stand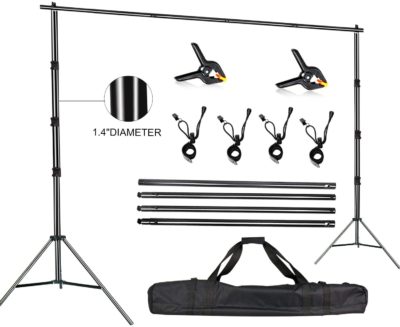 The adjustable backdrop stand by Fudesy works as a professional stand with its sturdy base and supporting rods. Each of the four sections of the rod is of height 2.6," allowing you to adjust the height and width by sliding them up, down, or sideways.
You get a stable stand with 36" width to hold the background stand in place. It is crucial as the stand holds a weight of 40lbs, and in case of substantial backgrounds, this stand will not flip. This kit comes with two types of clips for keeping the background from sliding.
Pros
Quick and easy assembly of the stand
The large size of 10ft x 10ft, suitable for indoor and outdoor
Bears the weight of 40lbs allowing heavy background materials
The diameter of 1.4" of tubes makes it sturdy
Portable as it folds to 2.9ft and fits into an easy carrying bag
Cons
The kit does not include sandbags
8. Neewer Adjustable Background Stand with carrying bag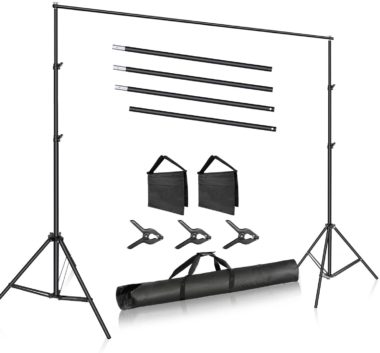 Neewer background stand has three strong clips to attach the background to the sturdy stand. You can adjust the stand to a maximum height and width of 6.6ft x 10 ft. The interlocking ability of crossbars gives it the required width to hold the background material of different widths.
Installation of the stand is a breeze as it does not require any tools or complex assembly. Just open up the tripod stands, screw in the top rod on both sides, and adjust it to required dimensions. Two premium quality sandbags help in better stabilization of your stand. Alteration and locking of the tripod stand are easy as it comes with a rotary adjustment knob.
Pros
Sandbags to balance the stand for creating different angles
Made of wear-resistant aluminum material
Carrying a bag of 3.1ft accommodates the kit perfectly
Three wide opening clips can hold a variety of backgrounds
Easy to assemble and versatile utility
Cons
No spring clamps to support the background on sides
7. Linco Zenith Portable T-Shape Backdrop Stand Kit
The T-shaped stand with adjustable height and fixed width of 5ft occupies tiny space. It is ideal for compact spaces where having a double tripod stand will occupy a lot of space. The portability of this stand is a breeze, as it is incredibly lightweight. As the stand material is die-cast steel, it is sturdy and durable for a long time.
The decent weight bearing capacity of this compact stand allows it to carry different backgrounds using the four clips. Two crossbars can fit into each other at the edge and have screws to attach them to the top of rods, sitting above the tripod, using the threaded knob provided.
Pros
Minimal stand design occupies less space
Made of die-cast steel for durability
Simple and hassle-free assembly
Snuggly fitting clips to secure the background
Holds up to 15lbs of load comfortably
Cons
It provides no carrying case
6. LimoStudio AGG2612 Background Support Kit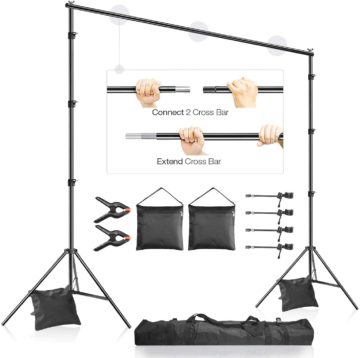 The LimoStudio AGG2612 is a complete backdrop support kit to hold your background in a wide variety of heights and widths. It can vary the height from 2.7ft to 7.3 ft and width from 5.3ft to 10ft. The construction of this stand using aluminum alloy provides a professional level of support for your shoots.
You can shoot indoors or outdoors using this support stand since it is portable and durable. Also, it comes with the carrying bag, which aids in the smooth transportation of the equipment. Sandbags and two types of clips add stability to stand and the background, respectively.
Pros
Two clips and Four spring clamps secure the background
Sandbags weigh down the tripod stand for added stability
Adjustable height and width give you various stand sizes
Comfortable carrying bag to pack and transport the stand
Suitable for both indoor and outdoor usage
Cons
Only two clips are provided for securing background from top
5. AW Background Support System Stand Kit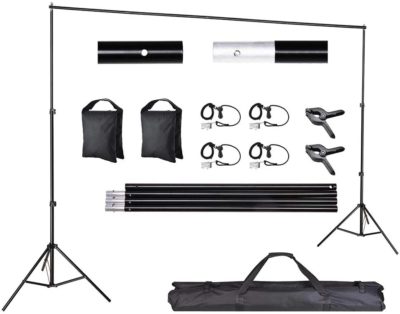 You get the AW backdrop stand as a complete kit that you can carry anywhere with you. It's set up for the required height and width, is a snap because of its easy to adjust poles and the crossbars. Moreover, the rods on the tripod come with an ergonomic handle to set the height, making it more accessible.
The two tripods from a steady base for the stand, and it is further reinforced using the sandbags for steadiness. Clamps and clips allow a firm hold on the background. Finally, the maximum height and width offered are 10 x 6.9 ft giving you a wide range of background coverage areas.
Pros
Ergonomically designed knob on the tripod is comfortable to operate
Sandbags offer resistance to the wind when shooting outdoors
Carrying a bag of 40" is convenient for transportation
Six accessories to hold the background securely
Foldable tripod for easy portability of the stand
Cons
The kit does not provide sand in the sandbags
4. MOUNTDOG Studio Background Support System Kit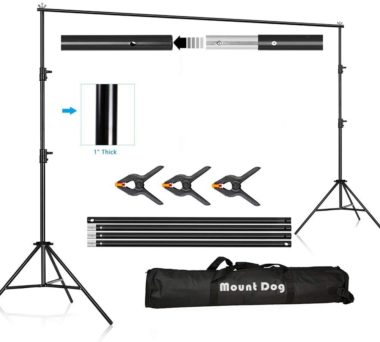 The MOUNTDOG studio background kit is professional. As it has a tube diameter of 1.3," it is sturdy and perfect for handling substantial backgrounds. Also, the intense and comfortably gripping clips, to hold the background on the crossbars, prevent it from slipping. It is apt for both indoor and outdoor use.
The support stand is of extendible height from 2.7ft to 6.5ft and the width from 5ft to 10ft. Since the manufacturer makes it from 100% aluminum, it is lightweight, steady, and durable. You can safely hang a background of up to 11lbs weight experiencing no sag.
Pros
Wide diameter tripod for added stability
Tight gripping clips for holding background securely
Premium nylon bag with zipper for portability
Large width offers a versatile use for the stand
Strong crossbars for the no-sag hanging of backgrounds
Cons
Not accompanied by sandbags
3. Emart Background Support System Stand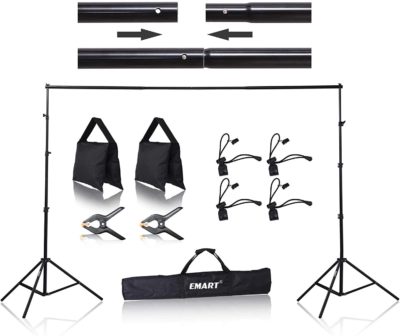 The Emart background support system is a large frame of 8.5ft to 10ft of maximum height and width. Its height and width are adjustable. Indoor and outdoor use of the frame is possible. While shooting outdoors, you can use the sandbags that come with the kit to secure the stands in place, even if it is windy.
Installing the frame is easy as the crossbars fit in easily into each other with a click in no time. Telescopic extension possibility of both the horizontal and vertical rods of the frame helps to set it in various heights and widths. Finally, it comes with two big clips, four small clamps, and a carrying case for storing the stand.
Pros
The long crossbar of 10ft maximum to hold a big backdrop
Maximum height of 8.5 ft for shooting indoors and outdoors
Sandbags for the stability of the stand even in the wind
Support stand made of aluminum alloy for durability
Carrying case for making it portable easily
Cons
No clear instructions about using accessories
2. Emart Backdrop Support System Kit with carrying Bag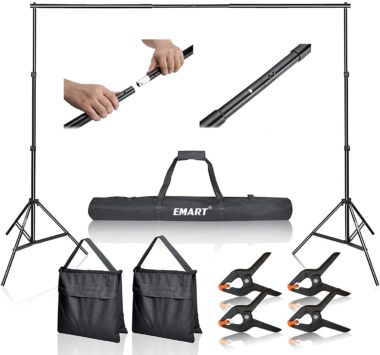 The quality stands for professional-level photography with heavy-duty clamps to secure backgrounds and drapes carefully. A convenient carrying case is provided to put the rods and folded tripod for carrying it anywhere. The two tripods are stable, but the kit provides another securing option using sandbags for further reinforcement of the stand, making it stand firmer.
Backdrops such as paper, muslin, canvas, etc., are supported conveniently by this stand. The height adjustability is from 2.6ft to 7 ft for height and from 5ft to 10 ft for width. Assembly of this stand is possible by a single person, and you can do it in few minutes.
Pros
The large frame of 7ft x 10ft, useful for professional shooting
It can be assembled by a single person with no tools
Four large spring clips hold the background steadily
Works as a support stand for drapes for a family gathering
Nylon made premium quality sandbags for supporting the stand
Cons
Does not come with sand in sandbags
1. Julius Studio Photo Video Backdrop Stand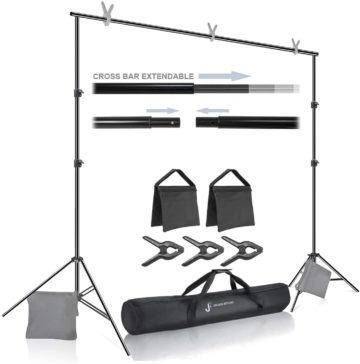 Julius backdrop stand features a maximum height of 7.3ft and the largest width of 10ft. The stand uses aluminum material and hence has a lightweight and sturdy frame. As it is foldable and arrangeable into a small carry bag provided by the manufacturer, it is easily portable. The three clamps provided to hold the screen in place help in keeping the backdrop in place.
The two premium quality bags provided with the kit can be filled with the sand to add weight to the stand for keeping it firm. Crossbars are attachable and are telescopic to provide the full 10ft length. The height can be adjusted using the handle on the bar by securing them at the required height.
Pros
Two sandbags for reinforcing the tripod stand
The frame is strong to hold a variety of backdrops easily
Lightweight and foldability of the stand allow easy portability
The quick installation process is useful for changing locations
The large frame provides scope for using it outdoors also
Cons
Sandbags must be filled by yourself
What Should You Consider Before Buying Best Backdrop Stands 2023?
Before buying a backdrop stand for the first time, you need to know the below information.
Material
Sturdy material with durability is preferred for long-lasting stands. Aluminum or die-cast steel is the primary quality materials used for making these stands.
Cost
Too expensive is heavy on budget and too cheap are flimsy. So, the right balance between the cost and the quality are essential. Buy the decently priced stands for less usage and expensive ones for professional usage.
Adjustability
Adjusting the height and width of the frame is the main advantage of these frames. Check for the telescoping abilities of the stand that give reasonable control over the height and width using which you can have the best results.
Setup
If you are using this frame for a small space, choose accordingly. A single stand would be a better choice than a dual stand frame as it occupies less space. But if you are doing outdoor and indoor photography, a large frame is ideal.
Portability
You need to carry the frame to various locations or to store it when not in use. If it can be folded to a small size, then it would be easy to do so. Also, the lightweight offers excellent portability.
Conclusion
A good background is significant for photos, videos, and events. You might need to set up backgrounds at odd places where there is little to no support. You can find support anywhere when you have the best backdrop stands, allowing you to choose the spot without compromising.
Remember that you can rock the party with the backdrop stands by using your best backgrounds and look stunning in the photos and videos. Do you have one?