These days, solar gutter lights are adorning patios and gardens as they are easiest to install and maintain outdoors. The unlit areas surrounding the house are dangerous at night and are prone to criminal activities.
You can be at peace if the best solar gutter lights are illuminating your landscape. Another reason to enjoy them is they are eco-friendly and do not need electricity. Meaning they do not spike your power bills. Then what are you waiting for? Make your home safe and bright by picking one of the top solar gutter lights from below.
List of Best Solar Gutter Lights in 2023
10. DBF Dark Sensing Auto On/Off Solar Gutter Lights – 6 pack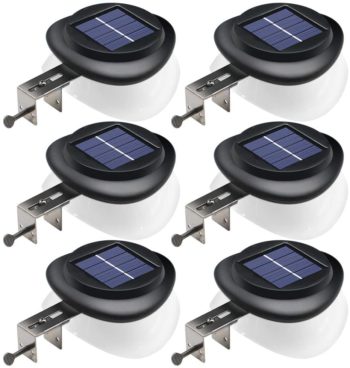 The IP55waterproof solar lights by DBF are made of 9 SMD LED pcs that emit 100LM cool white lighting. These fence lights are outdoor friendly and serve as landscape lights for deck, Eaves garden, or a pathway. Auto on/off feature with the help of sensor technology saves energy intelligently.
Elegantly shaped and looks like a landing UFO, where you install it. It needs just 6-8 hours of charging to run for 10 hours continuously. Since it has 1.2V 1500mAh battery connected to large solar panels, they recharge during daylight and use it during the night. Surface mounting or clipping using the provided accessories makes it a breeze to install these lights.
Pros
30-day damage replacement, 12 months quality replacement
9 SMD LEDs of 100LM cool while quality bright light
Auto on/off according to day and night sensor
Large solar panels battery can accumulate more charge
Does not require any wiring or equipment to install them
Cons
Daylight sensor does not work under the bright street light
9. CREATIVE DESIGN Solar Lights Outdoor – 2 pack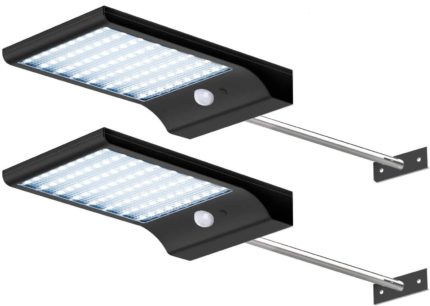 The Large solar panel with 80 LED lights with and an in-built 2600mAh Lithium-ion battery, charge directly under the sun. Your patio, garage, or barn will be illuminated for a long time using dim light during the night, using the charge, the high capacity battery, accumulated during the day.
Motion sensing lights turn bright, from dim-lit, to guide you through or to alert you of an intruder, ensuring your safety. You will have four different working modes for these lights that you can make use of as necessary. Hence these are not only the decorative lights but also safety lights you must-have for your outdoor.
Pros
Wall mounting and aluminum pole are included for easy mounting
No wires are required and have a large capacity rechargeable battery
IP65 grade allows it to be intact even during rains
Have four working modes that you can use according to your need
Cons
Assembly instructions are not provided with the light
8. JSOT Solar Gutter Lights – Outdoor 9 LED Waterproof – 6pack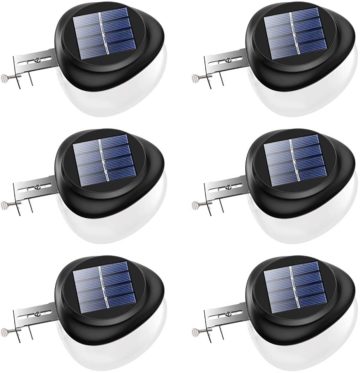 Energy-saving solar powered 9 LED beaded lights of 100 LM need no manual management. They charge themselves using daylight in the morning and light themselves up using the dawn sensor at night. So, you can just clip them on or mount them on to a surface with ample sunlight and let the rest play out on its own.
This solar rechargeable light has a battery of 1600mAhNi-MH battery,thatprovides6500k cool white light for 8 hours per full charge. Although the cloudy winter days reduce its ability to charge well during the day, you can address this issue by moving the solar panel where it can receive ample light even in winter.
Pros
Made of ABS, durable and eco-friendly material
IP55 waterproof rating for outdoor use
The lampshade has a unique design and is also removable
12-month guarantee and 30 days money back
Sensor for identifying night for automatic operation of light
Cons
Need to reposition the light during winter
7. InnoGear Solar Gutter Lights Wall Sconces – 2 Pack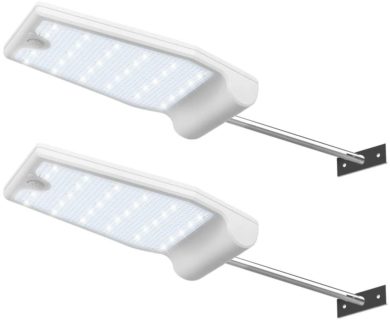 InnoGear features a 2200mAh capacity battery with a larger solar panel that allows quick charging even during a less bright day. It features 400LM brightness using 29 LED beads, four working modes, and motion sensor detection capability of up to 23 feet far and 120-degree angle.
You can place the light away from the eave using the extension handle, where it can get more sunlight. The elegantly designed scone lights add vibrance to your dark porch. Well-sealed from the rain using a tightly sealed inner loop. Reduce the brightness to dim it to half or quarter brightness to make it work longer by pressing on/off button.
Pros
Innovatively designed for accommodating large solar panel
Use of 29 LEDs for a super bright lighting
Tight seal for protecting the light from rain
Multiple dim modes for using as required
Large battery capacity to hold more charge
Cons
For mounting the light, it must be screwed into the wall
6. ROSHWEY Waterproof Security Solar Gutter Lights – 6 Pack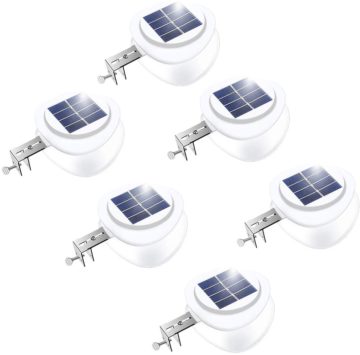 The solar lamps with unique lampshades shaped like a UFO add an aesthetic touch to your landscape, be it a garden or the pathway. This waterproof lamp provides security during the night and works using solar power, saving your power bill. It emits cool white light from the 9 LED beads in it.
They adorn your eaves, deck, fence, or gutter easily using the clip-on stand, and you can secure them using the screws provided. These lights contain rechargeable NI-MH, AA battery of 1.2V, and 1600mAH capacity that is charged during the day. Using the day and night sensor, the light switches on automatically during the night.
Pros
IP55 waterproof rating for withstanding rain
Durable ABS material gives long life
Automatic operation of on/off, no monitoring required
Easy clip or fix using a bracket to any surface you need
Widespread lighting using UFO model lampshade
Cons
5. JSOT Solar Powered Wireless LED Deck Lights – 12 Pack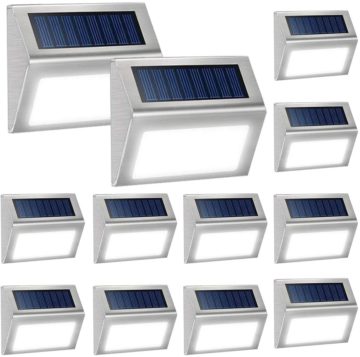 JSOT solar-powered lights are sleek and are made of the stainless steel surface that keeps them rust-free. The IP44 waterproof rating and the wireless nature allows you to place them anywhere.
With a power rating of 0.3W solar panel, the conversion rate of solar power is higher, when compared to others.
The solar panels are thicker and placed at an angle of 31 degrees, allowing them to capture more sunlight for adequate lighting. They can be used anywhere, especially on the stairway, as they add an aesthetic look for the stairs. It comprises 3 LED beads and uses 700mAh battery for lighting up your landscape in an eco-friendly manner.
Pros
Durable poly-crystalline silicon panel with stainless steel body
The switch button is waterproofed in silicon case to avoid damage
The angled inclination of a solar panel for receiving ample sunlight
IP44 waterproofed for withstanding adverse weather
Cons
Requires drilling for installation of light
4. CREATIVE DESIGN 46 LED Solar Lights – 2 pack
The outdoor solar lights have 46 LED beads that are placed strategically to provide maximum illumination. They are arranged, such that 34 LEDs on the front and 6 LEDs on two sides. It has a brightness of 500 lumens and brightens large areas as it has lights on the side as well.
You can mount the light directly to the wall, or you can use the mounting rod. Several modes of lighting offer versatility and help you to manage the lights well. The high capacity of the battery and larger solar panel area allows quick charging. IP 65 rating and durable ABS material keep it going for a long time.
Pros
Three sides of lights for all-round illumination
The bright light of 500 lumens to keep your home secured
Motion detection for saving light and safety
No need for wires and electricity for running these lights
Cons
Cannot change angle as required if wall mounted
3. ROSHWEY Solar Deck Lights Outdoor – 10 pack
The cool white LED light with 30 LEDs has durable steel and plastic surface that protects it from the rain. These lights serve as a fence, walkway, patio, lawn, pathway, garden, and other landscape or outdoor security lights. It has a 0.5W solar conversion rate with a 1600 mAh rechargeable battery aiding in a quick charge.
LEDs glow for 8-10 hours when fully charged. Switched on automatically during the night and off during the day. Do not require any wires or installation, just mount and use. You just need to make sure that the lights are not covered by shade during the day and are not illuminated by artificial lighting at night.
Pros
RoHS, CE, FCC approved standard product
You can fix using screws or double-sided adhesive tape
Palm-sized and lightweight solar lights
Tilted solar panels for maximum sunlight absorption
Cons
Can be mounted on a wall only and no extension handle
2. InnoGear 24 LED Motion Sensor Solar Lights – 4 pack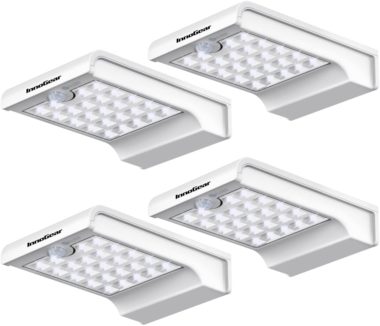 Innogear solar lights are equipped with a motion sensor with a range of 16 feet and an angle of 90 degrees motion detection. These lights can operate in dim mode and brighten when it detects motion or can be set to be off and turn on when it detects motion.
Four such modes can be set as per your need on how the light must operate. Serves both aesthetic and security purposes. You need not switch it on and off manually daily. It has a daylight detection mechanism and switches on automatically when dark. The 24 LED beads offer bright light that illuminates a wide area.
Pros
Dim mode of operation for a softer night light
Elegant frosted design that matches most decors
The 150 lumens of using a rechargeable Li-ion battery
The solar panel efficiency is 17%
Cons
Does not have extension mounting handle option
1. BAXIA TECHNOLOGY BX-SL-101 Solar Lights – 4 Packs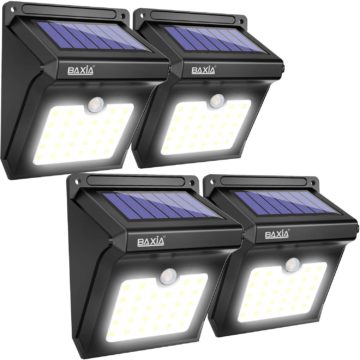 The 28 LED motion sensor light of 400LM, with a range of 3-5m, offers safety and illumination at night. This light does not feature dim mode but emits super bright light when it detects motion within 120 degrees angle. It has a lampshade cover that protects the light from adverse weather conditions and allows it to last long.
Also, the IP65 rating of the light makes it waterproof, heatproof, and frost proof. Works well as a motion sensor light as it lights up for the 30s and needs a charge time of 8 hours during the day. Safe investment as the 30-day full refund and 180-day limited guarantee is offered by the manufacturer for and performance issues.
Pros
Charges speedily using the poly-silicon solar panel
One of the two work modes is auto on/off to stay the full night
Motion detector mode for 30slight and off otherwise
Weatherproof mode for long-life of the light
Cons
What Should You Consider Before Buying Best Solar Gutter Lights 2023?
You want the solar gutter lights but don't know how to assess their quality. Find the below checklist for picking a quality one.
Installation
The place you plan to install them decides what kind of fixture does it need? You may prefer a clip-on if you are planning for fence lights or screws if you want them for your stairs. So, you must decide where you will be using them.
Solar Conversion Rate
The solar conversion rate decides what amount of sunlight falling on the panel will be converted to power to charge the battery. Hence, it is evident that the higher the conversion rate quicker the charging takes place.
Solar Panel Material
The quality solar panel material offers quick conversion time and high durability.
Body Material
The body of the light plays a significant role in protecting it from adverse weather conditions. It must be rustproof and weatherproof.
Battery Capacity
High battery capacity helps in long-lasting illumination of the light per charge. Also, it can capture more energy when there is proper sunlight.
Design
The lights are placed on the outdoor, and having an elegant design adds an excellent impression to your place. The design should also be considered functionality, such as allowing a wide spread of light.
Lumens
Lumens decide the brightness of the light and hence if you need bright lights to go for higher lumens.
Sensors
Motion sensors offer security by allowing them to use these light in several modes. While you consider motion, sensor lights, you should also check the range and angle they cover.
Placement
Though this is not directly related to the product specifications, it is one crucial aspect to be considered. You need to keep them away from shades and street lights for them to work correctly.
Conclusion
The illumination of your surroundings is both beautiful and safe. When you need light on outdoors, you should plan a lot on extra wiring and safety precautions for conventional lights. But, using these solar gutter lights, you need not worry about anything. Just fix the best solar gutter lights, and they will self-charge and self-illuminated automatically.
Cannot wait to have them in your landscape or on your stairs? All you need to do is grab one soon as they are quickly running out of stock.