Throwing away your plastic items when they break is obviously a waste. Not only it creates waste but it also makes you lose a lot of money. So, what can you do? Well, you can certainly opt for the plastic welders. The plastic welders are of course a great addition to your tools. They generate heat to weld the plastic and repair the damage.
Most importantly, these welders are very easy to use and you can easily carry them around. Nevertheless, it is not easy to choose the plastic welder online since there are so many available. Too many products can only lead to confusion. Therefore, read the reviews before purchasing.
List of Best Plastic Welders to Buy in 2023
10. Steinel Heat Gun Kit
If you have decided to weld plastic, you do not have to wrack your brain trying to find the suitable welder anymore. This anniversary edition of Steinel will provide you with all you need. The heat gun is electronically controlled. Thus, it minimizes the effort and complication of your operations.
Next, its spreader nozzle is 75mm whereas the reflector nozzle is 39mm. As a matter of fact, this gun kit has been specially designed to be user-friendly. So, you can use it even if you are not particularly great with tools.  Finally, the DuraTherm heating element has a housing of ceramic for extra durability.
Key Features:
In order to provide you with the desired results every single time, the heat gun features various different airflows. You get to control and change it to 3 different types.
This heat gun has a unique feature on an LCD screen display. Because of the digital screen, reading on it becomes much easier than the traditional ones.
Besides, it is capable of providing 1600 watts of power. Hence, you will have no trouble in using it.
9. Polyvance 5700HT Plastic Welder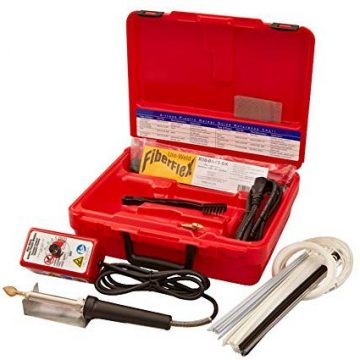 This welder is a heavy-duty product and can weld some of the toughest contenders out there. It can easily weld plastics like nylon radiator tanks which have a very high welding point. Moreover, the kit contains a temperature control.
This is taken out of the carrying case to provide you with added mobility. Also, even a belt clip is attached to it to make it more convenient for you. Since it is a complete kit, you can use it right out of the box.
Key Features:
You do not have to worry about the compatibility of the welding rods. The product offers 8 different types that go with any plastic of automotive applications.
The product comes with an exclusive QR code sheet. This sheet provides you with detailed videos on how to use your welder efficiently.
Most importantly, it can easily weld plastics with a high melting point with the 200W element. Thus, it is highly efficient.
8. Bondic Plastic WeldingPro Kit

Innovation has a new name with Bondic. Bondic offers the unique feature of UV light. With this feature, the liquid gets hardened in a few seconds effortlessly. As a matter of fact, the UV light is easy and safe to handle with the press of only a button.
Further, since the liquid is not your usual glue, it remains a solvent until it is exposed to the UV light. This makes sure that the liquid does not get hardened in the case itself. Besides, unlike the other heavy alternatives, this is extremely small and thus, very easy to carry anywhere when you travel.
Key Features:
Bondic provides you with amazing and unmatched results. After getting cured, the adhesive is absolutely waterproof as well as fire-resistant.
Bondic can fix more than just plastic. Whether it is wood, metal, rubber, or any other kind, with UV technology, the product easily fixes and joins any material together.
Of course, the UV light that the kit comes with easy to use. All you need to do is to just press a button obviously.
7. Weldy Professional Welding Gun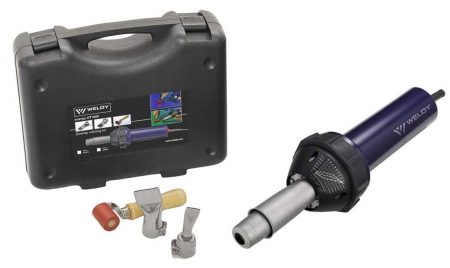 If you are looking for a welding gun that will not burn a hole through your pocket, you can go for this. The gun has an exceptional cost to performance ratio, and will surely not disappoint you. With the function to adjust the temperature of the air, you can get better control of the task you are performing with the gun.
In fact, superior Swiss technology and engineering have been applied in order to design this product. For better security, protection is provided with both to the electronic heating element as well as the heating tube.
Key Features:
The filter, one of the essential elements of a welding gun, is washable without any damage. Moreover, it is exchanged or reused easily as well.
The product comes with a sturdy plastic tool case. The case protects all the parts inside which keeps them organized in one place neatly.
Furthermore, it also comes with wide slot nozzles of 20 and 40 mm. Also, you get a silicone pressure roller of 40 mm size.
6. SEEKONE Heat Gun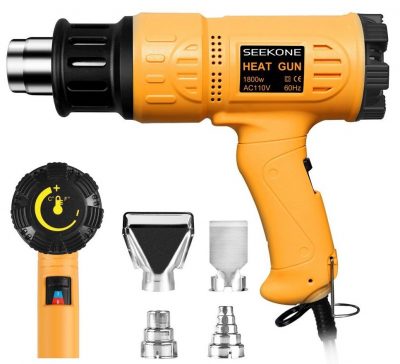 The heat gun has been designed in an ergonomic user-friendly fashion. The gun comes with a temperature dial which helps you to control the temperature by turning it on either side. In order to avoid any major accidents, the heat gun also has an over protecting function.
Besides, crucial accessories are offered by SEEKONE to help you with your operations. As many as 4 different nozzles are available with the product, including concentrator and reflector type nozzles. It certainly comes with four nozzles and out of these 2 are concentrator nozzles. Finally, it has a scientific design that will aid you throughout.
Key Features:
In order to suit your needs, the heat gun offers two different speed settings you can work with.
The cord is of high-grade material so it can withstand all your ambitious operations. Moreover, it is 5.25-feet long so you have more mobility when you work.
Certainly, the gun can heat up to 1200°F in just a few seconds.
5. Jounjip Plastic Welding Kit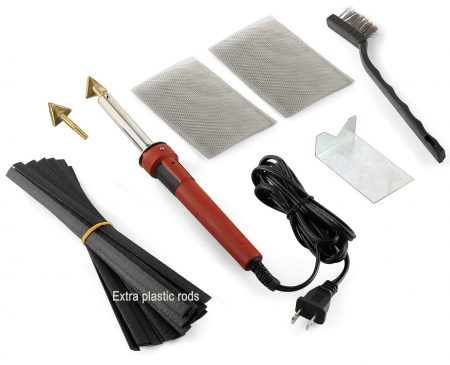 If you are looking for a plastic welding kit that is easy to port, then you should go for this. This compact looking kit will provide you with all you need, without feeling like a burden. As an added bonus, you get various goodies along with the kit. A range of plastic rods for an example is provided with the kit.
This makes sure you do not need to run to the hardware store and can use the kit as soon as it arrives. Whatever the kind of surface, your kit can easily weld the plastic as you desire. Use it on a variety of surfaces like a car bumper, dashboard, and even kayaks or fuel tanks.
Key Features:
Whether it is TPO, TEO or PP material, the efficient welding gun is able to weld any type quickly and conveniently.
Lastly, you can use it on multiple surfaces like car bumpers, water tanks and so on. Thus, it enables you to repair without any hassle.
Functions at a power of 120V that makes it highly productive.
4. Astro Pneumatic Tool 7600 Welders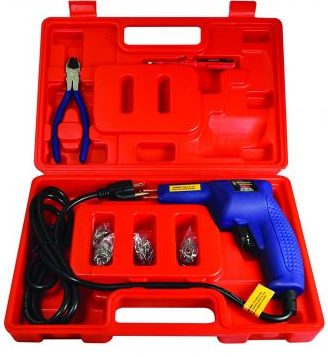 If you are a little clumsy with your tools and often lose them, then this product has been designed for you. The entire kit with various necessary parts comes neatly packed in a durable plastic kit. The kit not only keeps your tools protected and cleans but having them arranged neatly, you will not lose your equipment anymore.
Furthermore, since this is a complete kit, no need to pay any visit to your hardware store. The kit even contains a flip screwdriver. In order to make sure the product gives you durable results, the product comes with special staples. These staples are heated and left in the plastic which is left flexible for the correct fit.
Key Features:
If you are concerned about the quality of the product, do not need to be. The product is CSA approved and provides you with precise, satisfactory results.
Indeed, the kit comes with a staple gun, wire cutter, and screwdriver. So, it provides you with everything you need while repairing it.
Working with this is certainly not complicated.
3. Massca Plastic Welding Kit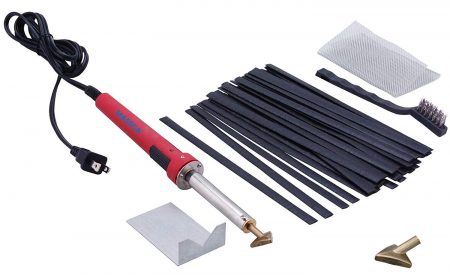 This welding kit takes care of all the necessary steps so that you can perform a clean, impressive job. The welding kit comes with a crucial wire brush. This brush can be used to clean any splinter or other excess plastic before you begin your welding operation.
Since the product has a fine arrow-headed tip, it offers you much control when you are handling tricky places. In order to ensure your safety, the plastic welding kit has added an iron standpoint. You can place the hot welding gun in between the task rather than struggling with it.
Key Features:
To make sure the product lasts you for a very long time, the welding kit also includes an extra welding tip for when the first one runs it's the course.
In order to provide you with much stronger anchor points, the kit also includes premium quality plastic welding rods which add sturdiness to your item.
Most importantly, the 80W welding iron heats up quickly. And its pinpoint design allows you to do the work without any accidental mishaps.
2. Beyondlife Plastic Hot Air Welder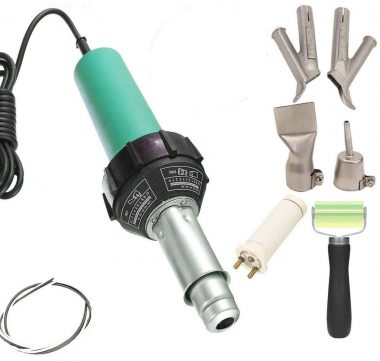 Do not go by the size of the product, it is extremely durable and sturdy. If you are not particularly great with tools, do not stress out. The welding kit comes with a user manual that walks you through each step of the welding process. An added bonus is that many trinkets come along with the kit. 3 different types of nozzles along with one roller are only some of the items.
You do not have to think about the compatibility of the gun with the plastic material. It is adjustable to different temperatures which allow you the freedom to work with different kinds. Furthermore, it also helps the panel welders greatly.
Key Features:
The welder gun is very light weighing less than 3lbs.
Besides, it is compact as well. Thus, it is much easier to carry this kit for outside operations.
Lastly, you can easily use it to repair truck curtains, swimming pool linings and much more.
1. Master Appliance ProHeat Welder Series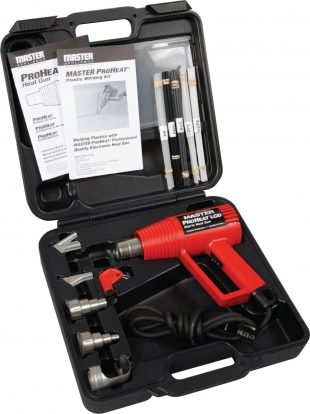 To provide you with a lot of flexibility, the temperature bar is from 130 to 1000 degrees. Not only that, it can be changed to different settings with a 10-degree increment. On top of that, it has various airflow settings to finish the job neatly as well. The kit provides you with 5 of the most popular attachments. These can be used for a variety of welding applications.
Besides, the product features an LCD screen. If something happens to the cord, the entire product is rendered useless. For that reason, the cord has a special rubber jacket which is oil as well as sunlight resistant. The product offers an exclusive feature of Prolog magnetic key locks. These locks hell you to maintain a consistent use to handle one project right after another.
Key Features:
Besides, it is completely light in weight. Hence, you will have no trouble in using it.
It rather has a digital display where you can adjust the temperature anywhere between 130-degrees to 1000-degrees.
Give your plastic product a perfect finish. The plastic welders for sale are just the equipment you need to accomplish the task.