Jobsite is an area where your modern gadgets are always at the risk of getting damaged. With the slightest slip, the entire machine can fall and break off. However, for keeping yourself entertained in your work domain, you need something heavy-duty. So, the Jobsite radios are just the product that will endure even the roughest environment. From heavy rainfall to the dirt, these radios will withstand everything and still function the best.
To get your hands on quality products only, check these Jobsite radios on Amazon. Every point that might help you in deciding is listed below and you will certainly not regret buying one.
List of Best Jobsite Radios in 2023 Review
10. Milwaukee 2951-20 M12: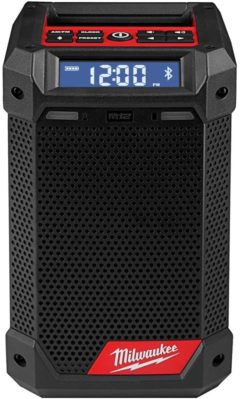 Well, this product surely proves to be a great start to this list. Certainly, the very first thing that you will notice about this job site radio is the fact that it is highly durable. In fact, it boasts a high-quality construction from the best quality materials. Furthermore, this radio is completely resistant to water as well as debris to thanks to its IP54 ingress protection rating. Hence, you will have no trouble using this radio.
As a matter of fact, this radio comes with a 12V DC plug. Therefore, it becomes easy for you to charge any M12 battery apart from charging the radio only.
Key features:
Of course, it comes with AM/FM tuner along with the option to preset 10 stations. Therefore, it allows you to store your favorite radio stations and provide easy access.
It also has a 2.1A USB port which allows the radio to act as a power bank and charge other portable devices.
Furthermore, you also get a self-centering keyhole which makes it further convenient for hanging.
9. DEWALT DCR028B Jobsite Radio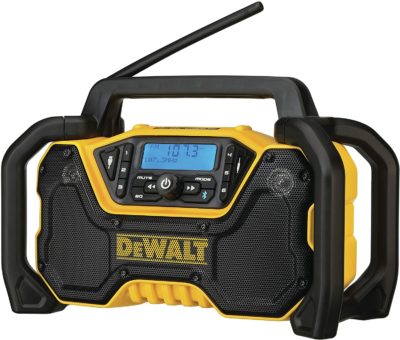 Dewalt is undoubtedly one of the most popular names in the industry when it comes to finding the best radios for your workspace. Of course, this from Dewalt provides you with the premium quality sound irrespective of the working environment. Hence, you will be able to enjoy your favorite music and radio channels even in tough working conditions. It also comes with quad speakers that produce crystal clear sound with deep bass.
Plus, you can play your favorite music on this by connecting your device through Bluetooth from a distance of 100-feet. Also, it offers AUX cable connectivity for helping you use it in a traditional way. Finally, it comes with a convenient USB port which allows you to charge different devices.
Key features:
Indeed, it comes with a durable roll cage design. Hence, makes the radioresistant to all kinds of impacts and damages.
The AM/FM radio allows you six different presets as per every band without any trouble.
Moreover, the handle of this radio easily stores the antenna when it is not in use.
8. Makita XRM05 Job Site Radio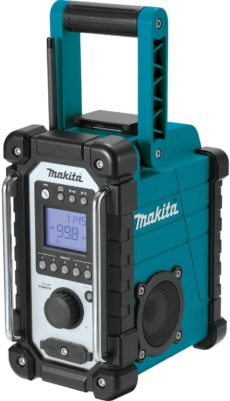 This product is truly unique in its design as well as performance. Indeed, the thing that you will notice first about this product is its design. The top handle design of this from Makita provides you with complete ease of carrying. Furthermore, it includes a protective bumper in its design. Therefore, it further adds durability to the radio.
Due to its incredible construction, this is also water and dust resistant. So, it can serve you well without sustaining any damage even in the harshest work conditions. Also, the FM antenna of this is disassembled and you can store it internally for safekeeping.
Key features:
The backlit digital quartz display shows you the channel you are playing along with other associated information.
It also produces rich sound thanks to its two 3-inches, side-firing speakers.
If you use an 18V LXT 5.0Ah Lithium-ion battery, then this speaker can serve you for 35 hours without stopping.
7. Bosch PB120 Compact AM/FM Radio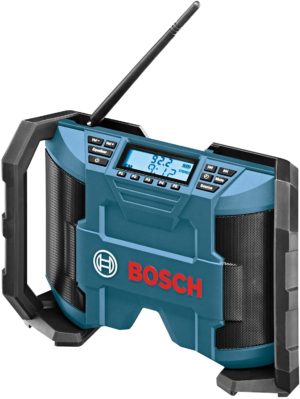 Bosch is certainly one of the foremost manufacturers of premium quality sound equipment across the world. Weighing only 3.1 pounds, the Bosch PB120 is an extraordinarily compact and lightweight radio that you can opt for. This radio makes use of high quality two high-quality 5-watt neodymium speakers. So, it offers crystal clear sound and serves you well for more than 8 hours constantly with the help of a 1.5Ah Bosch battery.
Thus, you can be completely sure about the quality as well as the performance of this radio. It also comes with an integrated screw slot which allows you to mount the radio on the wall easily.
Key features:
This features a highly robust as well as shock-absorbing handle and housing. Hence, you can be sure of the durability of the product completely.
The digital processing quality of the signal ensures great reception of AM/FM transmission.
Thanks to its compact size, you can also store the product anywhere easily.
6. Milwaukee M12 Cordless Job-Site Radio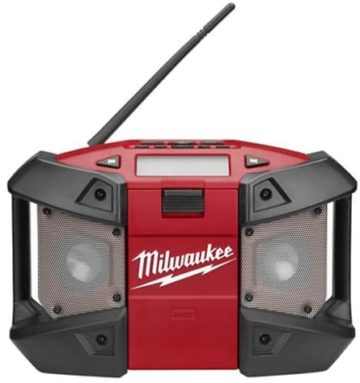 If you are looking for the best-quality radios, then this product from Milwaukee must be there in your watch list. Easy to use and highly durable, this is perfect for indoor as well as outdoor job sites. Of course, the thing that makes this product truly exceptional is the fact that it comes with two aluminum speakers.
Moreover, these speakers are completely weatherproof. So, they not only ensure excellent sound quality but also make sure that you can easily use them even during the adverse weather conditions. Also, it features a shock-absorbing housing. Hence, it can easily sustain any impact without causing any damage to the radio.
Key features:
Weighs only 3.5 pounds, this is also very compact in dimensions as it is only 10.5 inches in width. Therefore, you can easily carry or store it anywhere easily.
The weather-sealed MP3 compartment can easily store your mp3 devices or phone with ease while playing music.
Lastly, you can use it with an AC adapter or an M12 lithium-ion battery as per your preference.
5. Bosch Bluetooth PB360C Power Box Jobsite AM/FM Radio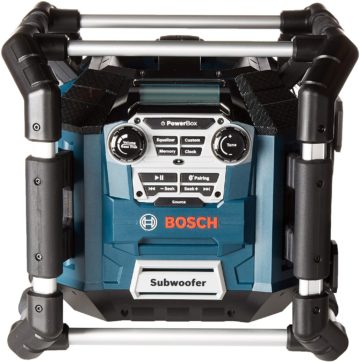 Having the title of Amazon's choice, this extraordinary radio from Bosch is certainly an exceptional buying choice. This Bosch Jobsite radio surely offers Bluetooth pairing. Thus, you can pair the radio with your smartphone, iPods, and mp3 devices from a distance of 150 feet. Plus, it also allows you to play stored music and internet radios. Thereby providing you with more convenience as well as freedom of usage.
Also, this product features 4-way speakers along with a subwoofer. Thus, it provides you with 360 degrees of exceptional sound quality in every direction. Plus, it also provides you with separate controls for bass as well as treble along with customization of the equalizer.
Key features:
It has a protective aluminum construction along with a special rubber roll cage. This product boasts impressive durability as well as shock resistance.
Thanks to its extraordinary construction, this product is also weather and dust resistant.
Also, features multiple carrying handles, this radio makes it very easy to carry it anywhere as per your choice.
4. Milwaukee 2890-20 Jobsite Radio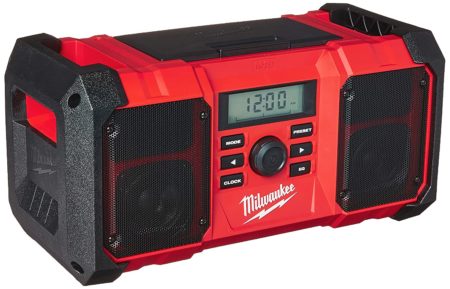 This jobsite radio from Milwaukee has multiple applications. In fact, apart from serving as a radio, you can also use it as a power bank to charge your mobile phones and other portable devices easily. It comes with a special weather-resistant compartment at the back of the radio along with a 2.1A USB port. So, you can use this port to charge your device. On the other hand, keeping it completely safe from any damage in the special compartment during the charging process.
Also, this features a stackable rectangular design. The product has been designed so much that it can sit in boxes, bags, and cars with other tools. As a matter of fact, you can put supplies stacked on its top.
Key features:
The product can run easily with any Milwaukee 18V Lithium-ion batteries.
Moreover, the radio allows you to store 10 preset radio channels. Thereby providing you easy access to your favorite radio channels.
Lastly, the shock-absorbing end caps provide the product complete durability as well as impact resistance.
3. DEWALT 20V MAX/12V Jobsite Radio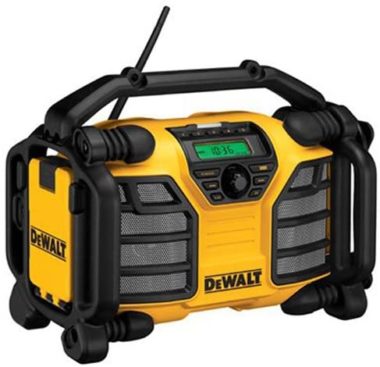 Certainly, this product is truly an exceptional one that you can opt for in the market today. This makes use of class D amplifier, tweeter, and woofers. Therefore, this radio produces a complete range of high and low volume sound for creating an extraordinary auditory experience. The best thing about this is the fact that it can easily run on 12V as well as 20V Dewalt batteries.
Most importantly, it also comes with an AC adapter. As a result, it allows you to completely charge the batteries within a short period of 90 minutes. In other words, it takes care of your convenience completely.
Key features:
Comes with a USB port that allows you to charge your mobiles or other portable devices without any issue.
You can connect the radio with portable satellite receivers, CD players, MP3 players, and different other digital audio players.
There is a separate device storage box that stores your mobile phone with complete ease.
2. DEWALT 20V MAX Jobsite Radio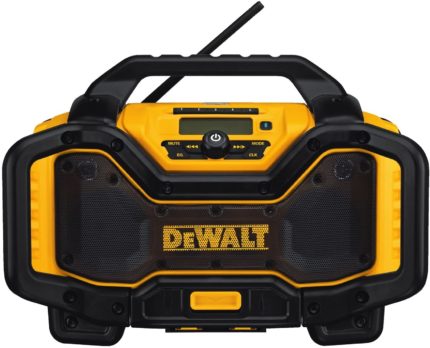 Another marvelous product from Dewalt, this proves to be a worthy inclusion to this list. This surely ensures multiple connectivity options. In case you are wondering, you will be able to connect your device through an AUX cable. It also offers powerful Bluetooth connectivity. In fact, you will be able to pair with this device from a range of 100 ft with absolute ease. So, you will get a complete convenience when it comes to streaming internet radio or playing stored music.
Furthermore, this radio comes with a separate antenna. Hence, you can use to receive the AM/FM signals while being sure about getting a wonderful reception.
Key features:
This can be used with a 20V/60V battery as well as an AC power cord.
The top handle makes it easy for you to carry the product anywhere.
It also provides you with a 2.1A USB port that you can use to charge your mobile devices.
1. DEWALT DCR018 Jobsite Radio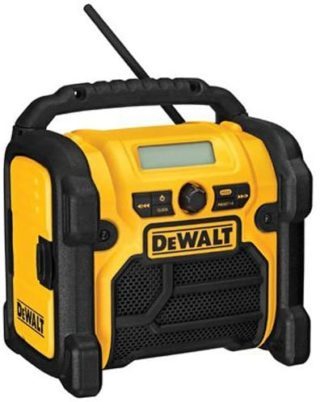 Occupying the first position in our list is the DEWALT DCR018. This one is surely the best jobsite radio that the market has to offer. Having a compact design and weighing only 7.1 pounds, this one is easy to carry as well as store. Furthermore, the top rubber coated handle with proper grip makes it easy further easy to carry this anywhere you like. One of the most intriguing facts about this is the fact that it runs on a maximum of 20V battery.
Besides, you can also use an AC power cord to charge the battery as well as run the radio. Plus, the radio also features a USB port which makes it possible for you to charge your device easily.
Key features:
This radio surely comes with a separate box for easy storage of your digital audio device. Thus, it keeps your device safe from debris or any farm.
Next, the rugged build with impact-resistant rubber coating makes the product durable as well as make it resistant against debris and harsh weather conditions.
Besides, the radio allows you to easily clean it with a moist cloth and mild soap water.
What is the best jobsite radio?
The best jobsite radio is the one that provides you with exceptional sound quality as well as performance even in the harshest of the conditions. Certainly, the most important thing for any jobsite radio is its build quality. The main purpose of a radio is to be used in the harshest of conditions in difficult jobsites to keep you entertained while working. Thus, it must be completely weather resistant. Most importantly, it must have complete resistance to the debris such that you can use it without worrying about getting it damaged.
How important is the sound of a jobsite radio?
As a matter of fact, the sound quality of the radio must be exceptional. Of course, your jobsite is expected to have a chaotic ambiance and a lot of background noise. So, the radio must have exceptional speakers and woofers such that it can produce excellent quality sound even amidst all the adversities that it faces.
Which factors must be kept in consideration while choosing a jobsite radio?
Surely, the foremost thing that must be taken into account is the build quality of the radio. Like we have already stated, a jobsite radio must have exceptional build quality such that it can withstand the debris, dust, adverse weather as well as sudden impacts. You must also take into account the AM/FM reception quality of the radio such that you can easily tune into your favorite radio stations easily. Furthermore, it must provide connectivity to your digital audio devices such that you can also stream online radio or play your stored music. Lastly, the compactness and weight of the radio should play a factor in your choice such that you can carry it anywhere easily without any issue.
Final Verdict
Maintain a track of your work by having control over the workspace. Stay engaged with the use of a Bluetooth jobsite radio or a traditional one and keep yourself updated.