If you are gardening or working in your garage, you know how hard it is to carry the essentials. Carrying all the equipment to the perfect place manually tires you out before you can even start working. Thus, you need to opt for the garden carts. The garden carts have heavy-duty construction and can withstand heavyweights. So, you will have no trouble using them. Most importantly, they also come with heavy-duty tires which provide easy maneuverability.
If you are in desperate need of a wagon that can effortlessly transport the waste, then buy a garden cart. This will neatly fit everything and your garden will look pretty.
The Best Garden Carts to Buy in 2023
10. Gorilla Carts GOR4PS Garden Cart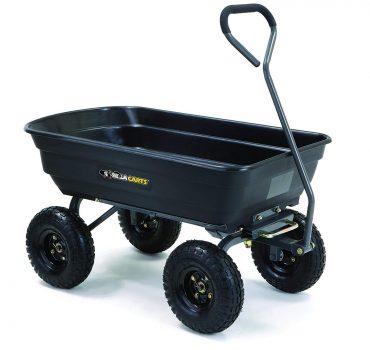 Gorilla Carts is known for developing a successful line of garden carts. This one particularly has rightfully been regarded as Amazon's Choice for a purpose. This garden cart will prove to be a long-lasting friend without giving you any trouble whatsoever. Gorilla Carts has been constantly improvising in order to ease your gardening operations. This particular cart went through an update of the design frame.
Because of the modification, the frame has become much durable and robust. Assembling the cart now is as easy as it can get, and you can do it by yourself.
Key Features: 
Do not go by the looks of this tiny cart. This little monster can withstand as much as 600 pounds at a go.
The cart also gives you some ground for choosing the color of your choice. You can either go for the sleek black or go for nature's color green.
Has rustproof poly bed and pneumatic tires.
9. Marathon Industries Garden Cart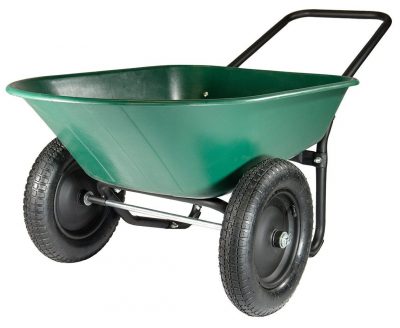 Do you love gardening, but carrying equipment is always bothering you. Well, a simple garden cart can easily solve your problems with a click. With this simple wheelbarrow structure, Marathon Industries provides you with an innovative solution for your gardening operations. Functional as it is, it has also kept in mind to tingle your sense of sight.
The product features as many as 4 different attractive shades. The usual green, black and grey can be the choice that can suit all. Although, if you like to make things a little colorful, Marathon Industries provides you with a pink. And if that cannot impress you much either, you can go for the very unique ladybug.
Key Features: 
The loop handle of this garden cart provides you with a stable grip which hurting your fingers.
The wheelbarrow structure makes the cart very easily maneuverable.
Offers a load capacity of 300 pounds that is very impressive.
8. Sandusky Lee CW3418 Garden Wagon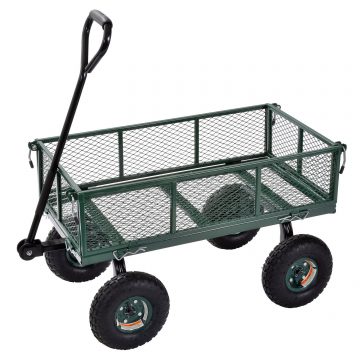 If you look for more than gardening operations and are looking for a suitable cart that can serve more than one purpose, look no more. Sandusky realizes the necessity of being able to serve multiple purposes, and this cart truly stands with that sentiment. The cart has a special design so it can easily move on various surfaces.
Whether it is the uneven garden floor or the beach, this cart can smoothly roll on any ground. Furthermore, the cart can withstand up to 400 lbs of load. Plus, the D style handle makes it easy to pull the cart.
Key Features: 
A very useful feature of this cart is that it comes with removable sides.
The sides are made of a tough mesh, to provide stability.
The mesh has the best quality of steel as it's material. Not only does the steel prove to be sturdy, but it is absolutely corrosion-free.
7. The Ames Companies, Inc 1123047100 Garden Cart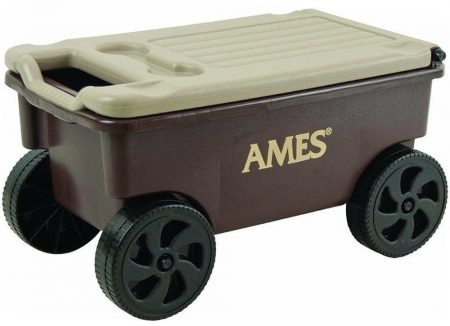 Most traditional garden carts take care of the transportation deal. But with this cart, the company also takes care of the storing issue. The product comes with a lid, and this lid is as sturdy as you can imagine. The lid vouches to work as a strong seat in case you need a little break in the midst of your gardening operations.
Most importantly, if rusting is your big concern, do not even worry about it. The lid and the body, have sturdy plastic material. Thus, rusting cannot possibly take place.
Key Features: 
You can safely store whatever you want inside the cart.
Big 7 inch wheels make moving the cart from one place to another even easier.
The cart has 2 cubic feet of capacity.
6. Mac Sports Folding Garden Cart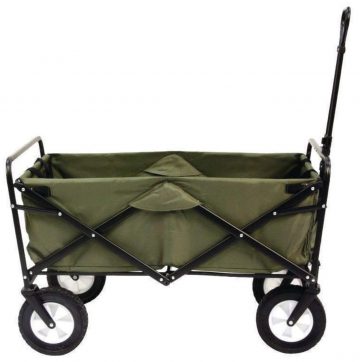 Shopping for your family for a week singlehandedly can become a nightmare. The bags often do not help as much, and dragging the things even up to your car is an ordeal. Mac Sports has been known for a long time creating a line of booming home products. You can certainly expect the same when it comes to garden carts. From its range of various garden carts, this is one of the most efficient.
This cart does not require any assembly. You can set it up in a matter of seconds. Plus, storing it is also very. You can fold it easily to an 8-inch thickness. Above all, it supports load up to 150 lbs.
Key Features: 
Since the body has a durable fabric, it is provided with some useful storage pockets. While you pull the cart, you can store your keys or phone in the pockets.
Most importantly, since the product has high-quality fabric as its body, cleaning becomes an easy task. Just take out the fabric and wash it, and it will be good as new.
Perfect for hauling gears and objects.
5. Gorilla Carts GOR400-COM Garden Cart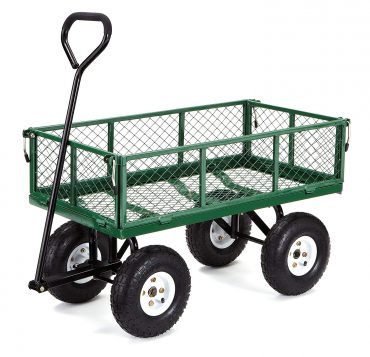 Gorilla Carts has been coming with a whole line of innovations when it comes to garden carts. Through these innovations, they improve and keep getting better with each new modification. The GOR400-COM is one of their best specimens when it comes to a utility cart. If you have great trouble in assembling and little jobs need a lot of help, then this is the model for you.
Since the new modifications, assembling the entire product has become child's play. Moreover, this net design offers room for better maneuvering.
Key Features: 
Carrying bigger loads is often a trouble with small carts. That is why the sides have been made removable. The cart can act as a flatbed when required.
The 10-inch pneumatic tires perform an amazing task when it comes to moving the cart.
The tires are completely out of rubber which does not scratch other floors.
4. Sunnydaze Decor Rolling Garden Cart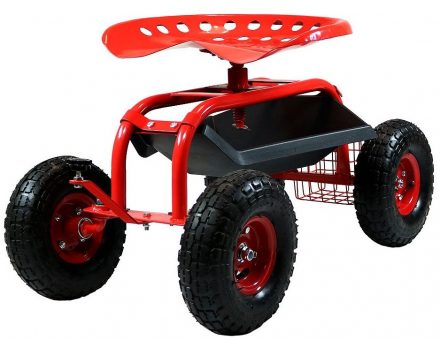 Among the line of various garden carts, Sunnydaze surely grabs attention because of its unique design. Unlike the traditional wagon-style carts, this new cart has various parts in order to perform different functions. Traditional carts often look shabby, but not this cart. This is on par with the latest trends and brought a really attractive and useful piece for everybody. The cart provides you with a comfortable seat which makes ranch or farm work much more comfortable.
The cart has a heavy-duty steel frame. It provides the cart with long-lasting durability. The pneumatic tires and solid metal axles further enhance durability.
Key Features: 
You do not need to pull the cart with all your might in order to move it. This cart has its own steering wheel to make the job easier.
All the assembly tools that you may possibly need are there in the box.
330 lbs weight limit is enough to accommodate heavy stuff.
3. Best Choice Products Garden Cart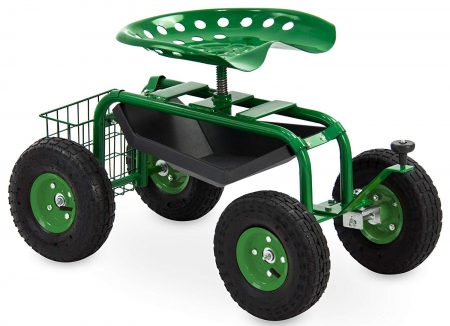 For those looking for a suitable garden cart, which carries a tool while offering comfort, this is perfect for you. Best Choice Products takes all issues of gardening operations in consultation and provides you with this innovative solution. The seat has a special design that facilitates your ergonomic comfort by a great deal. Now you do not have to crouch in your yard and hurt your body for long hours.
The entire frame can withstand any weather. Rain or sun cannot affect your product, and it proves really durable.
Key Features: 
The green powder coating finish is not only appealing to your eyes but also makes it rustproof.
It comes with a vital utility basket. You can keep all your tools in the basket when you perform any outdoor tasks.
Solid metal axles offer easy maneuverability.
2. Gardener's Supply Company Deluxe Basket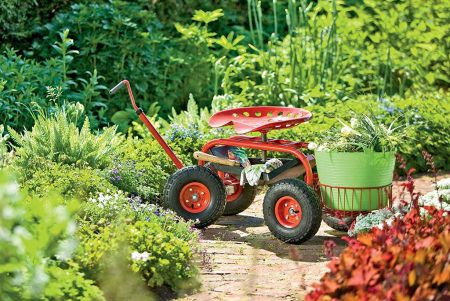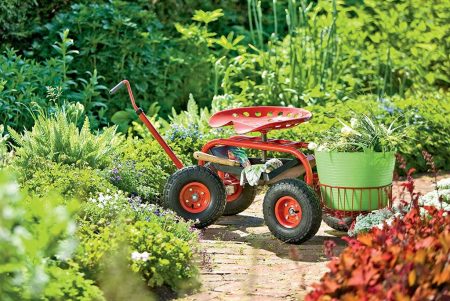 This garden cart may look small, but it can perform much better than most garden carts. Because of its unusual compactness, storing it in the storage room or garage is very easy when not in use. It hardly takes up much space. You can sit comfortably and do your job without exerting pain on your body. The entire frame is from powder coating steel.
This means the frame is absolutely rust-resistant. Plus, it is highly durable due to its frame. The cart promises to serve you for a long time to come.
Key Features: 
Do not go by the size of the utility basket. It can hold as much as a 5-gallon pail at one time.
Provides you with as good as 3 different color choices. Blue, green, or red you can go for whichever you prefer.
Alter the seat's height to set as per your preferences.
1. Sekey Folding Garden Cart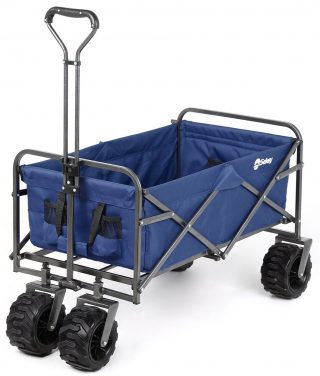 More options are always better. That is why Sekey provides you with as many as 11 different colors when it comes to your favorite garden cart. The cart comes with various features. Essentials like water or keys have two separate pouches for them. Now you do not have to worry about losing things outdoor.
Besides, the body is completely 600D double layer oxford fabric. The layers provide stability to the cart. Moreover, you can easily take off and wash the fabric.
Key Features: 
The tires are absolutely out of solid PU. This makes them durable.
The technical grooving on the wheels makes them perfect for all terrains.
One of the great features about this cart is that it is easily foldable. Thus, it takes very little room when not in use.
Clean the garden and carry all the extra stuff to the dumping station. Spotless cleaning and easy carrying of the unwanted waste is done easily by the garden carts with wheels.