Camera glasses are technology-driven devices that enable you to take photos and videos of both indoor and outdoor activities without engaging both hands. They come with a plethora of high-value features that make them easy to use. With Camera Glasses, you can capture important moments during a birthday party, wedding, or any other social gatherings.
Most of these devices are Bluetooth-enabled, which allows you to connect to other devices like PC, tablets, smartphones, among others. Apart from that, you can easily receive calls with this device. We will be considering the 10 best camera glasses in 2023. We have stated the features and specifications of each product. This will help you make an excellent choice when buying the product.
Here is a list of Camera Glasses in 2023
10. Newwings Bluetooth Camera Glasses
With Newwings Bluetooth Camera Glasses, you don't need a mount or a strap to get a perfect view of any image or scene that you want to capture. This pair of camera glasses are fashionable and durable; you can wear them anywhere. Moreover, you can easily take your calls with this device, especially when your hands are busy. You can receive calls when cycling, driving, fishing, and hunting. The package of this product includes one manual, one Bluetooth Camera sunglasses, two headsets, a cleaning cloth, and a USB Cable.
The dimension of Newwings Bluetooth Camera Glasses measures 6.6 x 3.3 x 2.8 inches. The glasses feature a UV Protecting and polarized lens. This gives the glasses the ability to minimize the intensity as well as the glare of light, thereby protecting your eyes and helping you see clearer. The Bluetooth headset is another notable feature of these camera glasses. With the Bluetooth functionality, you can seamlessly connect to other devices like your tablet, Smartphones, PC, among others.
Pros 
Polarized and UV Shielding Lens
Bluetooth Functionality
Product is Fashionable
Impressive High-definition Video
9. KAMRE Bluetooth Sunglasses Camera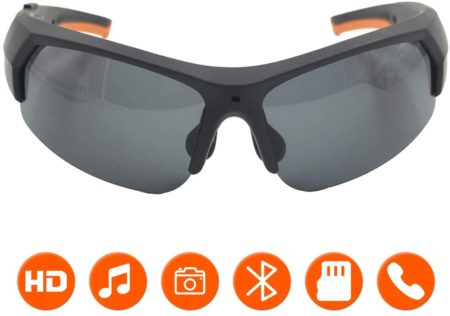 If you need Camera glasses with an elegant and stylish design, then you should take advantage of the KAMRE Bluetooth Camera Glasses. The product is made with a top-quality rubber material. It is Bluetooth-enabled. This means that you can easily connect the sunglasses to other devices to take calls and enjoy your favorite tunes. The weight of the device is 6.1 ounces, while its dimension measures 7.2 x 4.1 x 2.9 inches.
Apart from its ability to connect with other Bluetooth devices, it comes with some other noteworthy features. The pair of camera glasses are easy to use, and it comes with a built-in memory card. You can independently control the Bluetooth and Camera. With it, you will record beautiful moments in your life without stress. The device features a high-quality camera with a clear sound.
Pros
Easy to use
Bluetooth-Enabled
Built-in rechargeable battery
Built-in SD Card
High-quality images
Clear Sound
8. GoVision Camera Glasses
Do you desire to record an event with your hands-free? If yes, then you should consider the GoVision Camera Glasses. With this device, you don't need your smartphone or camcorders to capture your beautiful moments. The GoVision Camera Glasses will enable you to take brilliant pictures and HD videos by just pressing a button.
The product comes with a user manual, a warranty card, a USB Cord, an 8GB Micro sd-card, and a product case. Some of the exciting features of GoVision Camera Glasses are a built-in Lithium battery, 15M Pixel picture resolution, ability to make and receive calls, Micro SD card with a capacity of up to 32GB, among others. The dimension of the product measures 6x 7 x 1.8 inches.
Pros 
Built-in Lithium Battery
High-quality Audio
Rugged Frames
UV Protection
Lightweight
Durable
7. SENLUO Camera 1080P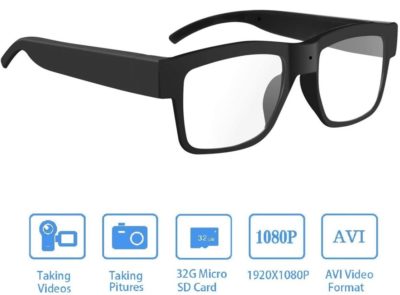 This is an attractive pair of plain glass spectacles with myriads of exciting features. The product comes in black color, and its weight is about 30g. The SENLUO Camera is made from top-quality ABS plastic material. The product comes with one black bag, a pair of camera glasses, a user manual, as well as a cleaning cloth. The battery can last for an hour when fully charged.
Furthermore, you can easily connect the product to your personal computer, and view your picture and videos. Besides the pair of glasses is comfortable to wear as it is light in weight. It can be used to view live matches, read, among others.
Pros 
Removable lens
High-quality ABS Material
Easy-to-comprehend Manual
Comfortable to wear
6. Towero Camera Glasses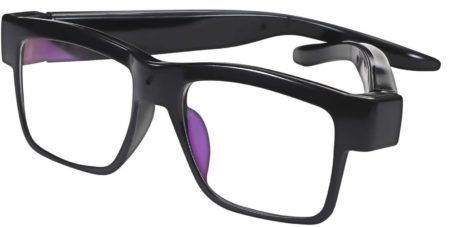 If you need a pair of camera glasses with aesthetic appeal, then you should go for the Towero Camera Glasses. Apart from its attractive appearance, it is designed to protect your eyes from harmful Ultraviolet rays. The Towero Camera Glasses is a device that takes care of your eyes while you make fantastic recordings of events.
It comes in black color, and lenses are FDA Certified. The angle of the camera view is about 65 degrees. The recording speed of the camera is 30fps, while the video resolution is 1920 by 1080 Full HD. The package includes a user manual, a USB cable, and a pair of Camera lenses.
Pros 
High-quality pictures
Light and comfortable to wear
Eyes protection
Wider Coverage
5. UNQ VPT Camera Eyeglasses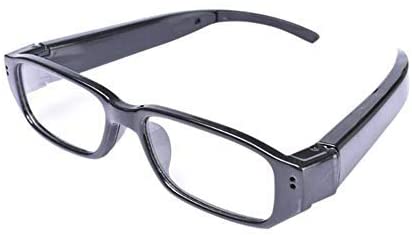 The next product on our list of the best camera glasses is the UNQ VPT Camera Glasses. The dimension of this device is 7x 2.8 x 2.6 inches, while it weighs 4.8 ounces. The UNQ VPT Camera Eyeglasses is easy to use; it comes with a powerful Lithium Polymer battery that can power the device continuously for an hour when fully charged. If you need a product that can be used to record both outdoor and indoor activities, then you should consider this device. The quality of the sound and picture are excellent.
Pros 
Easy to Use
Affordable
Powerful Lithium battery
Lightweight
Comfortable
4. Film Shades Camera Glasses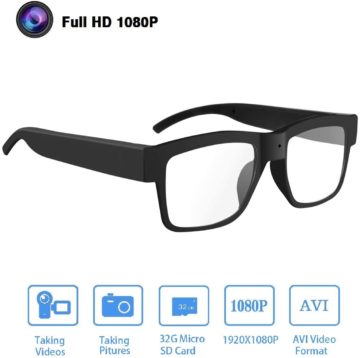 If you need a pair of camera glasses that are designed for your convenience, then the Film Shade Camera Glasses is an excellent option to consider. The product is easy to use and comfortable. The dimension measures 7.5 x 3.4 x 2.9 inches. And the weight of the product is about 5.6 ounces. With a push of a button, you will be able to capture remarkable moments whether you are outdoor or indoor.
The lenses of the camera glasses are polarized to protect the eyes whenever you are using the product outdoor. It features a Rechargeable Li-Ion battery. The battery can power the device continuously for about 60 minutes when it is fully charged. It comes with a USB cord that enables you to connect with your laptop to save your videos and high-quality photos. Apart from being easy to use, the product looks attractive.
Pros
Eyes protection
Stylish
High-quality Video
High internal Memory
3. Yctong Bluetooth Camera Glasses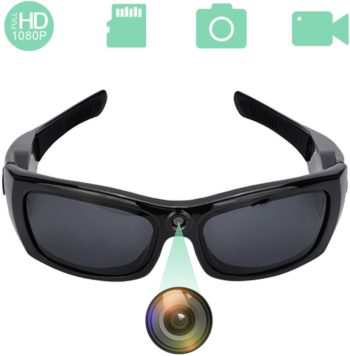 Are you looking for a recording device that complies with all rules and regulations? If yes, then the Yctong is your ideal choice. The product does not only protect your eyes from the dangerous UV rays. It also enables you to take pictures and record videos conveniently by engaging your hands. Some of the functionalities of this unique device are built-in 32GB memory, Bluetooth-enabled, mini camera, among others. You can also receive calls with this device.
The operating temperature varies from 10 to 55 degrees, while its range of transmission is about 10 meters. With this great camera, you can record each of your wonderful moments outdoors. Furthermore, all you need to take down wonderful moments is just the click of a button. Insert a micro SD, and then start taking pictures and videos as you please.
Pros 
Power Built-in Lithium Battery
Wide range of Coverage
High-quality pictures and videos
Easy to operate
Bluetooth-enabled 
2. YAOAWE Spy Camera Glasses

With YAOAWE Spy Camera Glasses, you don't have to worry about missing a crucial part of a meeting, event, lecture or any other important activity. It enables you to capture wonderful moments without stress. It comes with a USB cable and other top-value accessories. The video encoding is in MJPEG format, and its working temperature varies from o to 104 degrees Fahrenheit. YAOAWE Spy Camera Glasses feature a 230Mah capacity Lithium battery.
Furthermore, the device supports Micro SD Card or TF Card. The dimension of the product measure 5.4 x 5.7 x 1.4 inches. The device is suitable for crime control and evidence collection. You can use it to record the content of a discussion, gathering, or meeting. Also, the product can be used to capture exciting moments in sports, birthdays, wedding ceremonies, among others.
Pros 
Power Button
Presence of indicator light
Clear video
High-quality battery
Easy to operate
1. Spectacle 2 Water Resistant Polarized

Our list of the best camera glasses will not be complete without mentioning this mindblowing piece of camera glass. It features two high-performing cameras. With a single click of a button, you will capture all important moments at whatever you want. One unique feature of this product is that it is resistant to water.
Therefore, you can use them during pool parties without fear. With Spectacle Camera Glasses, you can take pictures and record videos right beneath the pool. The dimension of the product measure 2.3 x 7.2 x 3.3 inches. The product comes with a USB and a charging Cable. The photo resolution measures 1728 x 1729 pixels. Other accessories of this product are a Protective case and cleaning cloth. The weight of the device is about 9.6 ounces.
Pros 
Sync and Share functionalities
Water-resistant
High-quality video
Easy to take pictures and videos
Comfortable
Buying Guide Choosing Camera Glasses
Buying the best camera glasses is not guesswork. You must understand the features that make up excellent camera glasses. On this note, we will be looking at some important factors that you must consider before you make your buying decision. Here are some of them:
This is an essential quality that you must not overlook when looking for the best camera glasses to buy. The ability to control the functionalities of the device without any hassle is an important factor to consider. You must be able to operate its shutter button easily, and the temple tips must fit your head snugly. Furthermore, the arm handles should be gentle on your skin, and they must not harm you whenever you put on the glasses.
Another important factor that buyers should consider is the price. You should bear in mind that the price of the product might vary. Therefore, you should always look for the product that you can afford and at the same time, meets your expectations. Our list of best camera glasses has products that are pocket-friendly.
Storage Capacity
The storage space is another essential feature that you must consider before buying a pair of camera glasses. The number of pictures and the length of video you can take depends mainly on the storage capacity of your device. You should go for a product with a large storage capacity if you need camera glasses for long-time recording as well as picture taking. You can also consider camera glasses that support micro SD cards with larger storage capacity.
The feature of a good camera is a high-resolution picture and top video quality. This is a crucial factor as it has to do with the quality of the photos and videos you capture with the product. So, you should go for a camera glass with high-quality images and fantastic video outputs.
Final Verdict
Camera glasses are an extremely useful device in our day-to-day activities. Apart from capturing important moments, it also protects your eyes from the harmful effect of the sun. The advantages that come with the best camera glasses cannot be overestimated. It is, therefore, essential that you take note of the critical features like convenience, video quality, durability, among others, before making your purchase. This will ensure that you get high-performing, long-lasting camera glasses that will offer you great value for money.