You can relate to a situation where during a get-together, you are the only person manning the grill while everyone else is enjoying the evening. Well, most of the grills are not designed in a way that more than one person can use it simultaneously. Enter the Raclette grill where your friends along with you can get involved in the grilling process.
So, no more being in the party and feeling out of it as you can always have guests around helping in grilling the food while sipping on wine. To save you the trouble of scurrying through the websites in search of a good Raclette Grill, we got a few on our list.
Best Raclette Grills to Buy in 2023
10. Artestia High-Density Granite Electric Grill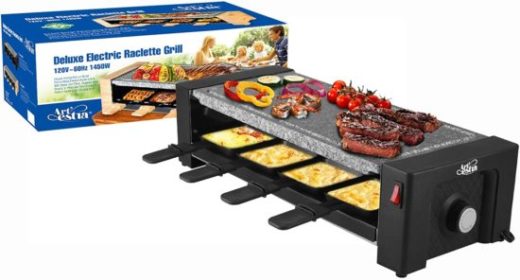 This super functional electric grill comes with one high-density granite grill and eight raclette dish holders. Just to ensure that you do not get your hands to burn in the process of grilling, all handles and spatula are heatproof. Further, the front switch can be turned on to heat the side dishes.
Additionally, there is a separate heat source for the Plate and side dishes that can serve an entire big happy family. With the compact model from Artestia, you get thermostatic control to regulate minimum, and maximum hear.
Key Features
Quick and even heating to regulate the cooking of vegetables, seafood, and steaks from the comfort of your dining table.
Maximum heat can reach up to 428℉ and minimum to 68℉ that gives the option to cook a wide variety of food.
This Raclette grill comes with one high-density granite grill along with eight dish holder and heatproof handles and spatula.
9. Swissmar Brushed Stainless Steel 8- Person Raclette Grill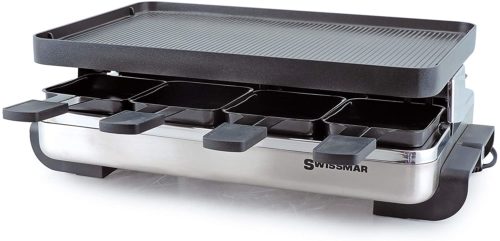 The Raclette Grill from Swissmar is a perfect choice if you are looking for a sophisticated looking but high duty Grill. Swissmar party grill is heated by an element that can cook the food evenly placed on the top of the grill. In addition to that, you can just place the cheese on the trays below for melting.
Starting this Grill is super easy as all you have to do is take it out of the packing and plug it into a power source. Further, the reversible non-stick top can be flipped over to cook eggs, crepes, and pancakes making the machine ideal for parties.
Key Features
Handles of the Grill are heat resistant and easy to clean making it perfect for keeping indoors
Reversible cast aluminum non-stick Grill plate can be used for grilling as well as cooking eggs and pancakes
The Grill set comes with 8-spatulas and raclette dishes, making it an ideal sized grill for 8-10 people.
8. CucinaPro Dual Cheese Electric Raclette Table Grill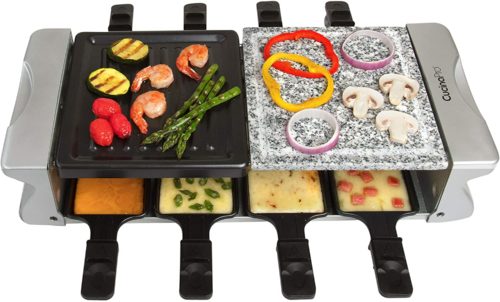 A perfect sized grill for the tabletop and indoor areas, this electric-powered Raclette grill comes with a grilling stone and a non – stick grill. Both the plates can be heated up simultaneously, thereby saving time in heating the meats and veggies separately.
Below the grill plates, you can melt the cheese simultaneously while grilling meat and veggies on the top. For melting the cheese, eight heat resistant raclette pans are making this dual cheese electric raclette a perfect addition for social dining.
Key Features
Two separate slabs for cooking veggies as well as meat simultaneously.
It has eight cheese raclette melting pans to a different type of cheese simultaneously
Its perfect size and heat intensity make it a worthy addition on the tabletop for enjoying grilling food during the social gathering and eating.
7. Artestia Two half Size Top Plates Raclette Grill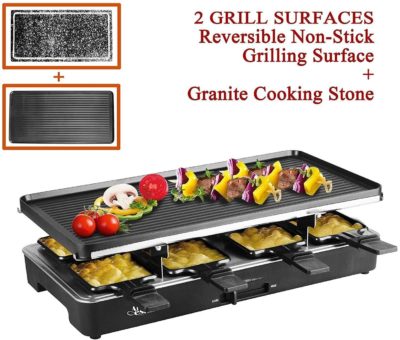 This raclette grill is a super convenient electric grill from Artestia that comes with two half-size plates. While one plate can be used for grilling the veggies and meat, you can cook eggs and pancakes on the other. Moreover, all these dishes can be cooked on the electric grill simultaneously.
Apart from two half-size plates made of cast aluminum and high-density granite, there are also eight raclette dish holders and eight spatulas. These spatulas and handles are heat resistant, which keeps your hands safe. Moreover, you get heat control and light indicator to ensure a proper check on the heat.
Key Features
Quick and evenly heating pans ensure perfect cooking of meats, veggies, eggs, pancakes, etc
Two half plates facilitate grilling and cooking simultaneously, an ideal feature for large social gathering
Holders and spatulas are heat resistant to save you from accidental burn while holding the raclette
6. Salton Round Immersible Plate Raclette Grill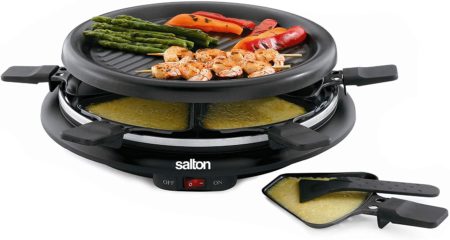 Plan your get together with friends and family without worrying about a grill plate that is not enough to accommodate enough food to grill. This round shaped raclette grill comes with 6-non-stick pans for melting the cheese simultaneously while grilling the food.
You can use the cooking surface to grill different types of seafood, veggies, and meat without having to worry about it sticking to the base. The non-stick plates are immersible, easy to use, and super easy to clean.
Key Features
Nonstick surface for worry-free cooking and 6-raclette pans can accommodate food for all the guests
On/off switch with indicator assists you better to realize the status of the grill, not leaving it accidentally switched on or off.
The round shape of the grill ensures that everyone can get together and have fun while grilling their favorite foods.
5. Milliard Portable Social Dining Raclette Grill

What happens when you have not as many friends and family members to set up a massive grill in the backyard? However, the circle is not even small that a small grill will just do without someone having to wait for getting the grilled food in their plates.
Well, to address the above scenario, you just buy Milliard Portable Raclette that is enough for serving 10-12 people in one go. With reversible non-stick grilling surface, you can grill meat and veggies and just reverse it to cook some eggs and pancakes quickly.
Key Features
Reversible top plate with 8-couplets ensures that there is enough space to grill for everyone
You can choose between various cooking options by adjusting the temperature of the grill.
Just to ensure that grill does not remain switched on accidentally, there is a visible light indicator
4. SwissmarStelvio Stainless Steel Electric Raclette Grill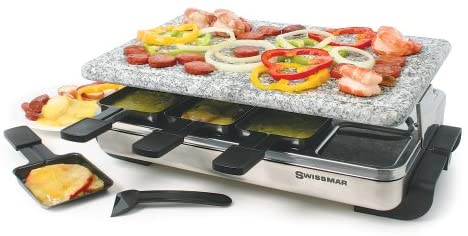 One of the best parts of this raclette party grill from Swissmar is that it is incredibly easy to use and to clean. Electric raclette grills might provide good heating and similar functions, but the ease of cleaning and maintaining the grill is often ignored.
With it perfect for 8-people Granite top stone grill, Swissmar has hit the right spot as it keeps the design and functionality simple. However, there is no compromise when it comes to useful features as the rill comes with 8-heat-resistant spatulas and raclette dishes.
Key Features
Granite stone grill top is perfect for grilling seafood and veggies while eight raclette dishes do the cheese melting perfectly.
All the items like granite top and raclette dishes are washable and dishwasher safe
Swissmar gives one-year limited warranty to the buyers which however does not cover the granite top
3.  Salton Raclette Non-stick Plate Party Grill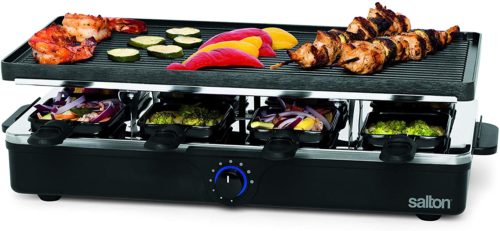 Enjoy the fun-filled evening with friends and family while eating your favorite grilled food with this tabletop party grill from Salton. While the top grill can efficiently grill seafood, meat, and delicious veggies, trays in the bottom will melt your favorite cheese.
To ensure that there is no dearth of cheese over the grilled food, there are 8-spatulas for melting the cheese. Moreover, the grilling plate and spatulas are super easy to clean and maintain.
Key Features
Grill plates are raised to ensure that there is no spill issue while grilling or melting the cheese
Adjust the temperature making it perfect for all types of grilling with temperature control option
Heat resistant handles with the anti-slip feature, blue indicator light, and color-coded raclette plates just add to the convenience of using this grill.
2. Hamilton Dishwasher Safe 8-Serve Raclette Electric Party Grill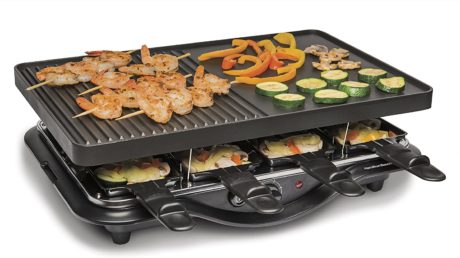 Get your friends over the weekends without worrying above the party menu and enjoy your favorite grilled food with this Hamilton Indoor party grill. With this square, nonstick grill pan, everyone can grill and combine the ingredients the way they want to eat.
Apart from the die-cast grilling surface, you also get 8-heatproof raclette trays for melting the cheese. Further, because of the adjustable temperature option, you can make sure that the cheese remains warm for long hours.
Key Features
Great for hosting indoor parties with its tabletop design with family and close friends
All the parts from the grill tray to the raclette dishes are dishwasher safe for easy cleaning
While cooking, the temperature can be controlled easily making it suitable for all types of grill
Half grilled and half smooth plates make it perfect to grill and cook simultaneously
1. Swissmar Interchangeable Cast Aluminum Grill Plate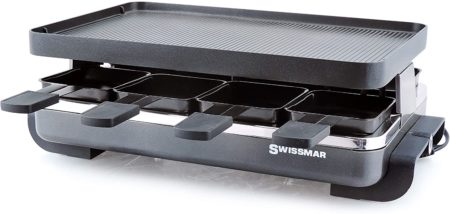 Change the way you have been doing house parties till now by not just hosting it but also joining. The tabletop raclette grill is non-stick and also reversible, meaning you can use it for grilling and cooking both.
Further, you can also interchange the grill plate with a granite grill stone. However, the granite grill stone is sold separately and does not come packed with the original item. Variable heat control makes the grill perfect for cooking all types of food without worrying too high or too low flame.
Key Features
Variable temperature control helps you in serving a variety of food on your guests' plate
8 heat resistant spatulas ensure that you have enough melted cheese for all your grilled food
Enjoying centuries-old Swiss-style raclette cheese with favorite grilled food is the soul of any party. These electric raclette grills not only cook good food for your guests but also let them enjoy grilling their food. Pick the one grill as per your need and keep parties, a good laugh, and positive vibes coming with house parties.