When you go on an adventure, you need to venture deep into places where you may not have your essential items readily available. So, you need to carry a bunch of essential items that help you to keep up with your life where you decided to go. Things like the change of clothes, sleeping bag, food, sweaters, and jackets are a few bulky things that you cannot carry in your backpack alone.
Also, while traveling, you need many things, for instance, plenty of water bottles. Having another handy storage space is essential if you want to travel comfortably. So, investing in the best motorcycle trunks would prove to be beneficial if you travel a lot. I am giving a list of 10 such trunks along with reviews below. Who knows? One of these handpicked trunk boxes might be your next companion for that big adventure.
List of Top Best Motorcycle Trunks in 2023
10. EGO BIKE Black Motorcycle Trunk Tour Pack Luggage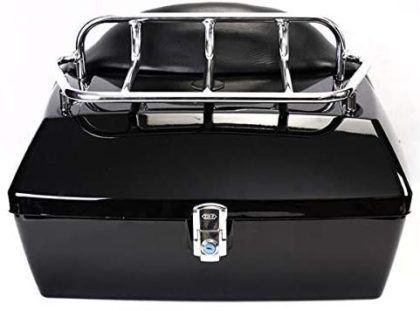 The EGO tail box is a tour friendly luggage holder and rests on the top of a rack. It has a nicely upholstered backrest molded into the box that is very convenient to rest your back. There is steel reck that is functional and compensates for the box occupying the rack below it. Moreover, the box itself is very spacious and holds two full-sized helmets in it.
All in all, this box is intelligently designed for its space, design, and functionality. The multipurpose and sturdy boxes also have a locking facility. The jet black color adds to its style, and the shiny steel stand compliments it. The backrest seat gives you a sense of luxury that, too, at half the price of similar high-end models.
Pros
Upholstered backrest provides a comfortable resting place
Huge box space hold ample of accessories
Extra stand on top is useful in many ways
Universal installation kit makes it compatible with many models
Cons
A luggage stand is a must, to install this box
9. EGO BIKE Black Motorcycle Hard Trunk Top Case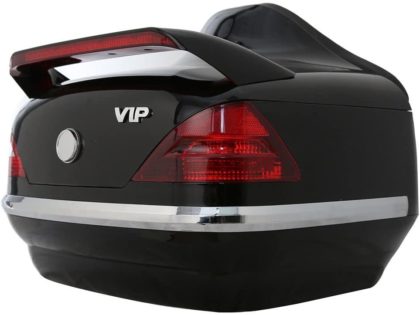 The EGO hard trunk for motorcycles comes with a backrest and tail light. In the tail light, you have lights that can be wired to the break, and they light up. The heavy-duty ABS is durable and waterproof. As the waterproof capability keeps your things from getting wet, you can conveniently store anything without the fear of getting it ruined.
This Hard Trunk is compatible with bikes and cruisers such as Suzuki, Harley Davidson, Yamaha, Vulcan, and Honda that have the fender railing. The inbuilt backrest provides support to the back. Hardware required for installation of the box is equipped with it and does not need any extra nuts or bolts. Though designed to be a universally compatible box, it is better to verify the fit and measurements of your luggage stand before you buy it.
Pros
The real lights provided on the box make it sleek
It has a built-in backrest, making it multi-functional
Affixes to the flat stand and does not require extra equipment
Large capacity allows storage of two helmets easily
Cons
Locks are not theft-proof, so you cannot store valuable things in it.
8. LW Vivid Black Large Hard Saddle Bag Trunk W/brackets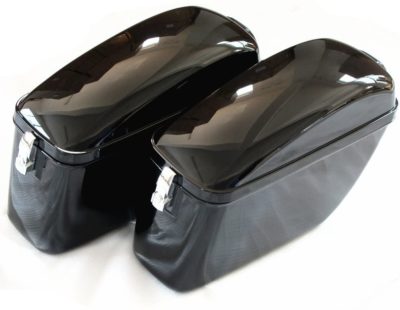 The dimensions of two side trunk bags of motorcycle, which provide extra storage space when you travel are,19.5 x 13 x 8 inches. They come with rustproof chrome locks and two keys. You need to place each of it on the brackets.
Though universally compatible, the motorcycle brackets should be checked before buying using the outer dimension measurements. They are made of ABS plastic and are recyclable. These boxes can be secured using a lock and are waterproof.
Pros
Chrome keys which last long and do not rust
Storage space on both sides
Waterproof boxes for keeping your things safe
ABS plastic is durable and recyclable
Cons
Expensive when compared with the other motorcycle trunks
7. Kuryakyn 7139 Motorcycle Accessory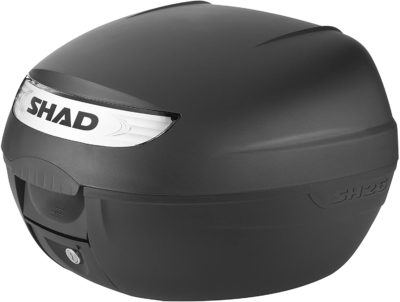 A helmet and gloves fit into this box comfortably, leaving room for other few smaller items. You just need to have your luggage rack to attach the box to it. A portable box can be locked or removed easily using the two keys provided with the lock.
Safe locking and unlocking to open or detach the box is very convenient when you want to leave your luggage alone. So, this is the new model designed beautifully and adds stylishness to your bike. The LED light, when wired with your bike, glows, and signals the persons behind you safely.
Pros
Easily mounts on a luggage rack with the given mounting materials
Quick-release technology helps in transporting the box easily
Lock with two keys help in attaching and quick releasing the box
White LED light for travel safety and added style
Cons
Instruction for assembly is not clear
6. Yescom 30L Motorcycle Tour Tail Box Scooter Trunk Luggage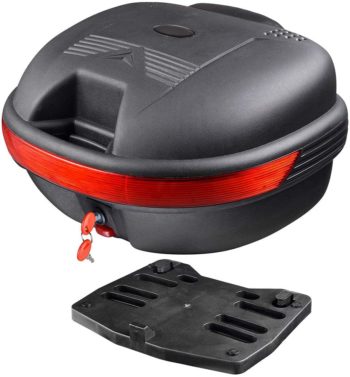 The tour tail box is as convenient as a suitcase to carry your luggage while you are traveling on your motorbike.its universal compatibility, and the mounting system that comes with the kit makes installation a breeze. No activities like drilling or welding are required to add this box to the scooter.
There are red colored reflectors that help in an indication of the fellow travelers of your existence even when on dark roads ensuring your safety. Another exciting feature it offers is the backrest. This box also serves as a backrest as it has a soft surface to rest on. It is both waterproof and durable.
Pros
Wide reflective strip provides security
The locking mechanism keeps the box lid and the box itself safely secured
Quick-release system of the box allows it to be removable
It has a handle to carry it conveniently like a suitcase
Backrest facility is also available with this box
Cons
No manual is provided with the box
5. AUTOINBOX Universal Motorcycle Tail Trunk Luggage Case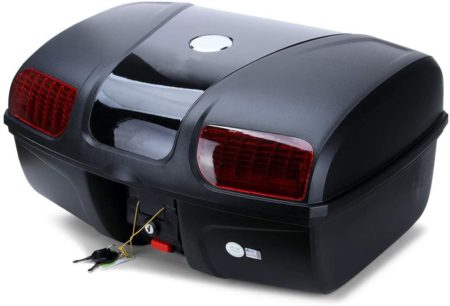 The 47 L hard case by Autoinbox is a universal trunk case made of special grade PP material. Hence it is impact resistant, waterproof, resistant to wear, durable, and scratch-proof. The wide design is convenient to store your accessories like gloves, helmets, and other important things. Lock with two keys is provided to release it from the stand whenever required to carry it with you.
The universal mounting hardware allows the box to be attached to almost any motorcycle. As it comes with all the required hardware, it is easy to install. An elastic cross strap is provided to hold the things in place, without getting disturbed while on the road. It comes with a base that is pressed to shape and made of rigid, heavy steel. The box is accompanied by an instruction kit for guidance on installation.
Pros
A cross strap made of elastic is used to hold the things in place
The heavy steel base adds rigid support to the box
Huge capacity allows ample storage space
Locking facility and unlocking it when you need to carry is convenient
Two reflective surfaces for safe driving during the night
Cons
Price of the product is expensive
4. Comie Motorcycle Tour Tail Box Trunk Luggage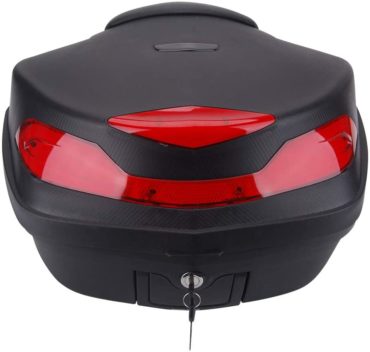 The luggage rack-mountable trail box by Comie is extremely spacious and can hold two helmets inside it. It comes with a soft surface where you can rest your back when you feel tired during your ride. Two keys are provided for the lock and locking facility ensures the safety of your things even when you are not around. Easy to carry handle helps you to carry it wherever you go.
The box opens fully just by unlocking it and no need to unzip, it just opens in a snap. Large capacity of 48L is useful in storing ample of items for your travel adventure or to carry back home your shopping items. The heavy-duty Polypropylene used in constructing this box makes it durable. You must make sure that the screws are not too tightly screwed to keep the box from cracking.
Pros
Two locks to lock the box and to snap open it.
Have all the required mounting hardware to attach it to the rack
Large capacity of 48 L to accommodate two helmets at a time
The box has a soft backrest to rest your back while traveling
Cons
Do not screw the box tightly as it results in damage to the base
Cannot mount it if no luggage rack is present
3. MMG Motorcycle Scooter Top Box Tail Trunk Luggage Box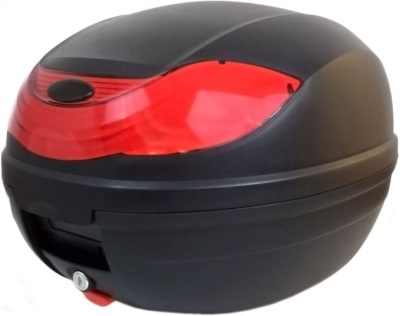 The MGM hard case luggage box is of 32 L capacity. It can hold a helmet and had a facility to lock. Also, the lock is accompanied by two keys that are convenient to have. Installation of this top box to your motorcycle is easy as all the mounting hardware is provided with the box, and hence it can fit almost any scooter without any hassle.
Once mounted, you only need to open or close the lock to detach or attach the box. Its approximate dimensions are 16.5 x 15.7 x 12 inches, and it is made of thick plastic and hence strong. Suitable for small to medium-sized scooters. There is a large red reflective surface on the box which reflects light to the driver behind you and keeps you safe while traveling.
Pros
The supportive base ensures the extra safety of the box
The reflective part on the back adds security to your bike
Easy to install and remove when not required
Compatible with most small and middle-sized scooters
Cons
You require luggage rack to install this box
2. Chase Harper USA 4000 Aeropac Tail Trunk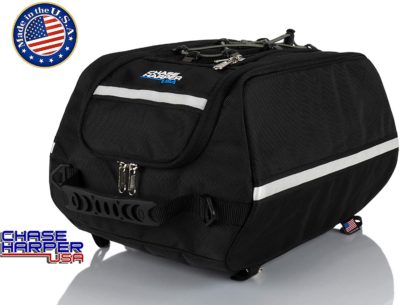 The USA made Chase Harper tail trunk is of high quality with water and tear resistance. Since the urethane-coated fabric is highly durable, and it protects your bag from tough conditions. The Ballistic Nylon of industrial-grade material made tail trunk, fits universally and has a bungee mounting system. This bungee mount system is adjustable and has zipper pockets to tuck the cords when not in use that makes it easy to handle when transporting.
You have the reinforced bottom with vinyl material to protect it from abrasion. The aerodynamic shape adds support for it to traveling easily using a hand-modeled thermoplastic insert. It also adds rigidity to the bad. The reflective strips on the bag ensure safety. The bag's dimensions are 14″L x 11″W x 9″H, and it contains many pockets for organization.
Pros
A mesh pocket of full length with Velcro opening inside is handy
The keyfob hook allows you to dangle keys safely
The zipper pockets on the outside are useful to store small things
The bungee has the hooks for securing the bag to the bike
Crisscross bungee has a tab-lock to adjust the size
Cons
Did not provide separate rain cover
1. Kuryakyn 5281 Momentum Hitchhiker Motorcycle Travel Luggage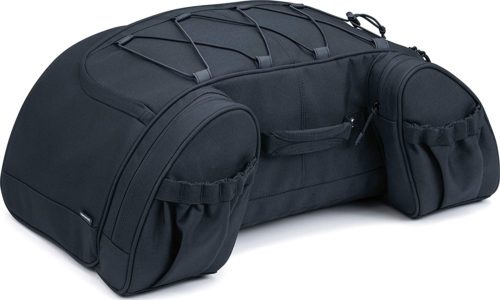 The Kuryakyn Momentum Hitchhiker is a weather-resistant trunk bag that is suitable to mount on a rack, as you travel on your Motorcycle. Denier 1200 material is tough and holds its shape even when empty. Mounting of the bag securely is quick and easy using the elastic shock cords that are integrated into the bag as well as the hook and loop fasteners.
It is UV rated, ensuring the protection of the bag from the sun while you are traveling during the day. Access to the storage, i.e., main compartment and the external bungee system where you store bedrolls, coats, and any other items, is easy. Also, the rider, along with the passenger, has the bottle packets facing them for grabbing them quickly on the ride. It has a dimension of 23" x 14" x 9" and comes with a rain cover.
Pros
Short length carry handle for easy portability
Foldable and storable in the trunk when the bag is not in use
Rain-cover protects it from rain and also has a pocket for storage
Comfortably designed pockets for taking stuff easily
Fits well on the trunk and mounting it is a snap
Cons
Not compatible with some models of trunks
What Should You Consider Before Buying Best Motorcycle Trunks 2023?
Take into account the below things before you buy a trunk for your motorcycle
Capacity: The carrying capacity of the trunk box should be ample enough to hold your essential items.
Compatibility: Your bike should be compatible with the box accessory. If it has specific compatibility, then you will waste your money on it. So check before you buy it.
Material: Strong and durable material made boxes are preferable. Along with its waterproof, scratch-proof kind of important factors need attention.
Extra features: Backrest. LED light and extra stand sort of features may be an addition to the box, so if you want such features, pick accordingly.
Installation: Installing it should be easy, and so should be removing it.
Conclusion
You can travel conveniently if you have the best motorcycle trunks as they hold your goods safely and securely. Also, you need not carry all the heavy load everywhere you go on your backpack. But in case you need to carry, you can detach these boxes and carry them. All these features make the travel trunks perfect travel necessity.
Have you chosen the ideal trunk for your needs? If not, hurry up! You might run out of some best models soon.