Listening to music or communicating with someone while riding a motorcycle is not an easy task. You can't take your hands-off the handlebars of a motorcycle. Of course, wearing a helmet on a bike is necessary, but what if you get a motorcycle bluetooth headset? Why compromise when you have an option to access music and communicate while bike riding. A motorcycle Bluetooth headset is a solution to your problem. These headsets allow users to answer the calls, listen to music, and even communicate while riding a bike. We have compiled a list of top 10 best motorcycle Bluetooth headsets in 2023. You can get them at the most affordable prices.
List of Best Motorcycle Bluetooth Headsets in 2023
10. FreedConn Motorcycle Communication System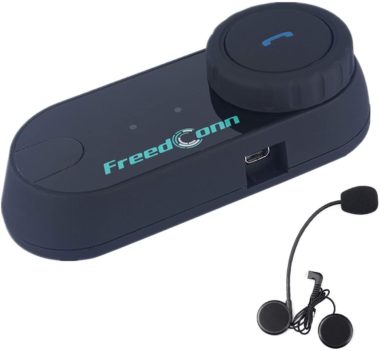 FreedConn is providing a motorcycle Bluetooth helmet headset with excellent design. It delivers a comfortable hands-free option at most affordable prices. This device supports A2DP, HSP, and HFP profiles. It would make your bike ride easy with hands-free call answering. It's more compatible as compared to other brands. It features noise resistance, water resistance, and echo canceling technology. While riding, the bike user will receive a clear voice. It's the most user-friendly headset available at the lowest price.
Pros
Easy to operate
Solid construction
Cons
Some people complain about audio quality while listening to music.
9. Cardo Scala PACKTALK Duo-Bluetooth
Enjoy bike riding with your friends by Cardo Scala PACKTALK Bluetooth headset. DMC technology allows the user to connect with 15 friends at a time. With Parallel Audio Streaming(PAS), you can make conversation, listen to music, GPS instructions, and radio at the same time. You can easily set up and control the settings by Cardo connect app. This headset self adjusts the audio according to noise and disturbance. For hands-free operation, it provides voice recognition. It comes with 13 hours of talk time.
Pros
15 friends connected at one time
HD audio
13 hours talk time
Cons
Require a bit of tinkering
 8. Sena SMH10-11 Universal Microphone Kit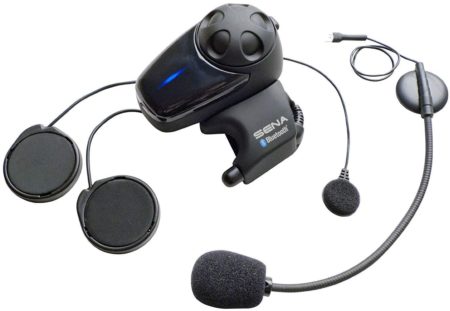 Sena SMH10-11 offers a small Bluetooth headset with all traveling features. This Bluetooth headset allows users to listen to GPS in the highest clarity level.  It has advanced noise control technology. It reduces the ambiance sound to make the voice crystal clear. The advanced Noise Control technology helps to cut background noise while outgoing and incoming calls. With smart features, it also consists of a small mic to make travel vlogs. You can also use it for group chats; four users can be connected at one time. The headset has Bluetooth 3.0 connectivity; you can make phone calls with speed dial, share and listen to music, and connect with four friends. It has a talk time of 12 hours and a standby time of 10 days.
Pros
HD audio quality
Wireless options
Compatible with all helmets
Cons
7. Cardo scala rider Bluetooth FREECOM 1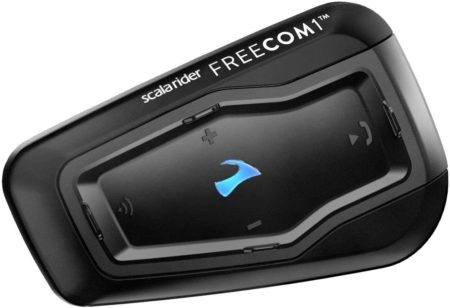 Cardo Scala Rider Freecom 1 offers high-quality experience possible. It's the best-known brand since 2004. With a long-range, the Bluetooth can operate under various conditions. This could be the most comfortable motorcycle headset. For solo riders, it has a plug-and-play Bluetooth communication system.  It has water resistance, snow proof, and dustproof features. It has 40mm thin speakers with a high-tech audio processor. The Bluetooth headset allows GPS and music play in the background during the conversation.
The volume adjusts automatically according to noise and ambiance. It has a Cardo connect app that supports both IOS and android. The headset has 13-hour talk time. The advanced technology offers volume control, charging while riding, VOX, connectivity with two Bluetooth mobile devices, music streaming GPS.  The Bluetooth headset has a 2-year warranty from the purchasing date.
Pros
Water and dustproof
Automatic volume adjusting
HD audio
Cons
IOS compatibility is shaky.
Sometimes Bluetooth fails to install.
6. Sena 20S-01 Bluetooth 4.1 Communication System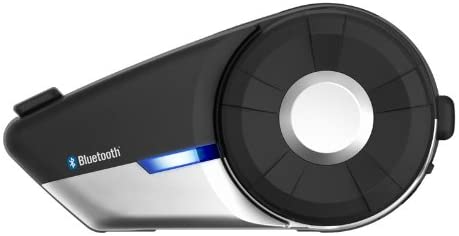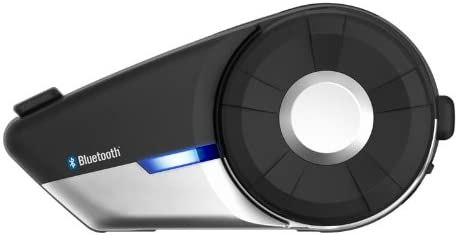 Sena 20S-01 offers HD quality audio that delivers crystal clear sound. You can connect to 8 friends at one time. It can provide the sound during a mobile call up to 2 km. The high-technology allows music to play in the background while talking on a call. The speaker quality of this headset is superb with maintained bass. If you prefer to listen to music at the highest level, it would be a best-suited headset for you. It allows you to pair easily with devices by a shake of 20 seconds with motion sensor technology. The headset has the smartest features of high-quality sound, Bluetooth 4.1 technology, and dual-module architecture.
Pros
HD audio
Comfortable
Smart features
Customer support
Cons
5. Bluetooth Intercom Headset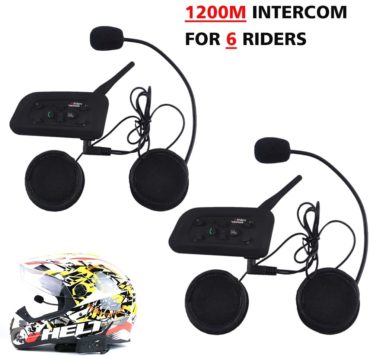 Top-Max Bluetooth Motorcycle Headset is specially designed for the outing. While riding a motorcycle, you can use this headset for hands-free support. It fits comfortably with all types of helmets. It is water resistance and also dust-proof. This headset has noise cancellation technology that eliminates ambiance while talking on a phone call. You can connect to 6 users at the same time. With 520 mAh battery backup, it supports for hours. The Bluetooth version 3.0 technology is compatible with new and old devices. 3.5mm audio input can be accessed with the mobile phone, MP3 or GPS. Perfectly suited for activities like cycling, stadium, concerts, sports meet, climbing, etc.
Pros
Durable
Connects to 6 users
Noise cancellation
Cons
Buttons are small
It takes time while pairing.
4. LEXIN 2pcs Motorcycle Bluetooth Headset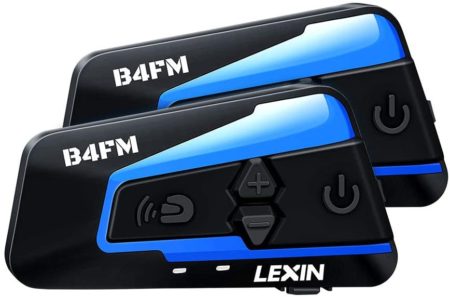 The LEXIN offers a comfortable headset at the most affordable prices. For making operations fast, it supports voice command features.  It is compatible with Samsung and IOS technology. It supports music streaming, incoming/outgoing calls, and GPS navigation. Bluetooth headset allows universal pairing and compatibility with other devices. It provides high definition audio while playing music.
Pros
Long battery life
Cuts ambiance
HD-quality speaker volume
Cons
Limited range of 800 meter
Headset is bulky
3. Fodsports Motorcycle Bluetooth Intercom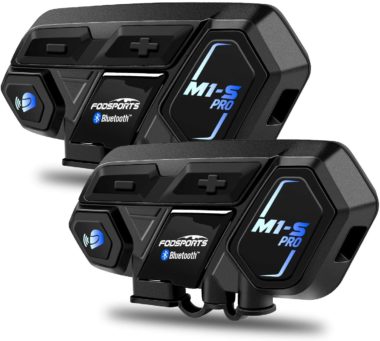 The Fodsports offer a headset that can connect to 8 friends at a time. It eliminates the ambiance noise and wind sound. With a 600mAH battery, it has 12 hours of talk time. Bluetooth version 4.1 technology is compatible with different devices. All Bluetooth phones, audio dongles, and MP3 player supports A2DP to send HD quality audio to Bluetooth headset. The hands-free headset allows listening to music, talking over phone calls, retrieving GPS, and getting the voice command.
Pros
Connects to 2000 meters distance
Noise resistance
Battery life 12-hour
Cons
Difficulties while pairing
Incompatible with iOS devices
2. SENA 20S-EVO-01 Motorcycle Bluetooth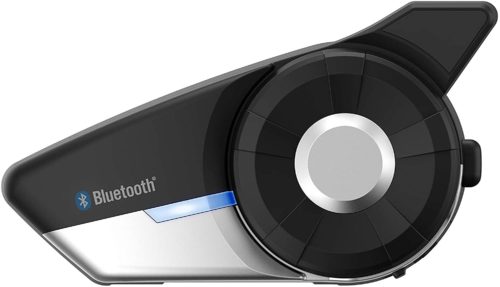 SENA offers a premium Bluetooth headset at the most affordable range. The headset supports universal motorcycle helmets.  It has an adaptor or wire connection. It allows users to answer and dial numbers easily. You can listen to music and share music with friends. It comes with a built-in FM receiver feature, which scans your favorite channels. The best thing is the headset is water-resistant and dustproof. The 20s Evo is the next generation updated design and stays stable to keep up with your ride. The hands-free headset allows listening to music, talking over phone calls, retrieving GPS, and getting the voice command.
Pros
Noise cancellation
Fast charging
Easy pairing
Easy to use
Cons
Difficulties in balancing the volume
1. Sena SMH10R Motorcycle Bluetooth Headset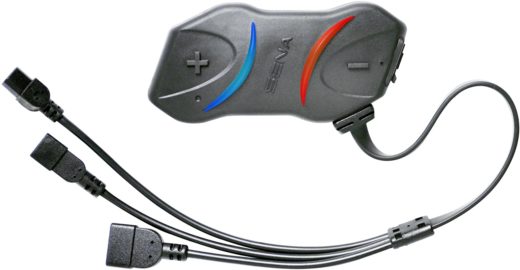 SMH10R is a new technology headset at an affordable range. It has a multi-pair feature that connects four people at a time. The most helpful feature is vice command supports. You can easily access different things while riding the bike. You can raise and low the volume with a dial. It helps you to switch between audio calls to music, radio to music, and vice versa. The best thing is the headset is water-resistant and dustproof.
Pros
Quickly set up
Voice command
User-friendly
Noise-canceling technology
Cons
Not compatible with all helmets.
The look of the headset is not modern.
Conclusion
We have researched the best-suited motorcycle Bluetooth headset for you. All the above-listed headset has smart features with HD audio quality. These headsets provide the best sound while playing music, during a phone call, and while listening to FM. With excellent noise cancelation, wind-proof and water resistance features, these Bluetooth headsets provide a long life. Now it's easy to find the best motorcycle Bluetooth headset.  Check out the list of top 10 best motorcycle Bluetooth headset and pick up the best.