Coffee helps you start your day in a positive manner. How much stress you may be in, a perfect cup of coffee can change your day for the good. But if you aren't any professional barista, how to make the froth? Well, if you are fond of coffee in all its forms, it is time that you get a milk frother. With minimal effort, you can obtain the perfect consistency and taste. Plus, you do not need to spend any extra time working with it.
So, if you a professional or a beginner, the commercial milk frothers will let you obtain your desired froth. Know more about these and start reading.
What are the best milk frothers to buy?
If you keep a certain few points you can easily choose the best deal out of all the options. A very important thing to remember when looking for a milk frother is the cost. You will get frothers in all kinds of price ranges and it is essential that you fix your budget before going for a frother. All of the frothers referred to in this list are very good on their own accounts. You will get a good deal from any of these frothers. All you need to decide is how you want your frother to be- handheld, container type, or hand-operated.
List of Best Milk Frothers Review
10. Breville BMF600XL Milk Frother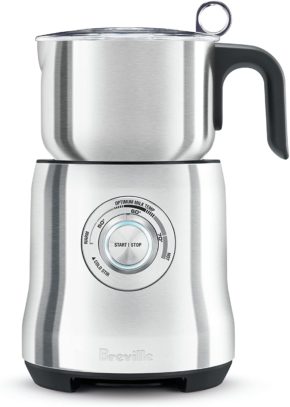 A milk frother such as the Breville BMF600XL is an amazing device to bring to your home. It is the perfect device to get the perfect brew of cappuccino or latte. The kettle has sufficient size to hold up to 3 cups worth of milk. Next, the temperature can be set to your needs and demands. You can also easily initiate the cold stir feature if you are looking for a cold brew.
The device is also loaded with a measuring lid. This allows you to add coffee or other products as you are frothing your milk allowing you to get that perfect mugful. Lastly, the device is loaded on an induction base from where it draws the power to heat the milk.
Key Features:
It will take about 5 minutes to completely process your milk and give a thick, creamy layer of froth.
You can easily put it on a cycle in a dishwasher and have it cleaned without much difficulty.
This has a construction of stainless steel for style and usefulness.
9. PowerLix Milk Frother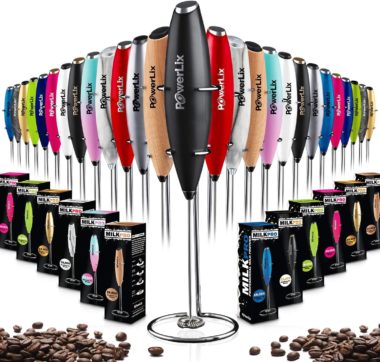 Indeed a milk frothing device that will give you fast service, you may go for the PowerLix Milk Frother. This is a highly efficient stick that can froth your milk well enough in just 20 seconds. It comes with a stand ideally suited for storage but can also act as a guide when you are using it. The device is very easy to use- all you need to do is hold it and turn on the easy-access switch.
Besides, the handle has an ergonomic soft material such that it is comfortable to hold and use. It is run by batteries making way for hassle-free use.
Key Features:
It is simple in design and thus can be used to mix and make other things. These are such as milkshakes, cake batter, cocktails, and much more.
All you need to do is place it under running tap water and it will get cleaned.
Comes in a variety of color so that you can make a pick of your choices.
8. HIC Harold Import Co. Milk Creamer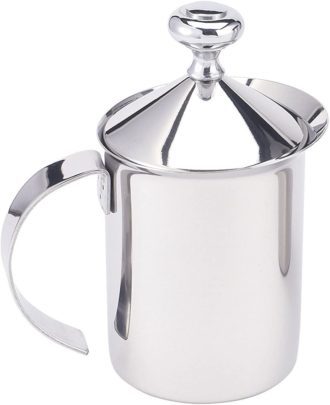 The device comes with an ergonomic handle on the lid loaded to a plunger. Moving the plunger up and down makes way for instant aeration of the milk within. This leads to foamy, creamy milk for your cappuccino in just 60 seconds. What makes this device even more fantastic is that you can clean it in a dishwasher.
After every use, just put it in the top rack of a dishwasher and give it a run to get a clean milk frother. However, there is a concave base in this which makes it slightly difficult to evenly heat the milk within.
Key Features:
It makes way for economic and environment-friendly frothing operation as it does use any electricity or batteries.
The milk frother container has the capacity to hold up to 2 cups of milk at a given time.
This has a capacity of 40 ounces that is a pretty big deal.
7. Aerolatte Milk Frother

The Aerolatte Milk Frother will get you superb drinks with its efficient use. You can get this milk frothing device in chrome or satin finish. Plus, it comes loaded with a recipe book for different kinds of milkshakes, frappes, fruit shakes, and much more. The handheld device is easy to use- all you need to do is dip into warm, hot, or cold milk and give it a run.
Besides, the device is so efficient that you will easily get a good froth within 30 to 60 seconds. The pulse switch on the handle is easily accessible using just your thumbs.
Key Features:
It has construction using stainless steel of 18/8 grade which is food grade and has a very high-end durability feature.
Every material used in manufacturing is of the highest grades which ensures that you can easily use and store it for a very long time.
This is an 8.5-inches product that is going to come easily in your hands and you will not lose the grip.
6. Norpro Glass Milk Frother

The Norpro Glass Milk Frother is a simple, easy to operate, and durable milk frothing device. This works entirely on mechanical energy and does not require and electricity or battery. The lid has an ergonomic pump and all you need to do is operate it to get a thick, creamy froth. It just takes about 10 to 20 seconds to reach the desired consistency.
The glass body is exceptionally helpful as you can keep a track of the frothiness action. Plus, you can see when to stop the process and remove the lid. The body even features a spout design that allows easy pouring of the contents into a glass or mug.
Key Features:
You will be gifted a recipe book in the package that allows you to craft the most delectable shakes, fruit punches, and so on.
The best thing about this device is the glass construction. Unlike metal, glass can be put in a microwave. Hence allowing you to easily heat the milk up before you pour it in a cup.
Having a capacity of 16oz, this is of round shape and looks perfect.
5.    IKEA Milk Frother 100.763.20

Indeed, a terrific handheld milk frother tool for your kitchen, you will find that the IKEA Milk Frother 100.763.20 to be quite an efficient choice. Ideal for easy use, you need to just dip this device into hot or cold milk. Hence, give it a run to get a rich froth. The pulse switch is easily activated by the thumb and can be controlled throughout the operation.
Besides, it is also a compact machine and can be stored very easily. The perfect frothy milk can be churned out in just 20 seconds with this device.
Key Features:
It has a specially, ergonomically designed handle for comfortable and superior grip.
The speed with which the frother rotates can be varied via the pulse switch to meet the desired requirements.
It is a handheld product that runs on a battery and makes a smooth texture.
4. Secura Automatic Milk Frother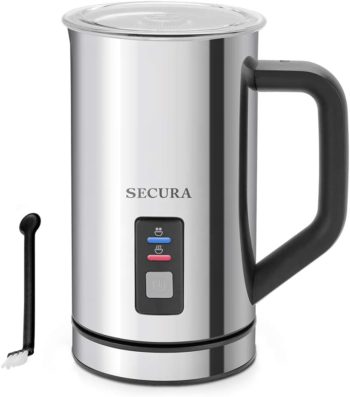 Certainly, a milk frothing device that is both attractive and powerful, the Secura Automatic Milk Frother would be a great help. The milk frother is made from such components that it is extremely safe and is even approved by the ETL. If anything ever goes wrong as you are using the device, it is backed by a 2-year warranty.
The pot is very easy to clean after every use and the package also includes a cleaning brush. You can prepare any kind of frothy milk beverage using the frother and can even get either hot or cold milk froths.
Key Features:
It is layered with a non-stick coat on the surface that will not lead to any sticky situations
You can easily clean it after every operation by just running it under tap water.
There are two variants for you to choose from. One can froth up to 250 ml of milk while the other can froth up to 500 ml of milk.
3. Capresso 204.04 frothPlus Milk Frother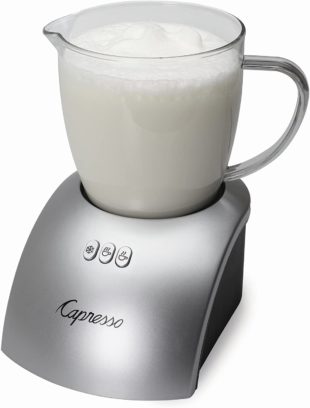 The Capresso 204.04 frothPlus Milk Frother is a very desirable choice. It could probably be one of the best milk frothers out there. This device has loads of features installed into it to give you a huge range of choices with milk-based beverages. You can get warm, cold, or hot milk using this device.
Moreover, it is very powerful and gives you a dense, creamy froth very easily in a matter of seconds. It is safe to put this device into the dishwasher after use for thorough cleaning without any hassle. Finally, it is also loaded with an ergonomically designed handle for easy operation.
Key Features:
The container in which you will make the froth is transparent. Thus giving you an easy view of whatever is going on within.
It is innovatively built such that you can add cocoa, coffee, and other ingredients as it is being operated.
The pitcher is fully BPA-free to meet the hygiene standards and keep it toxic-free.
2. MatchaDNA Automated Milk Frother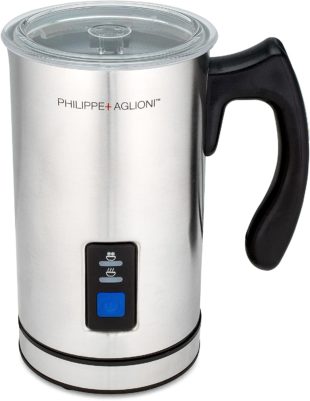 The MatchaDNA Frother is one of the high-end milk frothing devices that you can add to your kitchen arsenal. This device is very handy because all you need to do is add the milk, the device will take care of the rest. You can keep the milk cold or get it warm or hot as you are frothing using this device.
This has a modern look and comes with such features as a non-stick inner lining which makes cleaning this a breeze. When you get this, you will be backed by a one-year warranty to take care of any issues.
Key Features:
This device is for personalized use and can only foam about 100 ml of milk at one go.
You may also use this to warm or heat milk from time to time. So, it will heat up to 250 ml of milk at one go.
The non-stick interior will keep away stickiness and freshness.
1. AmazonBasics Electric Milk Frother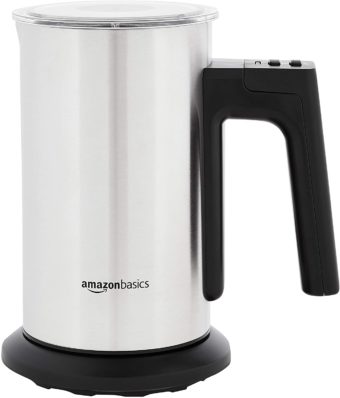 Simple and easy to use, the frother gives you a grand experience while foaming milk. This is a fully automated device such that you just pout in the milk, go for the appropriate setting. And just wait for frothy to be prepared in 90 seconds, foamy milk at the correct temperature. You can also froth cold milk in this device very easily.
The device has an attractive mirror finish that adds to the aesthetics of your kitchen. Besides, the auto shut-off feature will avoid the situation of ruining the froth.
Key Features:
You can simply detach the carafe from the actual device in order to serve in a hassle-free manner. No cords will be involved.
The transparent lid will let you keep an eye on the entire process.
How to buy milk frothers?
A milk frother is a simple enough device but there a few things that you need to carefully consider before going for one. The very first thing that you need to decide is what metal you should go for. It is not advisable to go for glass ones as they can be broken very easily. Heavy, high-grade plastic or stainless steel are the best materials for such a device. Just ensure that the material is free of toxic impurities like phthalates, BPA, lead, and so on and is made from food-grade materials. You can also go for handheld devices which are the much better choices since they are much more versatile and can be used for a number of kitchen based applications. Most of the milk frothers that you will find nowadays are battery operated and this is the better choice since it gets you wireless application.
Why should you prefer non-stick milk frothers over others?
It is important that you go for a frother with a non-stick layer coated on the surface. Milk is difficult to clean and the non-stick layer ensures easy cleaning by putting the device simply under running water.
Final Verdict
So, make the perfect frothing for your coffee and add the perfect taste to it. The milk frother machine will eliminate any extra hard work and make froths in seconds.