Do you have sudden guests coming to your home for a night stay? Or need a space-saving yet a sturdy place for allowing your child to sleep? Then a metal bunk bed is a solution to your query. These may not look cozy but in reality, you can sleep comfortably in it. Some come with ladder whereas some have extra storage space under it. You can easily store all the essentials and keep the junks away. However, there is no danger of breaking it and falling down as all of these are well built.
There are different varieties of these beds that the markets are flooded with. To know about the top-notch products, here are the purchase-worthy products.
List of Best Metal Bunk Beds Review
10. DHP Metal Bunk Beds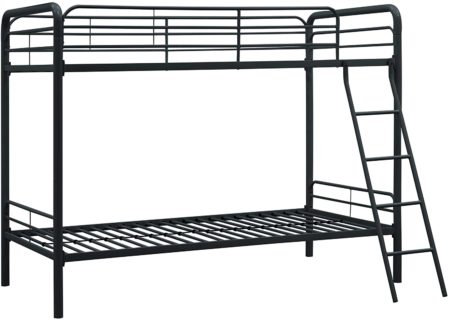 If you have any concerns about the quality of the product, go for this product. Winning the Amazon's Choice title with its exceptional service, this will surely satisfy you as well. Not only adults, but this bed has features that keep your children safe as well. The bunk beds have full-length guard rails. Moreover, the product comes with its very own ladder. Not only is that, to add further safety, but the ladder also designed to be slanted.
Apart from being excessively sturdy, its top bunk can carry a weight of 200 pounds whereas the bottom bunk can deal with 225 pounds. As a matter of fact, this has a sleek design and requires hassle-free handling.
Key Features: 
The product is really compact. Therefore, it will be best for rooms that have a space crunch.
You do not have to worry about the metal structure coming off. The metal slats on the product are secured.
It is fairly simple to assemble so that you can do it all by yourself.
9. Walker Edison Furniture Company Bunk Bed
With the multiple useful features of this bunk bed, you cannot ask for more. The product takes care of every practical necessity. As your children grow, the bunk beds can be separated into two different beds. Further, it is no good if the product ends up hurting you or your children. Hence, it has been ensured that the bunk bed has no protruding edges which may even damage the clothes or blankets.
Especially for young children, this product also comes with guardrails, so they stay secure throughout the night. Finally, any individual having a maximum weight of 250lbs can sleep in this.
Key Features:
This bunk bed promises that you will not require any extra box spring for a comfortable sleep.
As an added advantage, the product comes with wooden slats that provide you with added support.
The product allows you to access the bunk without any hassle with the help of the added ladder.
8. Novogratz Maxwell Bunk Bed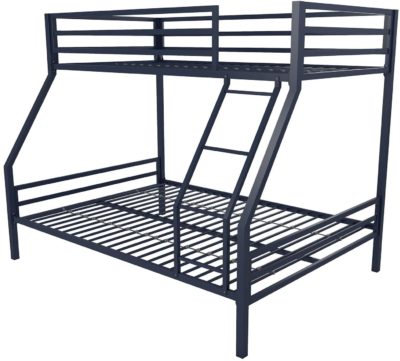 If you are looking for quality, this product will be a great choice. With the one-year-long warranty, you are assured about the durability of the product. Moreover, the entire bunk bed uses sturdy metal, which provides you with great stability so you can sleep without any worries. Besides, if you are not particularly great with tools, no need to worry. The product comes with really comprehensive instructions that walk you through each easy step.
If that was not enough, the lower bunk of the bed can support up to a massive 450lbs. Therefore, no need to worry about how heavy your bed gets.
Key Features: 
In order to suit the interior décor of your room, this product is available in a range of different shades that you can choose from.
Since everybody has a different need. To cater to everybody, this product is also available in different sizes to suit your space.
This indeed has a trendy that will look perfect on any part of the room.
7. Max & Finn Bunk Bed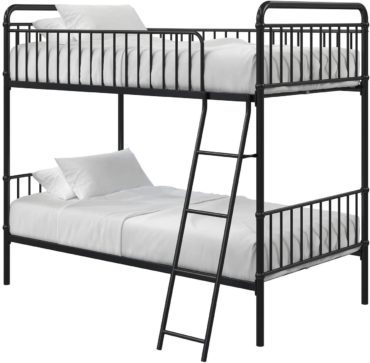 Whether you require bunk beds for grown adults or kids, this product has enough room to accommodate people comfortably. Furthermore, it uses metal steel as a material. Steel is known for providing sturdiness to the structure. Besides, steel also ensures that the product remains completely rustproof. Therefore, it extends the life of the product.
Besides, it comes with a useful ladder that helps you to climb up. More than that, the ladder is integrated into the bed. This even has a guard rail that will protect the individuals from falling down accidentally.
Key Features: 
The bottom bunk of the bed has a good height of 10.5-inches. You do not have to hurt your head at night when you get up.
Any mattress of maximum 6-inches will fit the top tier.
The top tier of the bunk bed is able to sustain good 200lbs easily.
6. Zinus Metal Bunk Bed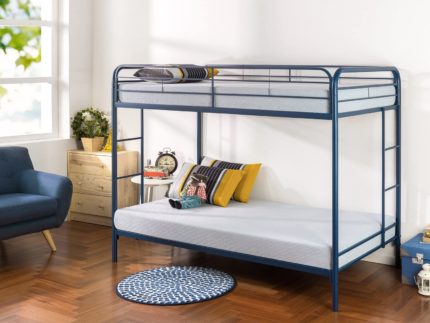 Innovation has a new name with Zinus. Unlike most products, this metal bunk bed has an interesting locking feature. The product has a patent-pending locking feature for the assembly. Zinus vouches that the entire assembly will hardly take an hour for you to complete. The product comes with not one, but two integrated ladders. Since the ladders are on the width side of the bed, the chances of any accidents are reduced.
Besides, the bunk bed also promises that you will be comfortable with just mattresses, without requiring any spring box.
Key Features:
It comes with an impressive 5-year warranty. What more assurance can you need about the quality of the product.
Any child who is below 6 years must not sleep on the upper bunk.
The rounded steel prevents the chances of any sharp edges on the product.
5. Coaster Home Furnishings Stephan Bed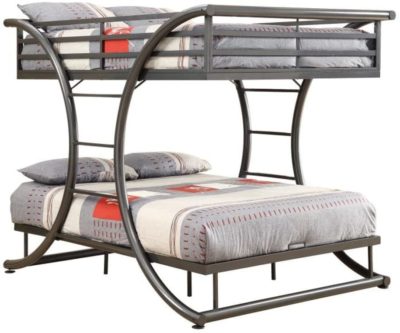 This product is one of it's kind. If you are not impressed by the functionality, this product will catch your attention with its unique appearance. To upgrade the really unique structure of the bed, it also has a gunmetal finish. The ladders of the bed are present on the side which is much more convenient. Not only that, but the ladders are also curved which gives an amusement park-like vibe.
As a matter of fact, it provides two full beds on the top as well as the bottom. Hence, both the tiers are able to support 400lbs without any difficulty.
Key Features: 
One great factor about this product is that it requires no assembly. Therefore, you do not need to give any time or effort to that.
The product has 2-inch thick metal tubes which hold the structure up. Thus, rigidity is no concern with this product.
To prevent any risk of falling during your sleep, the top bunk of the bed has sturdy guardrails.
4. Coaster Home Furnishings Bunk Bed
If you are looking for the easiest assembly which brings the least trouble, go for this product. The product can be set up in no time. Moreover, this is a twin over full bed. Thus, you have enough space to sleep with all the comfort you need. To make things even smoother, the ladders of this product is not only off the ground, but it is designed to be supportive as well. This makes climbing much easier.
The full bottom bunk is able to hold a considerable amount of weight. You do not need to worry about any pressure the bed may have when heavyweight is put on it. As a matter of fact, you can climb up the top bunk from both sides of the bed.
Key Features: 
The product has solid metal construction which makes the product extremely durable.
It has a black finish to give it an amazing look.
With the safety rails, they will stay in their place while in deep sleep.
3. Mainstay Bunk Bed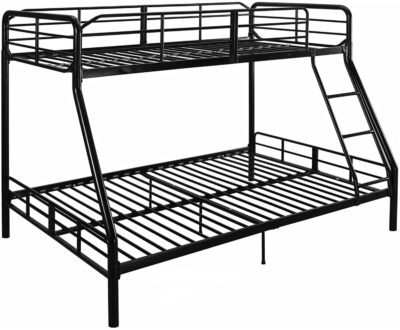 If you are looking for beds which will be especially suited as form furniture, you can go for this. Because of the compact size, the bunk bed easily fits into spaces without any hassle. This allows you to have more space in your room. Further, the product uses premium quality strong steel for the bunk bed. Needless to say, you can rely on the product when it comes to durability.
No need to check up on your children at night. The guardrails safeguard them from any danger. This even has a contemporary approach for perfectly fitting any set-up.
Key Features: 
The dimensions of the product are 77.5-inches L x 56.5-inches W x 60.5-inches H. You can spread all your arms and legs even if it looks small.
With the one year warranty, any doubts you may have about the quality of the product is brushed aside.
The sturdy ladder will not shake as you climb up to the top tier of the bunk bed.
2. Walker Edison Furniture Company Bunk Bed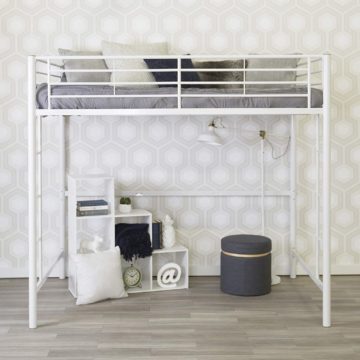 If you are looking for some space-saving furniture, this will be a great addition to your interior décor. The product has the design of a top bunk. Therefore, the bottom is completely free. You can easily install a table or any other thing which will give you a lot of free space in the room. Besides, this product is not only functional. To suit your style, this product comes in an array of colors you get to pick from.
The product has integrated ladders on either side of the bunk bed. This gives you access to the top bunk from both sides.
Key Features: 
To make the design even better, the product also provides metal support slats.
The bunk bed only requires you to get a mattress for a satisfying goodnight sleep. No spring box is needed.
It has a weight capacity of 250lbs that is pretty good.
1. DHP Bunk Bed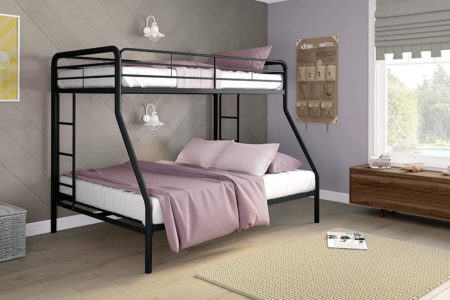 Name your requirement, and this bunk bed is sure to be already providing it. The product is fashioned keeping child safety in mind. Thus, it has full-length guardrails that prevent your child from getting into any tragic mishap. Moreover, the bed is given a sleek look that can easily blend in any room without seeming odd. If that was not enough, this product also gives you metal support slats as an added plus.
Not only that, but even the foundation is also provided. Besides, the integrated ladder is thoughtfully made slanted so that you can climb easily and quickly.
Key Features: 
Since the product comes with a helpful instruction manual, the easy assembly takes even lesser time and effort to get done.
The bottom bunk is a full bed. Therefore, it is able to endure 400lbs of weight without the slightest damage to the product.
It has a space-saving design that will save a lot of areas.
Be it for your child's or your guest's room, the spacious bunk bed will keep everyone in full safety. So, sleep properly and without the risk of harming yourself.