Handwashing is crucial. Keeping your skin clean and hygienic is the need of the hour. Regular and proper hand wash not only removes dirt, grime, and bacteria from our hands, it also prevents the spread of many viral diseases like common cold and flu or the serious ones, like Covid-19.
The market is full of a variety of soaps from different brands with a wide range of features and ingredients, making the buyers confused and uncertain about which product to purchase. While any regular soap can eliminate dust and germ from the body, it can also be formulated with harsh chemicals like parabens, sulfuric acid, etc. which are harmful to us. So it is imperative to know different types of soaps to make a well-informed decision and purchase the best hand soap for your health.
List of Best Hand Soaps in 2023 – Reviews
Below are our picks of the top 10 best hand soaps available in the market.
10. Live Clean Coconut Milk Liquid Moisturizing Hand Soap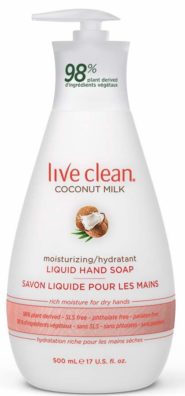 Live Clean, a unique Canadian moisturizing hand soap, is an eco-friendly beauty and health care product that delivers excellent results, using only natural and plant-based ingredients.
The soap is vegetarian, 98% plant-based, and is primarily made with apricot oil and coconut milk, enriched with vitamin E and panthenol that cleans your hands gently and keeps them moisturized. It is a luxurious wash with a light, calming scent that hydrates your skin and gives a fresh and clean feeling. It restores the moisture balance and provides a soft and smooth touch to your dry hands. Further, this cruelty-free soap is free of parabens, sulfate, and other harmful chemicals that are detrimental to your body and causes many skin issues.
Pros
Eco-friendly and affordable
Great for eczema-prone skin
Not tested on animals
Smells divine and feels silky smooth
Cons
Consumer complaining about the packaging is quite common
9. Mrs. Meyer's Clean Day Verbena Scented Liquid Hand Soap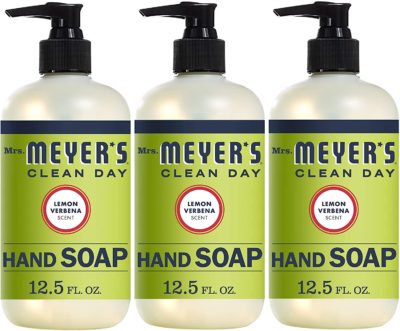 This naturally-based liquid Hand Soap contains olive oil, aloe Vera, etc. that leaves your skin soft, smooth, and moisturized all the time.
If you are suffering from dry and rough skin that needs extra care, this soap proves very beneficial for you. It is free from harsh chemicals, parabens, or sulfates that can strip your skin and dry it further. The aloe Vera treats acne-scarring, redness, and other skin irritations minimizing the appearance of scar tissue and hydrate your skin. Its anti-inflammatory properties repair the damage. The olive oil acts as a natural sunscreen and prevents anti-aging. This cruelty-free soap is gentle, natural, and great for the whole family.
Pros
Soothes dry, rough and cracked hands
Wallet-friendly
Safe for all skin types, sensitive or acne-prone
Leaves your skin feeling silky soft and fresh
Variety of scents available
For all ages and genders
Cons
Basil scent is not a favorite amongst a few
Feels sticky to few users
8. Tom's of Maine Prebiotic Moisturizing Hand Soap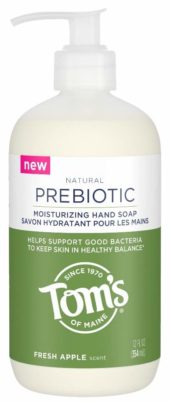 A dermatologist-tested formula, Tom's of Maine Prebiotic moisturizing hand soap, is paraben and sulfate-free and helps retain your skin's pH balance by promoting the growth of good bacteria.
This California based product is natural and environmentally friendly that is free from any artificial fragrances, preservative. The microbiome-friendly pH helps the building of immune-building bacteria and functions as a healthy skin barrier that helps resolve skin infections. It retains the skin's natural moisture and gently cleanses your hand, leaving it soft and smooth and crack-free. The soap is also not tested on any animals, making it cruelty-free. Also, 10% of the company's profit goes to different charity houses, which proves the brand's commitment to an improved and healthy community.
Pros
Retains natural moisture of the skin
Fresh apple scent smells great
Cruelty-free
Gives smooth and crack-free skin
Provides immune-building bacteria
Cons
7. Muse Bath Apothecary Aromatic and Nourishing Hand Soap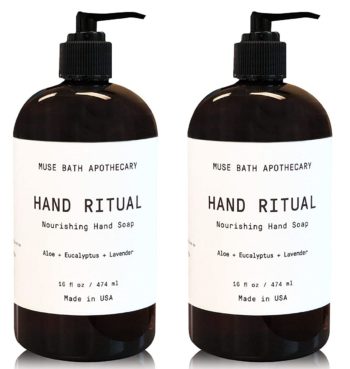 California made aromatic and nourishing hand soap from Muse Bath is a vegan, plant-based soap that cleans and soothes your skin lavishly and gives you a soft and gentle feeling.
This highly effective soap is made from all-natural ingredients like aloe Vera, eucalyptus, and lavender along with many essential oils and is free from paraben and other harsh chemicals. The essential oils in the soap give a refreshing therapeutic fragrance. It is EDTA free and is a natural choice for most sensitive skins. The organic soap that comes in two 16oz bottles can create lots of foam with a little amount of soap, making the product last for a more extended period.
Pros
Works wonderfully for sensitive skin
Anti-bacterial hand soap to get rid of germs
Natural, plant-based
Not tested on animals
Cons
The texture might not please everybody
6. Botanic Hearth Tea Tree Liquid Hand Soap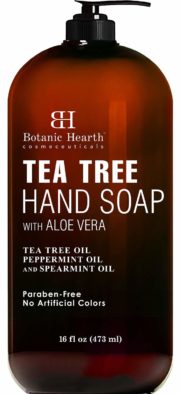 Botanic Hearth is a trusted brand that makes liquid hand soap with essential Tea Tree oil, which is recognized for its ability to keep hands completely clean. The soap also contains Glycerin and other helpful ingredients that not only purifies your hands but also keeps your skin soft, smooth, and fresh.
This gentle and effective soap is excellent for all skin types and can be used by all family members for everyday use. Being sulfate-free and containing aloe Vera and other natural ingredients, it is known to provide therapeutic benefits, keeping your skin moisturized and reducing skin issues. The soap is cruelty-free and not tested on animals. This fresh earthy scented soap lathers up nicely with lots of bubbles using a very little soap and nourishes your hand gently, retaining its natural moisture and keeping it soft.
Pros
Made with pure tea tree oil
Sulfate-free
Provides therapeutic benefits
Reduces skin irritation
Cruelty-free
Cons
Spearmint fragrance might be strong for a few
5. First Botany Mint Tea Tree Hand Soap
This premium luxury soap contains 100% pure tea tree essential oil along with jojoba, peppermint, and coconut oil to ensure superior quality hand washes. It is a multipurpose soap that can be used as natural bathroom soap as well as liquid hand soap.
The soap has many layers of beneficial ingredients that gently remove dust, dirt, and oil from your hand and is known to promote smooth, clean, and moisturized skin. The Botanical Extracts and Vitamin E of the soap make it mild enough to be used frequently by everybody, including children without being harsh to the skin. It hydrates your dry skin and has a calming effect on the swelling and skin itchiness. The tea tree oil works wonderfully, killing the germs while keeping the hands clean and smooth.
Pros
Ideal for all ages and genders
Cruelty-Free
Has anti-inflammatory properties
Anti-bacterial soap
Cons
Packaging might be an issue
4. SOFTSOAP Antibacterial Liquid Hand Soap
SOFTSOAP antibacterial soap is tested by dermatologists and clinically proven to remove 99.9% of bacteria from your skin. It purifies your skin gently while protecting it from germs, dust, and other harmful bacteria.
The soap is paraben-free and is formulated without Phthalates. It comes in a convenient 50-ounce refill size and creates lots of foam with very little soap, thus making the soap last for a more extended period. It has a unique quality to keep your skin moisturized, soft while killing away all the germs and dirt. The soap has a fresh citrus fruit fragrance, which gives a soothing feeling and enhances your handwashing experience. You can use it as a great substitute to bar soap and other homemade soap.
Pros
Antibacterial properties
Comes in a 50-ounce refill size
Fresh and soothing citrus fragrance
Dermatologist tested
Cons
3. Everyone Hand Soap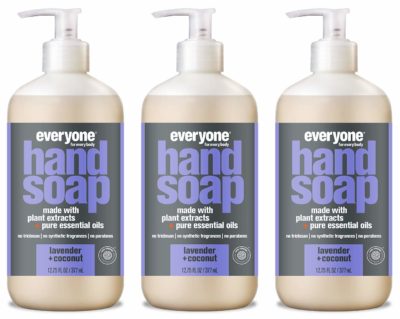 Everyone hand soap comes in a pack of three 12.75 Fl Oz bottles. It contains a variety of pure essential oil blends like coconut + lemon, aloe Vera + lavender, mint + coconut, citrus + mint, and unscented oil.
This skin nourishing soap is rich in vitamin E, essential oils, and real fruit essence and protects your skin, keeping it hydrated and moisturized adequately for a long time. It is also formulated to be used for all your bathing necessities, without using any harsh chemicals or parabens, phthalates, etc. The essential oils provide therapeutic aroma every time you wash your hands while leaving your skin clean, fresh, moisturized, and lightly scented. The soap is EWG certified and is cruelty-free and thus not tested on animals.
Pros
Safe from toxic chemicals
Made from pure essential oil
Value for money
Cruelty-free
Synthetic fragrance-free
Environment-friendly
Cons
Little challenging to open the tops
2. Softsoap Fresh Breeze Liquid Hand Soap
Softsoap fresh breeze liquid hand soap is dermatologist tested and is trusted to clean your hands while killing all dirt and bacteria. This hand soap comes in a pack of six 7.5-ounce liquid containers, making it budget-friendly for all users.
The soap has a light and pleasant fragrance and gives away a crisp and clean aroma while leaving your skin soft and fresh.  It creates a lot of rich lather that gently washes away all dirt and oily substances from your sticky hands, leaving them clean and hygienic. The soap can be used by men, women, and kids of all ages, which makes it a brand to look forward to. It lightly moisturizes your skin and helps it soft and smooth to touch.
Pros
Comes in a pack of 6, making it budget-friendly
Dermatologist tested
Light and fresh fragrance
Rich lathering soap
Cons
1. Mrs. Meyer's Clean Day Lavender Scented Liquid Hand Soap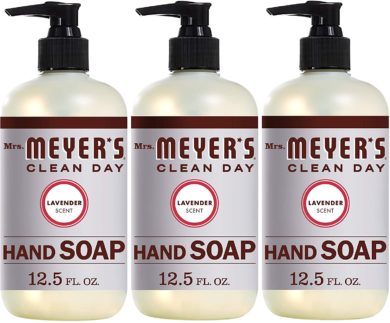 Concocted with exquisite ingredients like olive oil, aloe Vera, and other essential oils, Mrs. Meyer's Clean Day Liquid Hand Soap is a must-have in your kitchen counter. The soap is also paraben-free and is formulated without phthalates or any synthetic fragrances or artificial colors.
Made with all-natural ingredients, Mrs. Meyer's hand soap cleans your hands gently, leaving them exceptionally soft and fresh. The soap is cruelty-free and not tested on animals. It is hard-working and non-drying and keeps your hands well moisturized for an extended period without causing skin rashes. This hand soap comes with a variety of natural fragrances that are not overpowering and works wonderfully while giving away therapeutic aroma.
Pros
Hard-working and non-drying
Value for money
Long-lasting and world-class quality
Gives rich lather
Cons
The scent is not liked by a few
Factors To Consider While Buying The Best Hand Soap
With thousands of brands available in the market, choosing the right one for yourself is essential. We are further providing you with the buying guides to go through before buying the best hand soap that suits your skin and personality.
Ingredients
The ingredients of a soap play an essential factor to keep in mind. The soaps are formulated with many natural or chemical and harmful components that clean your hands but prove detrimental to our body by causing many skin infections. You should always go through the ingredients written on the soap bottle and avoid hand soap that uses chemical products or synthetic colors etc.
Fragrance/Scent
Fragrance/scent is the most crucial factor to consider while buying a new hand soap. The scent of the soap can either refresh and uplift your mood or can annoy you as well. While many people like strong fragrances, others prefer mild and few go for unscented ones. So, always ensure to buy the soap that has the right scent for your choice.
Skin Sensitivity
We use soap to cleanse our skin. Hence, people with delicate skin, especially children and elders need to be extra careful to buy the right type of hand soap that will not cause any adverse reaction to your skin, causing many skin issues. You should read the label on the bottle to check for any ingredient that does not suit your skin. Always buy those soaps that are skin-friendly and leave your skin clean, soft, smooth, and fresh for a long time.
Price
The price also plays a deciding role while buying a good quality soap. Generally, people opt for hand soaps that are of exceptional quality and wallet-friendly as well. Buyers also go for purchasing either refill packs or large-sized bottles to get more value for the price spent.
Conclusion
All the above hand soaps that are reviewed in this article are designed keeping in mind 100% customer satisfaction with high-standard quality. They assure you to provide the best hygiene care while keeping you feel soft and fresh. Hence, just have an excellent glance at the review and go for the best hand soap, as per your requirements.
Keep handwashing and stay safe!