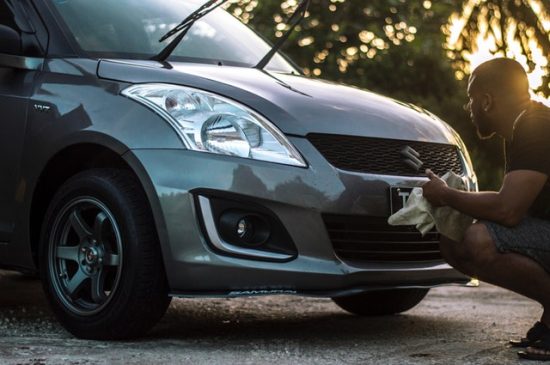 There nothing better than going on a road trip all alone or with some company and having the best time of life. You may stay engaged in happening nights and unlimited fun but your car has to go through a lot on a daily basis. So, cleaning and maintaining it is of utmost importance. However, in order to avoid going to the car wash daily, car wash kits come in handy. It comes with all the required products to keep your car spotless and functional.
Interested to own one for your car? Here are all the picks that are excellent in terms of quality and provides effective results.
List of Best Car Wash Kits Review
10. Aero Cosmetics Car Care Kit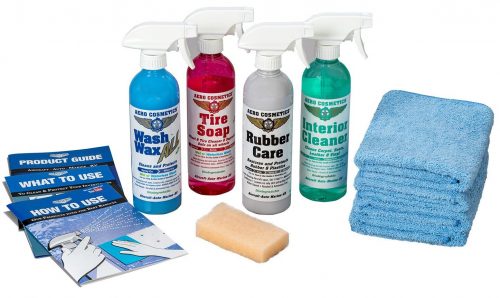 Aero Cosmetics car kit fully matches Boeing aircraft maintenance requirements. It encompasses a wide range of car detailing products. These include a car wash, polishing wax, gel to tidy up inner parts of the car, chemicals to manage the plastic and rubber components and a tire wash.
Plus, a set of microfibre towels and scrub to provide spotless cleaning of your car. As a matter of fact, it is even used for cleaning trucks as well as SUVs.
Key Features:
Detailed instructions enclosed for simplifying the application of various products in the kit.
100% refund guarantee if the customer is not satisfied with the product.
9. Chemical Guys HOL123 Complete Car Wash Kit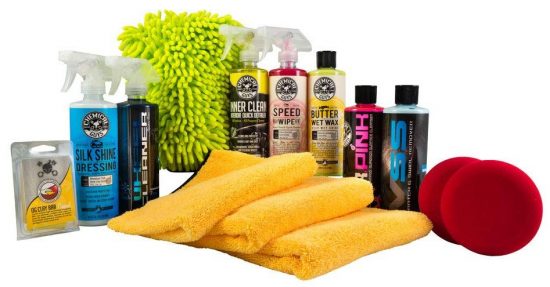 This 14pieces collection from the Chemical Guys is the one-stop solution to all automobile-related problems. The remarkable thing about this kit is that all the best-selling car washing essentials from the market leader are provided together. And that too at such an economical rate!
Been out for a spin on a drizzly day? Use Mr. Pink for a quick, light clean-up. Or if you are just back from a road trip, then go for the stronger Citrus wash for restoring your car to its previous spick and span state. Finally, finish it up with wax polish and a clay bar.
Key Features:
Complimentary accessories like pads and microfibre cloth for washing as well as drying.
These are certainly used for cleaning, protecting the paint of your car, scrubbing and so on.
It includes Speed Wipe Quick Detailer that is definitely the least time-consuming way of getting your car waxed.
8. Adam's Essentials Complete Car Kit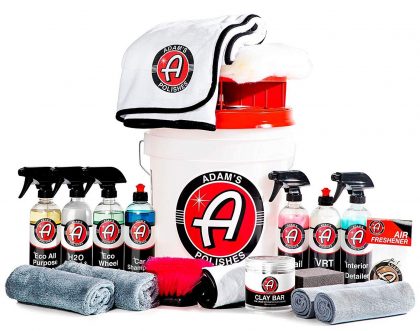 Check out the chemicals later, the free stuff is even better- a large reusable bucket for washing your car as well as storing all the products when not required. Coming to the chemicals, well, not just chemicals but this kit also houses a variety of applicators and microfibre towels.
Most of these are applied in combinations like the H2O Guard and Gloss with the borderless grey towels. And the Eco All-purpose cleaner with Edgeless Utility Towels among others does help you in achieving the desired results.
Key Features:
Complimentary air aroma pack for a fresh-smelling car.
A large towel to dry up after all the cleaning has been done.
Lifetime maximum satisfaction guarantee.
7. Griot's Garage Starter Detailing Kit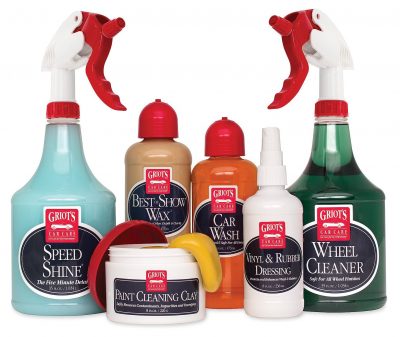 This environment-friendly car detailing kit is indeed gentle on automobiles. The pH of the wheel cleaner is appropriate for superior quality shine. Given that, the paint has the best technology to present the highest levels of crystal-like reflective surfaces. And all this in a very short time.
Moreover, it is such a kit that both beginners, as well as professionals, can use it without any problem.
Key Features:
Additional paint cleaning clay to clear dirt and other elements from paint.
Interesting fact, the wax along with other products allows easy application.
6. TriNova Car Wash Kit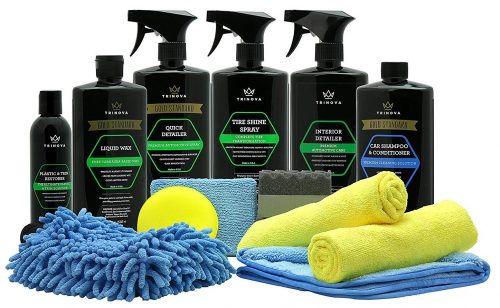 If you are already a pro with car maintenance, then this TriNova car wash kit will be your best companion. Comprising of an array of advanced top-notch specialized products for even the minute part of your car, it will definitely drive your car towards its showroom look.
From shampoo, conditioner to wax and tire polisher, this has it all. However, care should be taken during the application of these products to get optimum results.
Key Features:
Useful accessories are included in the kit for all car wash related issues, namely, wash mitt, microfibre pads and towels, rubber grip applicators and sponges.
While it is quite expensive to buy these products individually, the kit is comparatively easy on the purse.
A professional-grade product from the experts.
5. Turtle Wax Ultimate Car Care Kit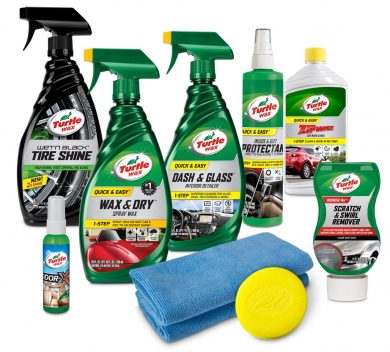 Dashboard- check, windows- check, bonnet- check, seats- check, body- check, tires- check. Yes! This kit comprises something for every part of your car. The best part is that even beginners can handle this with ease.
Give your car a refreshing bath with the car wash, eliminate any fine abrasion marks with the Scratch & Swirl Remover. Step 3 is to glam it up by spritzing some Wax & Dry Spray Wax. Finally, use the Tire Shine to revamp tires. One, two, three steps and your car will be ready.
Key Features:
The Odor-X Spray rationed with the pack, removes the foul smell from the car interior for as long as 30 days.
The polish even protects against ultra-violet radiation and is resistant to water as well.
Includes as many as 10 useful products.
4. Armor All 18574 Premier Car Care Kit
This Armor car kit is a simplistic solution to all daily car cleaning solutions. Glaze up the exterior with the Ultra Shine Wash & Wax and the inclusive wash pad for a glossy finish. Make your car's tires good as new with the Extreme Wheel & Tire Cleaner and Extreme Tire Shine.
For clean and shining windows, the Glass Cleaner on the windows will do its job well. As for the interior, the Original Protectant and Multi-Purpose Cleaner will not fail to impress you!
Key Features:
The patented formula deals with cracking, scratches, fading and so on.
Complimentary air freshener for a fragrant car interior.
3. Chemical Guys BUF_209X Complete Detailing Kit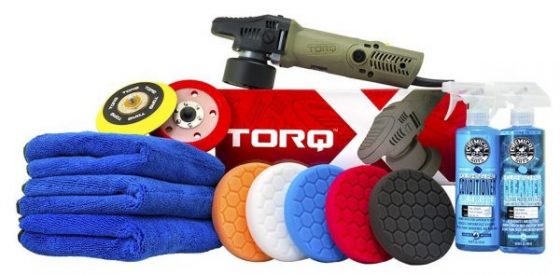 Metamorphose your car with this handy kit from Chemical Guys. One of the best in the market, this has everything one may need to clear up after a dirty road trip.
The polisher is a multi-functional way such that it polishes a car's metal frame, removes the dust off the carpet and distributes the wax evenly. All one needs is to change the respective pads for polishing, cleaning and smoothening provided in the kit.
With an optimal combination of torque and technique, the backplate works at 1200-4200 rotations per minute, finishing up a clean-up job in no time.
Key Features:
The hook and loop backing plate are formed into a standard 5-inches to fix any easily available 5.5-inches pad from the market.
Equipped with a special system to control heat, thus avoiding paint-burns.
A variety of Hex-Logic foam pads are supplemented with the kit to serve every need.
2. Chemical Guys HOL148 16- Wash Kit
Another huge hit from Chemical Guys, this kit is for a range of vehicles from classic cars to heavy automobiles like trucks. The wide collection of the merchandise included in the kit leaves no room for even the slightest complaint.
There are provisions for wiping windows with the Glass Cleaner, shampooing, conditioning and polishing Even the wheels become new and ready to hit the streets with the Diablo Wheel Gel.
Key Features:
Hassle-free detailing by an assortment of tools like Applicator, Short Handle Brush, 2 sets of Microfiber Towels and a Microfibre wash-mitt.
The inclusive TORQ Foam Gun is attached to any standard hose without difficulty.
Excellent customer service to ensure satisfaction with all Chemical Guys products.
1. MEGUIAR'S Complete Car care kit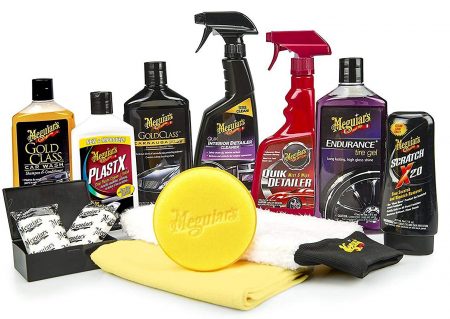 Turning a few heads now and then will be quite a common affair when your car is maintained with this kit. Be it a fresh, fragrant and clean interior or a glossy, spick and span exterior, this kit has it all.
From a gentle shampoo, conditioner, carnauba wax, plastic cleaner to even a tire gel, the amazing products in this package will transform your car into brand new.
Key Features:
Special micro-fiber cloth to remove dust without scratching the car's surface.
Super economic pricing for so many excellent products together.
Save a lot of money on the cleaning and drying process as the car wash kits have all the products that you need. Now do it for personal use or professional use and get the same best results.